Tragedy Strikes, But the Songs Live On
Posted On October 19, 2017
---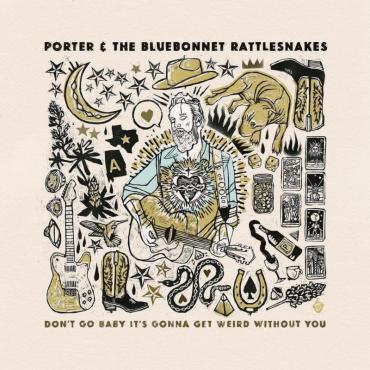 Posthumous Release of Chris Porter and the Bluebonnet Rattlesnakes
Release Date: October 20 by Cornelius Chapel Records
On October 19, 2016, a semi-truck barreled into the back of a van carrying Chris Porter, Mitchell Vandenburg, and Adam Nurre. The musical trio had departed South Carolina in route to Baltimore when congestion on I-95 slowed traffic to a halt. A semi-truck rear ended their vehicle and the impact killed Porter, bassist Vandenburg, and hospitalized drummer Nurre.
The crash sent shockwaves through the music community. Porter's Americana following grew with his Alabama-based projects that included Some Dark Holler, the Back Row Baptists, and Porter & the Pollies. In 2002 he moved to Austin where he found a welcoming and thriving music community. Porter told the Austin Chronicle that "My move here has helped a lot musically. Mainly by forcing me to seriously up my game. There are hundreds of great songwriters in this town, and 100 guys like me that move here every week." In Austin he met Bonnie and Eleanor Whitmore and Chris Masterson, among others, who participated in his 2015 solo LP This Red Mountain, which was recorded and produced by Will Johnson (Centro-Matic, South San Gabriel). The LP, which focused on Porter's move from Birmingham to Austin, showcased his ability to capture human nature in a simple and profound way.
Prior to his death, Porter collaborated with an all-star cast of musicians including Will Johnson and John Calvin Abney to record a new record entitled Don't Go Baby It's Gonna Get Weird Without You. Porter called the band "The Bluebonnet Rattlesnakes," which features soothing electric guitar riffs and perceptive songwriting. Porter's twangy, coarse vocals sound like a melodious mix of Mike Cooley (Drive by Truckers), Ben Nichols (Lucero), and Joey Kneiser (Glossary).
The album chronicles Porter's observant and skeptical views on life and people. "There's a ton of them [humans] just running around loving stuff, hating stuff," Porter explained to the Austin Chronicle in 2015, "I gravitate to darker themes in my material, but inspiration comes from a lot of directions. Humanity gets my motor running."
The record contains evocative descriptions of relationships, emotions, and the human character. The record's cover art reflects these themes. Designed by John Moreland's wife, Pearl Rachinsky, the drawing shows Porter topped by his dog Rufus, a cowboy hat, and a sacred heart.
The album opens with "Bittersweet Creek," which delivers a clever message about the fickle nature of a person's character.
"I get sober, you get saved, and we both go our separate ways…
Bittersweet creek is flowing like a river again…
If I get sober, and you stay faithly,
I find god, you get wasted,
You've got angels, on your shoulder,
And I'll just stay here, with these colors."
On the album's second rack, "Your Hometown," Porter paints a vivid critique of small town America. He grew up outside of Birmingham, Alabama, and he relays his perspectives in the song.
"Working at a Wal Mart minimum wage, it's your hometown,
Everybody's got the same damn last name, it's my hometown,
Every hometown's got a true believer,
Care too much, to die and leave her,
But there's a girl with a tramp stamp picking out songs
sitting by the juke box all night long."
The record takes a sadder turn in "November Down," where Porter recalls his loving dog Rufus, who passed away in November.
"If I could hold November down, I would,
I can hear you breathing slow,
From the spot you've occupied for so long now,
And I'm wonder what you're dreaming."
Toward the end of the album, in the song "Shit Got Dark," Porter explains his reasons for leaving his hometown.
"Shit got dark, whole town fell apart,
The place that healed your heart began to die,
Shit got tragic, goddamn he almost had it,
They say this town is magic when you're high."
This song assumes a bitter reality in the wake of Porter's untimely death. Andrea Juarez, Porter's fiancée, said that Porter had tired of Austin, and that the two intended to split time between Austin and Nashville. The idea of moving to Nashville highlighted Porter's interest in surrounding himself with the highest quality songwriters who could contribute to his music's development.
Cornelius Chapel Records will release Don't Go Baby It's Gonna Get Weird Without You on 20 October, one year after Porter's death. Juarez explained to Country Fried Rock that she and Porter's friends wanted something to smile about on the anniversary. She participated in the recording sessions and recognized the quality of the songs. Jaurez and Porter's colleagues decided they could not let the album sit idle. It's a good thing she didn't, because though Porter has passed on, this album will remain a stirring legacy to his notable contributions to americana roots music.
Review by AltCountryandBeyond @altcbeyond or on Facebook at https://www.facebook.com/altcountryandbeyond.
The Country Fried Rock Podcast with Andrea Juarez can be accessed at https://countryfriedrock.org/chris-porter-andrea-juarez-1704/
---