ALBUM REVIEW: Tom Paxton, Cathy Fink, and Marcy Marxer Find Folk Fellowship on 'All New'
---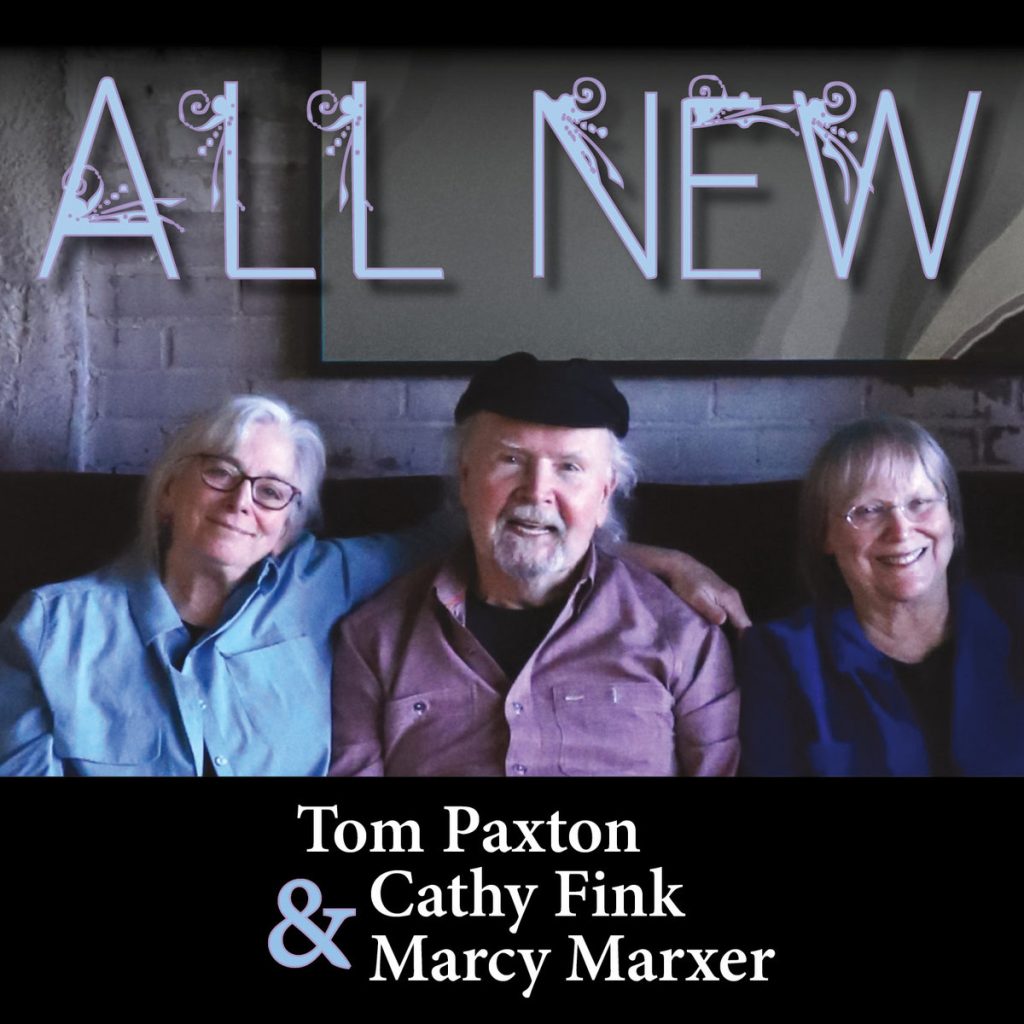 Old friends, new music. That's the key to All New, a collaborative album from folk stalwarts Tom Paxton, Cathy Fink, and Marcy Marxer. The songs on All New are culled from the trio's weekly Zoom songwriting sessions, begun early in COVID lockdown. There's something for everyone in these 28 songs: bluegrass, folk, a cappella, spoken word, and just as wide a range of emotions.
Paxton, whose songs were first popularized by Pete Seeger, anchors his songs with an earthy wit. Be it the poignant homesickness of "Dreams at Home" or the crotchety spoken word of "Is This Thing On?" (a humorous Boomer lament about new-fangled telecommunication innovations), Paxton is as plugged-in and present as ever, a performer who embodies the characters in these songs. There's a certain theatricality involved here, and Paxton proves once again he's a man of all seasons.
Fink and Marxer prove their bona fides as bluegrass pioneers. A lifetime of music and partnership have created a seamless blend of harmonies and an intuitive musicianship. "The Freedom of Forgiving" demonstrates this balance, showing the pair giving and taking sonic space effortlessly in service of the song. "Friends Like These" highlights the pair's warmth as well as their picking agility.
It wouldn't be a folk album without protest songs, and the trio have cooked up quite a collection. Some of these songs have not aged well since their inception. The satirical "When the Big Bad Books Go 'Boo!'" hits a bit differently than it did in 2020, with the keelhauling of discussing racial equity in school curriculums. The triumphant "Me, Too" is optimistic, a celebration of what the movement has accomplished, even as many of the men who were initially implicated have begun to rehabilitate their careers.
On the other hand, "The Ones That Gave It All" bears solemn memorial for the first responders and essential workers who gave their lives in the early months of the pandemic. The historical sketch "Stagecoach Mary" reminds us of those who persevered against seemingly insurmountable barriers — and a community's ability to come together to topple them. In the song "Guild D25," Fink sardonically refers to the trio's younger firecracker days as "naïve," but in reality, All New gives us valuable lessons to carry into an uncertain future.
All New by Tom Paxton, Cathy Fink, and Marcy Marxer is out July 29.
---