The Wheel Keeps on Turning on New Routes
Posted On September 11, 2018
---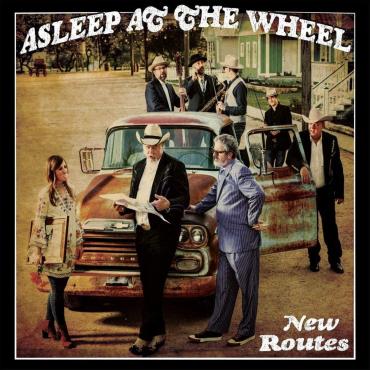 Asleep at the Wheel is a band that has gathered many fans during its long history of bringing music to the masses. Established in 1970 in West Virginia and eventually ending up in Texas, Asleep at the Wheel has released over 25 albums and toured extensively. The list of accolades earned by Asleep at the Wheel over the years is a long one indeed, and includes ten Grammy awards, a Lifetime Achievement Award from the Americana Music Association, an Austin City Limits Hall of Fame induction, Academy of Country Music Award, and several singles that placed on the Billboard country music charts. Most recently, Asleep at the Wheel has been busy preparing for the band's first release of new material in over a decade. Titled New Routes, this 11-song collection features a small handful of originals and some carefully chosen covers.
For the first time in 30 years or so, founder, bandleader, and songwriter Ray Benson (lead guitar and vocals) co-wrote with another member of the band, Katie Shore. In fact, Benson and Shore penned one of the standout tracks on the album, the cool, jazzy "Call It a Day Tonight." Other highlights on New Routes include a catchy western swing version of "Jack I'm Mellow" (arranged by Benson), a spare and earnest rendition of "Dublin Blues" (originally by Guy Clark), the exotic folk of "I Am Blue" (Shore), the country rocker "Pass the Bottle Around" (Benson), and the enchanting "Weary Rambler" (Shore). Another easy standout is the album's classic country closer, "Willie Got There First," which was written by Seth Avett and features Seth and Scott Avett of The Avett Brothers. Frankly, my only criticism of this album is the covers-to-originals ratio; the originals are so good, you might find yourself wishing there were more of them, just as I did.
While more than a few areas of roots music are represented in the Wheel's sound, such as country, jump blues, rock 'n' roll, and folk, one element that is almost always present is western swing. Western swing, as Benson describes it, is "jazz with a cowboy hat." And that is precisely the vibe one gets when listening to Asleep at the Wheel.
Upwards of a hundred musicians have contributed to Asleep at the Wheel throughout the years, with Benson the one constant. In the latest incarnation of Asleep at the Wheel, he's joined by Shore (fiddle and vocals), Eddie Rivers (steel and sax), David Sanger (drums), Dennis Ludiker (fiddle, mandolin, vocals), Josh Hoag (bass), Connor Forsyth (keys and vocals), and Jay Reynolds (sax and clarinet). With this new lineup of talented players, Benson and company's New Routes takes them on a journey through roots music territory and brings the listener along for the ride.
Benson, obviously never content to sit still, always seems to be involved in several causes and endeavors. In addition to touring with Asleep at the Wheel, he has stayed busy in recent years raising money for aging R&B artists with the Rhythm and Blues Foundation, helping provide low-cost mental health services to Austin musicians and their families with the SIMS Foundation, and acting as founder and board member of Health Alliance for Austin Musicians. That's not all, either. Benson has not only produced albums for other musicians, but he has also recorded and released albums with his own Bismeaux Studios and Bismeaux Records. And he hosts the Texas Music Scene TV show. Considering all of this, it is a wonder he found the time to put together the material for a brand new Asleep at the Wheel album.
But after over 40 years of Asleep at the Wheel, it is great to see the Wheel still turning. And I, for one, look forward to seeing which musical routes they travel in the future.
---