The Scuffed and Polished Beauty of Charlie Treat
Posted On October 14, 2018
---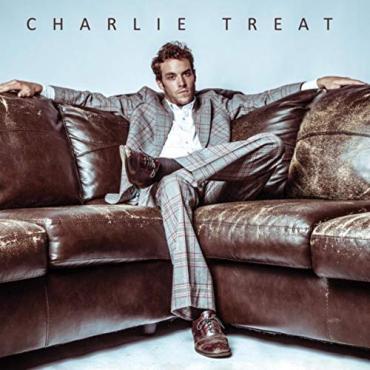 Charlie Treat stares at you from the cover of his self-titled EP, wearing a plaid suit, sitting on a big leather couch, his piercing blue eyes meeting yours, his hair perfectly tousled. He seems glamorously fancy, like perhaps he stars in a popular web series you're not cool enough to have heard of. But as you dig into the cover, you notice things. The couch is old and worn. Treat's brown shoes are scuffed. The plaid suit might be vintage rather than custom. He's not glamorously fancy at all.
The album cover experience is a metaphor for the album's music, which is lush and well-produced upon first listen, but upon repeated spins, reveals a sincerity and vulnerability from beneath the polished layers of sound.
Singer-songwriter Treat has an expressive voice. At times it can sound a bit nasal, a la Neil Young, as on "99 Dollar Man," the first of the EP's five tracks. His country-inflected voice somehow works against a meticulously orchestrated track, which despite the guitars, organs, and electric piano, somehow manages to sound almost classical. "Lonely Believer," with its sweet melody, deliciously simple slide guitar riff, and cascading piano lines, sounds like George Harrison, had he been raised in Memphis and not Liverpool.
Lyrically, Treat is a storyteller, setting scenes and working in concrete ideas and concepts. On the soulful "Look Around," he sings "Look around, it's a good day, to walk along the track / The birds are singing from the fire escape / Heaven's shining off our back." The straightforwardness is very Lou Reed, but without the angst, darkness, and drug references. Lyrically, Treat is also romantic who wears his heart on his sleeve. You hear it in his voice and in his lyrics, as on "No Woman": "I cried last night / Without you in my arms / I mopped the floor with my tears."
Treat's EP is composed and well thought-out, giving it a veneer of coolness. But right beneath the detached calm, there's a sadness and desperation that gives the album a complexity and urgency. It's almost like Treat laid down the instrumental tracks and then realized just what he was feeling when it came time to record the vocals. Like his album cover, the more you focus on Treat's music, the more you understand the artist. Treat reveals himself quite honestly, but the revelations are enjoyably subtle.
---