The Pinkerton Raid Shine Through with New Release "Tolerance Ends, Love Begins"
Posted On February 7, 2017
---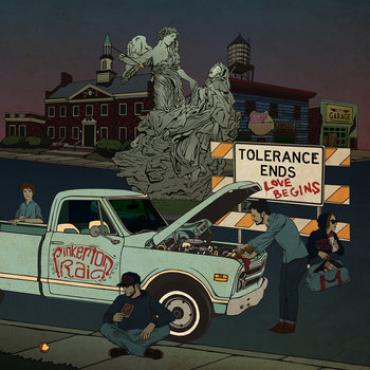 North Carolina has been producing a significant amount of local talent lately, and The Pinkerton Raid is securely at the top of the list. Their newest release, out today titled "Tolerance Ends, Love Begins," is a stunning and definitive collection of songs from start to finish. Headed by frontman Jesse James DeConto, the singer takes center stage in the band, as he leads them into a release that is both haunting and exciting.
Poignant instrumentation takes over the piece with the help of a solid rhythm section, bright-vibrant horns and brilliant vocal harmonies that you will not soon forget. Evoking the spirits of such bands as The National and Sufjan Stevens, the band are a musical force that carefully execute each song.
Sharing their first singles "Ghost in My Bed," and "Righteous Rain," this is just a small taste of what The Pinkerton Raid has to offer on "Tolerance Ends, Love Begins." Solid songs appear throughout from "Crazy," to "Colorado Eyes," leaving no stone unturned. Though it's only February, can we claim "Tolerance Ends, Love Begins," as a top year end list contender? You can certainly count on it as it will make quite an impression on your ears.
The Pinkerton Raid are headed out on tour in support of "Tolerance Ends, Love Begins," which is also out today. Check out the dates and record, here: http://pinkertonraid.com/home.html
---