The Oaks Bring Much-Awaited Revival to the Streets: An Album and Concert Experience
Posted On September 3, 2018
---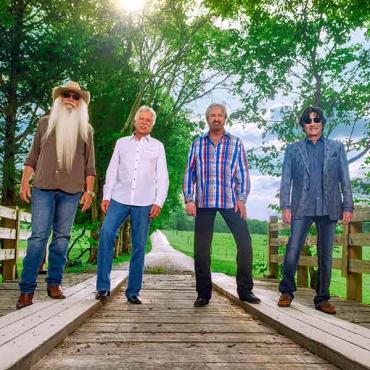 With the release of their March 16th, 2018 album 17th Avenue Revival, the generation-gap be-darned grouping of The Oak Ridge Boys once again prove it's possible to put a new spin on both time and gospel.
Produced by the Grammy-winning and always-adding-to-his-creative-resume Dave Cobb (producer to Chris Stapleton, Corb Lund, Shooter Jennings and also the production force behind Shooter Jennings's latest project, Shooter; just released in August); the album opens with the beautifully tearful but just as uplifting "Brand New Star (Up in Heaven Tonight)" and shines through the end for the song "Let It Shine On Me", stopping along the way for a traditional "Walk in Jerusalem" and to play the lotto in a rollicking recording of Brandy Clark's clever co-write "Pray to Jesus." This fun hoping-to-strike-it-religiously-rich number (co-written by Shane McAnally, it was first a single for Clark off of her 2013 album 12 Stories) is definitely a welcome unexpected gift from the Oaks. Once you hear it, though; you'll realize it's a perfect fit. It's praise-worthy in showing that there's always some sort of price to pay for reverence, but that we would do well to always keep the faith, even if a bit irreverently. Declaring that there "ain't no genie and there ain't no bottle," Christina Aguilera probably won't be a fan of this one but for others it's for sure magic to the ears.
"We called Dave…" says Duane Allen in Revival's liner notes: "We called not really knowing if it would work out or not. But he said: "Hey, man, you guys are family to me. Let's get together for lunch one day and talk about it!"
Cobb encouraged them to infuse their boyish charm with an early blues sound and attitude along the likes of Elvis and Jerry Lee Lewis into their recordings, saying: "You are the only act out there that can gather around one microphone and make it happen." The legendary Studio A on 17th Avenue South became a special, almost spiritual place (a revival, if you will).
Written by Mando Saenz and Aaron Raitiere, the opening "Brand New Star" revolves around the thought that after a special loved one has passed they are not only joining the heavens in the traditional sense but also as a "brand new star up in heaven tonight."
In fact – at a special March 5th members-only performance of this song during a concert showcase at the Country Music Hall of Fame and Museum in Nashville, the Boys' Joe Bonsall shared that after hearing "Star" he testified to one of the writers with the observation of: "You know, that has to be the happiest song I've ever heard about someone dying" and that the writer responded with: "That's the point."
Point taken: There's a sort of "Will the Circle Be Unbroken" atmosphere throughout and the music will move you into wanting to clap along and/or sway despite the sad sentiment. Elsewhere, the uptempo (to put it mildly) "God's Got It" goes a long way towards reassuringly reminding listeners of what a friend they have in Jesus. Still others who contributed their words to this outstanding collection include Jamey Johnson, Larry Shell, and Buddy Cannon ("There Will Be Light") and Vince Gill with Ashley Monroe in the poignant repentance of "If I Die."
One more special note about that aforementioned historic evening at The Country Music Hall of Fame? Following a (in true Oaks fashion) run-around-the-stage showing of "Pray to Jesus," the Boys donated a cylinder copy of their new album to the Museum.
"Ladies and Gentlemen, we not only released a copy of 17th Avenue on vinyl, 8-track and cassette, but here it is on Thomas Edison cylinder," Joe Bonsall declared from the stage as he put the cylinder in the hands of the Hall.
The Oak Ridge Boys continue to perform these songs and more on their "Shine The Light" tour throughout 2018.
[Origially written for The Country Club, The Oaks Bring Much-Awaited Revival]
Main image courtesy 2911 Media. Poster provided by Country Music Hall of Fame and Museum. Copyright 2018 Hatch Show Print.
---