The Nitty Gritty Dirt Band Mark 50 Years
---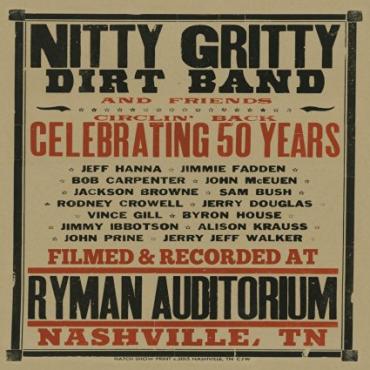 In 1967, the then newly formed Nitty Gritty Dirt Band scored an amiable but forgettable minor pop/rock hit with "Buy for Me the Rain," which failed to crack the Top 40. Few listeners could have guessed at the time that the group would go on to record numerous important country rock albums; collaborate with many of the greats from the worlds of country, folk, and rock; and still be kicking up a storm half a century later.
Two recent releases commemorate the golden anniversary of the band's first album. Circlin' Back: Celebrating 50 Years, which came out last fall, is a CD/DVD recording of a concert given in 2015 at Nashville's Ryman Auditorium. Then there's Fishin' in the Dark: The Best of the Nitty Gritty Dirt Band, which has just been issued.
Circlin' Back is spectacular, especially on DVD, which adds not only the visual component but 5.1 surround sound. The group play with all the polish and harmony you'd expect from a consummate outfit that have been together for 50 years, and they hit many of their career high points.
After opening with a rousing cover of Dylan's "You Ain't Goin' Nowhere," they bring on the inimitable John Prine, who performs his "Paradise" and "Grandpa Was a Carpenter," the latter a song he has previously recorded with the Dirt Band. Other guests include Jackson Browne, who was briefly a member of the group in their embryonic days and whose songs they were among the first to cover; and Jerry Jeff Walker, whose "Mr. Bojangles" gave the Dirt Band their biggest hit and one of their finest vehicles. Also here are such artists as Allison Krause, Rodney Crowell, Sam Bush, and Vince Gill. In addition, Jimmy Ibbotson, an on-and-off member of the group for decades, returns for two tracks, including (on the DVD only) a definitive version of his lilting "Ripplin' Waters."
From first track to last, this masterfully performed concert is a pure delight. It's clear that these guys love what they do as much as their audience loves to hear it. After listening to—or better yet, watching—this show yourself, you'll understand why the group is still going strong after 50 years.
The other new release, the best-of package, offers less cause for excitement. It's not that it doesn't contain some good work. But after half a century of music-making, the Dirt Band surely deserve more than a single-disc anthology that contains no liner notes and that culls 18 of its 21 tracks from the 1980s.
True, that decade produced their biggest country hits, including "Long Hard Road (The Sharecroppers Dream)," "I Love Only You," "High Horse," "Modern Day Romance," "Home Again in My Heart," "Stand a Little Rain," and "Fishin' in the Dark," all of which are here. But this commercial period was also among the Dirt Band's least significant eras from a creative standpoint.
There are only three tracks on the CD from their six inventive 1970s albums. (Note that in 1976, when they had been around for only about a decade, they already had enough top-notch material to fill most of a three-LP anthology, Dirt, Silver and Gold.) And there's absolutely nothing from their landmark 1972 three-LP collaboration with assorted Nashville legends, Will the Circle I'm Unbroken, which remains an essential addition to any country music collection. (There's also nothing here from the two fine sequels to that package.) Licensing problems are the only explanation I can think of for such obvious omissions.
Someday, perhaps the Dirt Band will get the well-annotated, career-spanning, multi-disc anthology they so deserve. For now, to hear why they deserve it, buy Circlin' Back.
BRIEFLY NOTED
Cait Brennan, Third. You don't have to get far into this CD to conclude that Brennan is a wholly original voice, musically, vocally, and lyrically. Her Wikipedia entry links her to glam rock, psychedelic soul, R&B, funk, soul, pop, art rock, power pop, indie pop, and vaudeville—in other words, nearly everything but the kitchen sink. In fact, she's as unclassifiable as she is terrific. Her five-octave vocals, which sometimes remind me of Alison Moyet, are head-turning, and her songs are complex, passionate, and memorable.
David Childers, Run Skeleton Run. Childers, a former attorney who hails from North Carolina, writes and performs country-flavored folk tunes that benefit from his personality-drenched vocals, which hover somewhere between Steve Earle and Kinky Friedman. The guitar-, harmonica-, and violin-spiced backup keeps things humming, and the songs are as distinctive and idiosyncratic as titles like "Radio Moscow" and "Run Skeleton Run" might suggest.
Russ Tolman, Compass & Map. You may know Russ Tolman from his early 1980s band, True West, whose albums were part of the so-called Paisley Underground. Between 1986, the year after that group's breakup, and 2000, he released seven solo albums. Highlights from all of them are on this 20-track CD, which also includes "Los Angeles," a 2013 single. It's a likable collection, thanks to strong hooks, sardonic humor, compelling rock and roll vocals that conjure up a higher-energy Stan Ridgway, and consistently good folk- and honky-tonk-influenced material. After hearing this anthology, you'll be glad to learn that Tolman is working on his first new album in more than a decade and a half.
*****
Jeff Burger's books include Lennon on Lennon: Conversations with John Lennon, Springsteen on Springsteen: Interviews, Speeches, and Encounters, and Leonard Cohen on Leonard Cohen: Interviews and Encounters. His website, byjeffburger.com, contains more than four decades' worth of music reviews and commentary.
---