The Hold Steady Rolls Out More Tales of American Misadventure on 'Thrashing Thru the Passion'
Posted On August 15, 2019
---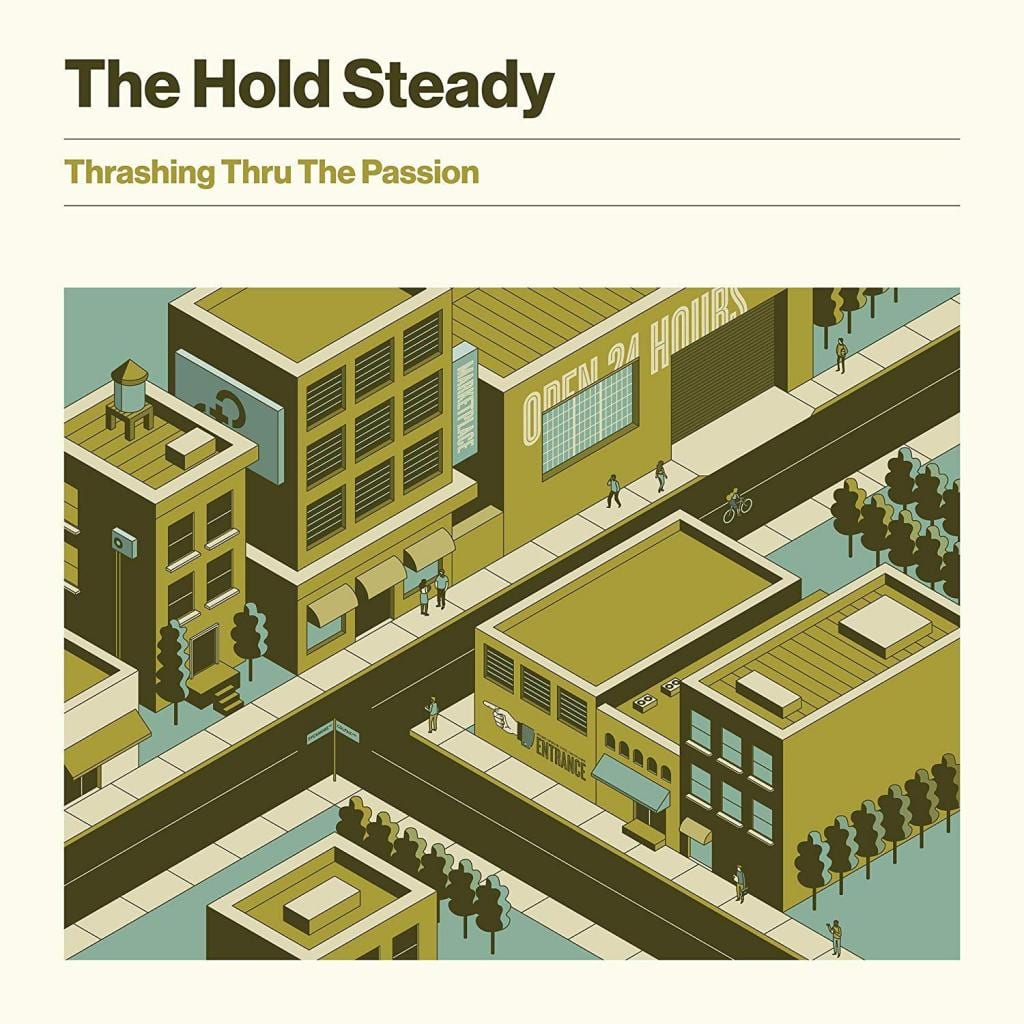 After a five-year album break, the indie rock heroes of The Hold Steady return with a pummeling confidence and reach back to glory days right at the top of their seventh LP with "Denver Haircut," a focused story song about a fuzzy, scuzzy hookup in a Colorado hotel.
It's concisely cinematic. It's narrative-focused. And it's indebted to relatively recent rock lore, with two — oh yeah, man, two — references to Metallica (for those keeping score at home, frontman Craig Finn calls out 1986's Master of Puppets and name checks guitarist Kirk Hammett).
It is only a better-than-average song in The Hold Steady's catalog, but it's a standout on Thrashing Thru the Passion, an album that finds this indie rock legacy act playing to its classic rock-adoring strengths and generally succeeding more than it fails.
That The Hold Steady fails to break major ground here is not very important since the Brooklyn band finds itself able to produce and assemble a handful of pithy additions to its collection. Thrashing Thru the Passion — which has the most true-to-type-sounding record title of the band's career — combines five new tracks with another five offered digitally in the last two years.
These songs will sound even better live. And they'll slide in just fine alongside the classics, still sitting on many an American Dude's iTunes library.
Finn and his compatriots continue to crank out compelling fist-pumping and beer-swilling tales of youthful malaise and stunted development. Nothing reaches the heights of Separation Sunday or Boys and Girls in America, but few acts of The Hold Steady's mid-2000s vintage are boldly venturing to distant creative reaches these days, save perhaps The National.
Those American Dudes will hope that, maybe, just maybe, Thrashing Thru the Passion will catch us up on the shattered lives of Holly or Gideon or another one of Finn's tweaked-out characters. No, but they'll get a few cracked Easter eggs for the faithful, like references to "kooks" and "hornets."
They'll get a song about the addled "Blackout Sam," who, as Finn — who turns 48 this month — explains, "keeps waking up in parking ramps."
"He can never find his keys," Finn sings on this midtempo album highlight, which serves as a halfway point breather much the same way that "First Night" did on Boys and Girls in America and "Lord, I'm Discouraged" did on Stay Positive.
Good thing Finn has retained his comedic ability over the years. He proves it in several spots on Thrashing Thru the Passion, including with a righteous reggae reference on "Star 18."
"Sorry I'm late, I got caught in a mosh / With this dude who said he used to play with Peter Tosh," Finn explains from his character's predictably shady vantage point. "But he never brought it up again / Once I said man I don't believe you."
Humor is essential. And if it weren't for these laugh-yielding lines and the horns and the keys and the driving tempos, well, these tales would be much heavier and even harder to ingest.
Just read the full lyric sheet. It's darker on paper than it sounds sung, executed and smoothed out with The Hold Steady's instrumental E-Street bombast.
It's American Decline — crime, drugs and the lost lives of deadbeats. They're taken as composite sketches aggregating the flaws and pockmarks of average screw-ups who are — like Finn sings on album closer "Confusion in the Marketplace" — simply "searching for a purpose or just something we can celebrate."
Craig Finn's characters, like all of us, still stumble along the way, some worse than others. And even if Thrashing Thru the Passion is an average output from The Hold Steady, its stories and vivid constructs capably give shape to frighteningly realistic portraits of stumbling and suffering.
---