The Exquisite, Final Word on a Country Legend
Posted On December 6, 2018
---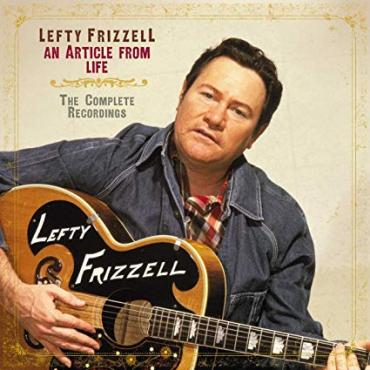 Born in Texas, and raised in Arkansas, William Orville "Lefty" Frizzell took in the seminal influences of Jimmie Rodgers, Ernest Tubb and others, and forged an original vocal style that impacted an entire generation of singers. His next-generation disciples included Merle Haggard, Willie Nelson, George Jones and Roy Orbison, and his influence continues to reverberate today through the works of Brennen Leigh and many others. His 1950 debut topped the charts with both "If You've Got the Money (I've Got the Time)" and its flip, "I Love You a Thousand Ways," and the hits that followed stretched into early 1953. But Frizzell was a mercurial artist, firing his manager and band in 1952, joining and quitting the Grand Ole Opry, and moving to Los Angeles, where he joined the Town Hall Party. His 1954 single "I Love You Mostly" would be his last Top 20 hit for four years, and though he'd move to Nashville and regain the top slot with 1964's "Saginaw Michigan," his health and success steadily declined until his death at the age of 47 in 1975.
Bear Family has pulled out all the stops to honor Frizzell's legendary career, gathering 361 tracks on 20 CDs, including all of his singles (45s and 78s) and albums, demos and session material, and a wealth of newly discovered material. The discs are packaged in double digipaks, which are themselves housed in a 12-½" x 12-½" x 3" box that includes a massive 264-page hardcover book. This box set represents the third iteration of Bear Family's archival work on Frizzell, having previously issued the 14-LP set His Life, His Music in 1984, and the updated 12-CD set Life's Like Poetry in 1992. This is a superset of both earlier releases, and though a few scraps might still be hiding in a dusty vault, this is likely to be the definitive statement on Frizzell's recording career. In addition to complete coverage of his 25-years of commercial releases, the demos, private recordings, radio airchecks and U.S. military program transcriptions stretch back into the 1940s. The set's final eight discs feature Frizzell's younger brother David reading his biography I Love You a Thousand Ways.
Discs 1 through 9 repeat the same commercial material as was originally offered on Life's Like Poetry. Discs 10-12 include demos, radio airchecks and transcriptions that provide a rich picture of the artist in development. These latter recordings vary in quality, and some of the earliest material is rough in spots, but Frizzell's voice always manages to emerge from the surface noise of acetates and metal parts. New to this box are two dozen full and partial demos and non-session recordings, including late-40s covers of Ernest Tubb ("I'll Always Be Glad to Take You Back" and "I'll Always Be Glad to Take You Back"), Jimmie Rodgers ("My Old Pal of Yesterday," "Jimmie the Kid" and "California Blues"), Ernest Tubb ("Mean Mama Blues"), Hank Williams ("I'm a Long Gone Daddy," "Last Night I Heard You Crying in Your Sleep" and "There'll Be No Teardrops Tonight"), and 1950 band recordings of Frizzell originals "If You're Ever Lonely Darling," "I Love You A Thousand Ways" and "Lost Love Blues." Of particular interest among the new tracks are three solo acoustic takes of "I Won't Be Good For Nothin'" that show how Frizzell developed his approach to the song.
The transfers and mastering of the studio material highlight the microphone's love for Frizzell's voice. His presence is palpable sixty years after he first stood and sang these numbers, and his feel for a song's tempo remains unerring, never rushing a lyric, but never dragging the beat. As described by Merle Haggard, Frizzell would "hold on to each word until he finally decided to drop it and pick up the next one." Charles Wolfe's biographical essay, updated and revised by Daniel Cooper and Kevin Coffey, pieces together Frizzell's personal and recording history from a variety of sources. Frizzell was apparently not fond of being interviewed, and the authors augment the artist's own memories with those of his family, friends, supporting musicians and colleagues. The book (weighing in at a somewhat unwieldy five pounds) is laced with archival photos, and supplemented by Richard Weize and Kevin Coffey's detailed discography. This collection is the epitome of the Bear Family box set, overwhelming in its completeness, attention to detail and love for the artist. [©2018 Hyperbolium]
---