The Barefoot Movement Bends Bluegrass Toward Fresh Territory on 'Pressing Onward'
Posted On September 15, 2021
---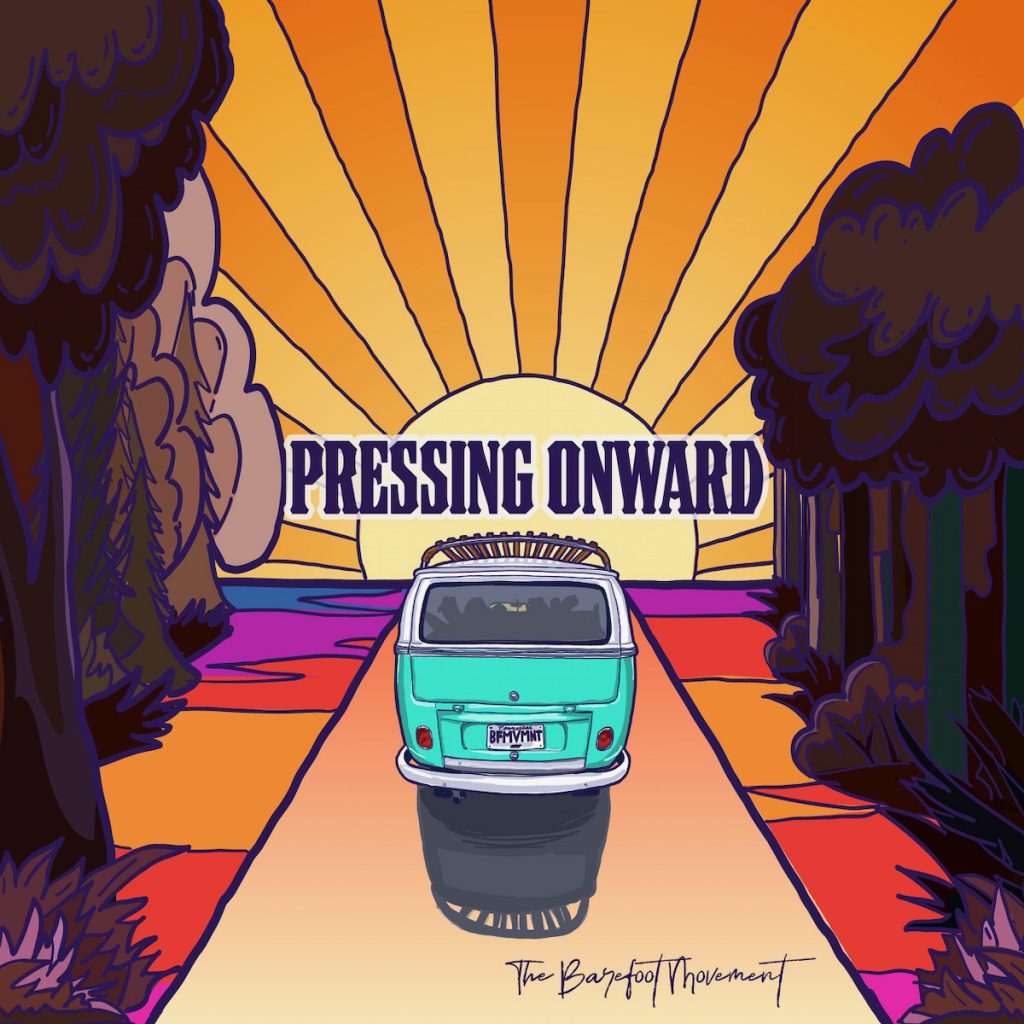 If you catch The Barefoot Movement at a bluegrass festival, you're going to get the standard blazing fast instrumental runs in traded-off solos, beautiful harmonies, love songs and heartbreak songs.
But what you won't get is bored. Members of the band, founded in North Carolina in 2006, are clearly voracious listeners, and the wide range of genres and styles they hear filters into their music in ways that constantly challenge and delight. (True to their name, of course, you also won't catch them wearing shoes onstage.)
Such free-spiritedness from the stage is often hard to capture in a studio, but The Barefoot Movement's new album, Pressing Onward, is an example of that job done right. Perhaps that's not surprising, considering it was produced by Chuck Plotkin, known for his work with Bruce Springsteen and Bob Dylan, and Hank Linderman, whose credits include The Eagles, Chicago, Keb'Mo', and more. But even the best producers can only work with the material the band brings to the room, and The Barefoot Movement did not come empty-handed.
Many of the songs on Pressing Onward deal with solace and survival amid setbacks, and Noah Wall packs pain and hope in her powerful voice, fiddle playing, and songwriting.
"Things can't be as bad as they seem / but I can feel them crushing me," she sings on the lovely "Someday," the emotion in the song amplified via harmonies from bass player Katie Blomarz. "Someday," they sing as they land on the chorus, "the sun is gonna rise and stay."
The title track lets loose at a full gallop, Wall's fiddle frantic, yet steady, and drums keeping it all on the trail. "Every day I try to keep the faith," the band sings at full strength in the chorus, "But I won't make it alone / You make me strong." It can be read as a gospel song, or just a tribute to help from a friend. The song is the listener's to take inspiration from as they may, but whether it puts them in the mindset of a church of a barn dance, it's going to make them move.
This is a band that loves a good cover — they've presented many in a pandemic-era video series of stitched-together performances called "Tune Twists" and, from a little farther back, in videos titled "Carcapella" in which the band sings covers in their tour van. Three covers made the cut for Pressing Onward: Paul Anka ("It Doesn't Matter Anymore"), '70s funk-rockers Mother's Finest ("Baby Love"), and Jimi Hendrix's "Fire," which has been a staple at The Barefoot Movement's live shows the past few years and is rendered here in the same playful, but respectful, spirit that makes it a standout every time.
The Barefoot Movement is a must-see at any bluegrass festival they play, but their sound roves far beyond that genre's roots. With each album, they've moved their sound forward and farther, but they keep their feet — sans shoes — in a tradition that's proving it can be powerful for new generations.
---