Subtly Stunning
Posted On October 31, 2018
---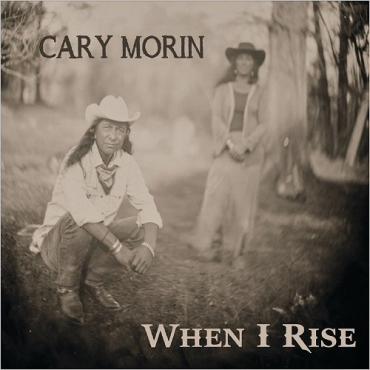 Cary Morin
When I Rise
Maple Street Music Oct 26
This is one of those under talked about singer/songwriters who deserves a listen for a wide variety of reasons. However some of the reasons we may not have heard of him are those mundane reasons we don't think about; he is from up in Billings, Montana and relocated to Northern Colorado and try to think of others singer/songwriters from that area, in fact try to think of some cities up there where there is a good music scene? He is fairly well known in Europe and the Far East, but until last year's Cradle to The Grave, which was the recipient of the 2018 Independent Music Awards for the Best Blues CD he had achieved very little recognition in his home country. He is of Crow descent and try to think of many singer/songwriters of Native American descent; maybe you come up with Karen Dalton and Buffy St. Marie, and I've just learned Charlie Patton was part Cherokee. I was alerted to Cary, if I remember correctly by CW Ayon, who is part Southern Cheyenne on his dad's side, who is a great one man Mississippi Hill Country Blues Band over in Southern, New Mexico, (www.cwayon,com).
This disc is ten songs that came from Cary's pen and 2 covers; the Jerry Garcia/Robert Hunter tune "Dire Wolf," and an innovative beautiful version of Duane Allman's "Little Martha". Before we go any further I'd like to mention the band who stay solidly with him all the way through this disc, both supporting and at the same time freeing him up so that he can take wing with his instrument of choice at the moment. Cory Morin plays guitars, pedal steel guitar and provide vocals here; he is joined by Celeste Di Iorio on vocals; Steve Amedee on drums and percussion; Paul Benjaman electric guitar; Jay Forrest drums and percussion; Jason Larson on vocals, piano, and bass guitar; Dexter Payne on clarinet and harmonica; Kim Stone acoustic and electric bass, Andy Weyl on piano; and Lionel Young on the violin.
What stands out here first is the weathered voice with which he sings, for those of ups that have been in harsh winter weather up in the cold country and see the type of weathering the barn boards take absorbing the rain and snow along with the frigid temperatures for months without relief, and that is why old barn boards are in such high demand as decorations and furniture fixings. It is the weathering and all that makes it up that gives the wood its strength and polish and beautiful patina.
https://www.youtube.com/watch?v=cXsPSa0YBCM
Then there is the beautiful mastery with which he treats whatever instrument happens to be in his hands. He is one of those people who don't put a lot of spit shin and volume to their playing but when you listen closely. I think as you don't know who the heck the guy writing is I am going to let David Bromberg give you a few words; "As a guitar player, I have huge respect for Cary's styled technique on the guitar. If you haven't heard him yet, you should. Try to remember that it's only one guitar."
https://www.youtube.com/watch?v=db-XsWlUamE
This is a gem that deserves your full attention and I think it will more than reward the investment of your time.
by
bob gottlieb
---