Southern Rock that Stands Alongside Giants
Posted On January 1, 2019
---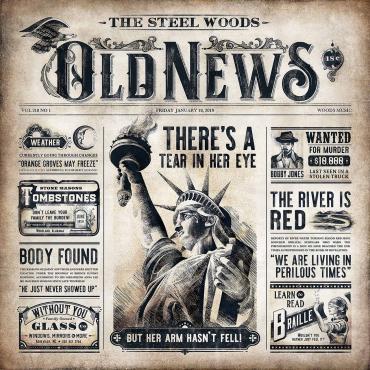 It's been said before that writing about music is like dancing about architecture, and the point is well taken. Why read about someone's music when you can just go listen to it yourself — especially in the age of streaming and YouTube, where free taste (or ear) tests abound?
But I can tell you exactly how The Steel Woods sound. The hirsute Southern rockers sound like making a pot of bourbon chicken, drinking the half-bottle of bourbon you don't use in the recipe, pouring the bourbon chicken on a very hairy man, licking every last drop off of his body, then having sweaty, satisfying sex with this gentleman as hallucinations of Gregg Allman and Lucinda Williams, standing hand in hand in powder-blue choir robes, gaze on approvingly while the former's version of "Melissa" plays in the background.
Based in Nashville, The Steel Woods are led by vocalist Wes Bayliss and guitarist Rowdy Cope, the latter of whom used to play in Jamey Johnson's band. Bayliss' manly drawl is not dissimilar to Johnson's, although when the band really rocks out, it can tend more toward Chris Stapleton or even Ozzy Osbourne, as Cope and Bayliss share an affinity for Black Sabbath covers.
On their second album, Old News, the Sabbath cover of choice is the uncharacteristically tender blues ballad "Changes," while The Steel Woods took on "Hole in the Sky" on their debut LP, Straw in the Wind. Most bands save their renditions of other artists' material for live sets or special collections, but The Steel Woods wear their influences on their album jackets. Of Old News' 15 tracks, six are covers, including an album-closing, four-song tribute to the recently deceased Wayne Mills ("One of These Days"), Merle Haggard ("Are the Good Times Really Over"), Gregg Allman ("Whipping Post"), and Tom Petty ("Southern Accents").
The Haggard and Allman tunes really showcase the band's awesome range: classic country to dueling-guitar jams that explode with intensity. The Steel Woods are going to get pegged as Allman Brothers disciples no matter what; it shows an admirable amount of guts and confidence to address that impression in such a head-on — and dead-on — manner.
The Steel Woods are so good at playing other people's tunes that their own compositions threaten to get overshadowed. But strip away the covers and you'll find a solid, satisfying oeuvre of original tracks. The epic "Rock That Says My Name" puts them in the ring with The Drive-by Truckers and indicates that they might well have their own "Whipping Post" in store one day.
Beyond that, what's striking about Old News is how lyrically sensitive it is, featuring paean ("Without You") after paean ("Wherever You Are") to the love and loyalty of dynamic women. If the Southern rocker of the '70s went through lovers like whiskey and syringes, it's the strength of a woman on whom the 21st-century version's sanity hinges.
* * * * * *
Your subscription helps keep independent roots music coverage alive! Subscribe to No Depression now and join a community of roots music fans from around the world.
---