Southerland Ayers Seamlessly Blends Multiple Genres in Debut Album
Posted On December 10, 2018
---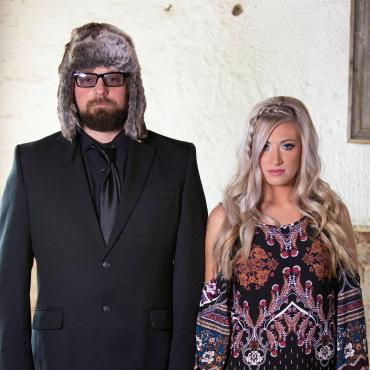 As far as debut releases go, many artists try to keep it simple and don't tend to venture outside the norms of their specific genre. With Ghost In This House Southerland Ayers does anything but that. The Texas-based Melancholic Folk duo have created an album unlike anything I've ever heard before (and I've heard a lot!)

Kicking off with "The Great Flight Home" the duo immediately shows their dynamic vocal range by nailing harmonies that remain a common theme throughout the record. Though rooted in folk, this track definitely mixes in some classic pop and 60's rock to craft a unique song. Southerland Ayers recently released a music video for this track which exclusively premiered on Celeb Mix.
"Ribbon in Your Hair" lets the foot off the throttle a little and shows a softer, more melancholy side to Southerland Ayers. Backed with no percussion, the track floats along with ethereal synths and a somber guitar riff that pulls on the heartstrings, as does the rest of the album.
Starting acapella, "Will You Remember Me" continues the gloomy vibes. Lyrically this track fits the tone of the song perfectly. "If I should die / Will you remember me?" is repeated multiple times as the duo sings towards someone they used to know. "Will You Remember Me" is certainly a heavy track that makes the listener think.
In a complete 180, "A Life Sublime" picks up with a triumphant synth and upbeat vocal melody that changes the mood of the album in the first few seconds. This track is also the first on the album to be backed with a drum kit, helping this one feel that much more epic. Steering more towards the "pop" end of the spectrum you can still hear the folk roots.
Bringing it back, the title track, "Ghost In This House" feels just as somber as "Will You Remember Me" but with an even more impressive vocal performance. Both Kaylee and Mick really let loose with their range and perfectly tie this piano ballad together. I'd have to say this is personally my favorite song on the album and I'm disappointed to say there's only one song left!
Probably the "pop-iest" song on the album, "Sorry" is another one where Kaylee shows she has some serious pipes. A self-confidence anthem ends with the lyric "I'm okay" and this is the perfect way to close out an album that dives into some of the darker parts of the mind.
All in all, this is one of the better debut albums that I've heard and I'm excited to see what's next from these two! You can keep up with them on their website: http://southernayers.com/ and follow them on social media @southerlandayers.
---