Sort of Blue: Son Volt Releases Eighth Studio Album
Posted On February 20, 2017
---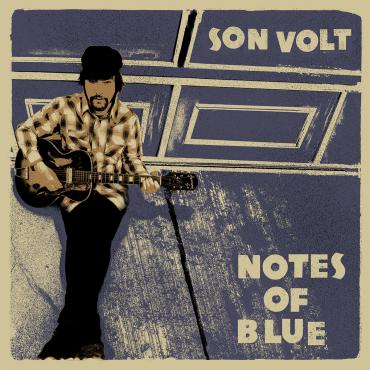 Certainly No Depression (1990) has its stellar moments, including the title song / Carter Family classic, as does the band's final release, Anodyne (1993), which captures Uncle Tupelo's cumulative growth musically and as songwriters. Following the breakup of UT, however, Jay Farrar and Jeff Tweedy would go on to produce their most compelling work. Tweedy and Wilco would release A.M. (1995), soon moving toward the alt-folk / psychedelic sounds of Summerteeth (1999) and Yankee Hotel Foxtrot (2001). Farrar and Son Volt, less experimentally inclined, have worked more unwaveringly and perhaps repetitively within roots-rock parameters, though I'll posit that the band's 1995 debut, Trace, is on par with or superior to any project released by Wilco.
SV's new album, Notes of Blue, is predominantly engaging in the same way that Straightaways (1997) and Swing Tremolo (1998) are predominantly engaging; which is to say, it ain't Trace or even the highly underrated Okemah and the Melody of Riot (2005), though it's a worthy addition to the band's oeuvre, offering hummable melodies, accessible lyrics, and notable instrumentation. The opening track, "Promise the World," showcases Farrar's ragged and world-weary vocal, aptly blended with a sparse guitar and wending fiddle part. "Back Against the Wall" is quintessential alt-Americana a la Neil Young & Crazy Horse or Drive By Truckers. Subtle vocal harmonies and doubling add presence to the track.
SV are at their best when songs are instrumentally spacious, when Farrar's signature vocal has room to sprawl and resonate. While the band uses electric sounds ambitiously and for the most part successfully, each album seems to include a track or two (or three) on which an overly droning guitar is placed too predominantly in the mix. This approach reflects, I think, the impact of such bands as Velvet Underground, Sonic Youth, and My Bloody Valentine, punk a fundamental part of SV's DNA but an influence that the band, to my ears, has yet to fully integrate. Case in point: "Static," although Farrar's hooky melody serves to counterbalance the redundancy of the guitar riff, lyrics offering a wry psycho-social statement: "Static on the TV and the radio / or is it my mind / turned upside down?"
Farrar's vocal on "Cherokee St" reminds me of Ralph Stanley's vocal on "Fire and Brimstone." "Too many graves to be kept clean," he sings, the guitar part sounding like an outtake from Dylan circa Love and Theft or Modern Times. "This world is not my home," he adds, echoing the disillusionment and outsider mantra so integral to the blues, country, and rock canons. On "The Storm," Farrar's grainy vocal mixes well with the picked and slide (acoustic) guitars. "Lucky 7 has been a friend of mine / spent all my money on whiskey and women / been in this storm so long," he sings, relying on the motif of "the hard life" and again adopting the familiar persona of "the outsider / rebel / rambler who can't settle down."
Contrasting with the atypically ebullient instrumentation on "Lost Souls" are Farrar's ragged voice and the cacophonous crescendos between verses. "Midnight" offers a muffled vocal, a compressed moan that sounds as if it's rising from the molten core of the earth. "It's always midnight down in hell," Farrar sings, a distorted but atmospheric guitar conjuring images of flames and demons dancing, Farrar's bow to the crossroads myth and Robert Johnson.
"Sinking Down" makes use of what strikes me as a second- or third- generation take on a Bo Diddley or John Lee Hooker riff. "Cairo and Southern" exudes an austere beauty, subtle instrumental shifts from clangorous to gentle, the piece a bit lengthy perhaps for its narrow albeit haunting melody. Also, the reference to Cairo (IL, I imagine, rather than Egypt) as an existential mecca—a take-off on the blues formula of paying tribute to cities such as Chicago, Memphis, and New Orleans—lands as inventive and effectively confessional but also slightly awkward or contrived. The closing song, "Threads and Steel," poignantly references Led Belly's "Man Taking Names," emanating the influence of such progenitors as Johnny Cash and Willie Nelson.
Notes of Blue is an apt follow-up to and possible improvement upon 2013's Honky Tonk, though it's debatable that SV more authentically channel the spirit of honky-tonk (Hank Williams, Loretta Lynn, George Jones) than that of the pre-Anglicized blues. Still, I imagine that Charley Patton, Son House, Lightin' Hopkins, Muddy Waters, et al would appreciate the tip of the hat, as would those through whom the blues has been reconfigured via the rock idiom: Cream, Led Zeppelin, and ZZ Top as well as Americana icons Steve Earle and Alejandro Escovedo. More putative interpretation than intentional tribute, Notes of Blue highlights SV's continued desire to credit the roots of American music, even if the band does so in a way that doesn't carry them far from their default tendencies.
---