Simon Casts New Light on Old Songs
Posted On September 5, 2018
---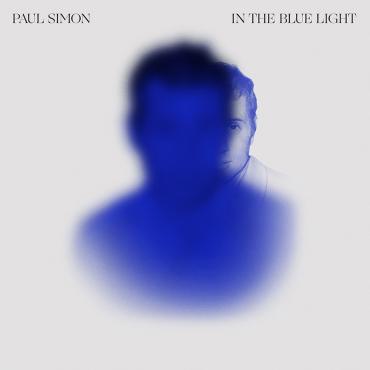 Considering how long he's been around, the extent to which Paul Simon has resisted giving into nostalgic impulses is admirable. A few Simon & Garfunkel reunions notwithstanding, Simon has rarely limited himself to revisiting and cashing in on the past in the way that many of his contemporaries, like Paul McCartney and Brian Wilson, have. Nor has he trashed his legacy and discounted his older work as Bob Dylan has at different phases of his career. For an artist with over a half-century of creative experience, Simon has expressed an uncanny ability to engage in and create an interest in his current and future work rather than in what lies behind him.
With this in mind, and at first glance, Simon's newest release In the Blue Light is a little perplexing. Comprised of ten previously recorded songs that he felt never received compelling or sympathetic treatment the first time out, the project provokes an understandable impulse to think that Simon had run out of ideas and was looking for a way to cash in on the sentiments stirred up by his ongoing "farewell tour."
Of course, Simon is not the first artist to revisit his earlier work. Gordon Lightfoot and John Prine each have re-recorded their most popular songs for greatest hits collections in order to reflect changes in musical styles and taste. Throughout his lifetime, Bob Marley continuously revamped his early Jamaican singles for the international market, while Willie Nelson never seems to get tired of recording "Night Life" and "Crazy" over and over again. What distinguishes Simon's project from most artist's recastings of old songs is that the selections he sheds light on here were never big hits in their first incarnations. In their new readings, some of these previously neglected songs – "Rene and Georgette Magritte and their Dog After the War" and "How the Heart Approaches What It Yearns" in particular – have transformed to such an extent that they merit a place at the very forefront of Simon's recorded work.
It's impossible to evaluate In the Blue Light without considering how Simon's farewell tour is affecting his choices as a musician. On the opening date of the tour, Simon told the Vancouver audience that he'd reconsidered his decision to stop playing live when he realized how much money and attention the project was attracting. All joking aside, and no matter how much fame a person has accrued during a lifetime, it has to be a little bit sobering to draw a line under a defining part of one's identity and say "enough." At such a time, and under such poignant weight, could anyone resist the impulse to "look back"?
People who have been to any of the dates on the farewell tour will recognize several of the songs featured on In the Blue Light as being among the more obscure works he selected to play onstage. For many of Simon's fans, the chance to hear songs like "Can't Run But" and "Questions for the Angels" were the most memorable parts of the show, rather than the hits that have had the life squeezed out of them by having been played to death on the radio for decades. Really, as good a song as it is, is it even possible for people of a certain generation to hear "The Sound of Silence" with fresh ears? Paul Simon appeared the most engaged when playing these "minor" songs, and perhaps didn't want to let the unique arrangements of the material he created for performance evaporate as soon as the tour was over.
To Simon's credit, something new is expressed in each of the revisited compositions captured on In the Blue Light. It is one of his freshest and most vital recordings, in which nothing feels tired or overworked. Interestingly enough, the lyrics in the new versions of these songs are virtually unchanged from the originals. Differences and innovation are all expressed in the phrasing and musical settings.
Throughout his career, Simon has called on the finest studio musicians to communicate his ideas, and the talent gathered for In the Blue Light is no exception. With players that include Bill Frisell, Jack DeJonette, and Wynton Marsalis, Simon's newest recordings strike an admirable balance between precision and warmth. For as good a live performer as he is, Simon's true home is the studio, and it is there that his creativity is most fully expressed. There's nothing loose or offhand about any of the performances, and if at times the precision and tastefulness of the arrangements are reminiscent of Steely Dan's later recordings, the music never loses its soulfulness or comes across as cold or aloof.
The opening cut, "One Man's Ceiling is Another Man's Floor" from 1973's There Goes Rhymin' Simon, is the oldest song on In the Blue Light, and its presentation defines the album's approach by almost completely disregarding the original scoring and arrangements. Though the new version lacks something of the offhand, "nothing to lose" brash looseness of the original, it more than makes up for this by slowing the tempo and emphasizing performance and instrumentation. Studied, precise, and musically perfect, it is an immaculately mixed and brilliant studio recording. The same could be said of "How the Heart Approaches What It Yearns," an all-but-forgotten track from the soundtrack to One Trick Ponythat is given new life in a cool jazz arrangement featuring some gorgeous trumpet work from Marsalis.
"Dear Lorraine" is one of four songs selected from 2001's She's the Onef or a second reading, suggesting that Simon really wasn't very happy with that album in its original form. (Curiously, 2006's Surprise, an album whose production Simon has often expressed dissatisfaction with, was spared any additional thoughts or revisions.) One of his great, unappreciated songs, "Dear Lorraine" previously suffered from Simon's post-Graceland identity crisis. Originally treated to a fairly standard African highlife arrangement, the lyrics seemed at odds with the music. This time, the tempo has been slowed down and anchored by a deep and deliberate bass line that allows Frisell's dancing guitar to weave subtly in and out of the rhythm to effectively complement the shifts between humor and pathos of the story the lyrics tell.
For many people, one of the most compelling segments of Paul Simon's current live show was when he performed "Can't Run But" and "Rene and Georgette Magritte with their Dog after the War" with Y Music, a string sextet of young musicians from Brooklyn. "Can't Run But" expresses a musical tension and shifty paranoia that was absent from the original Rhythm of The Saints version, while "Rene and Georgette" emerges as the most innovative and musically interesting track on the album. By taking out the "doo-wops" from the original Hearts and Bones version and substituting a challenging, yet ethereal, string arrangement, it is the high point of the project and reason enough, in itself, to put down money and buy In the Blue Light.
It's natural to feel trepidation anytime an artist decides to revisit old work. Far too often, it reflects a dearth of ideas or nostalgia for a time long gone. In the Blue Light escapes these traps to instead express the artist's deep love and care for his music and the thoughtfulness with which he considers his work. It perfectly captures a moment in time when a much-loved musician ponders the implications of leaving the stage and losing the chance to interact with and experience his life's work. As such, In the Blue Light is a much more telling and true document of Paul Simon's artistry than any of the inevitable live albums cashing in on his final tour will ever be.
---