Sgt. Pepper at 50: Still "Guaranteed to Raise a Smile"
---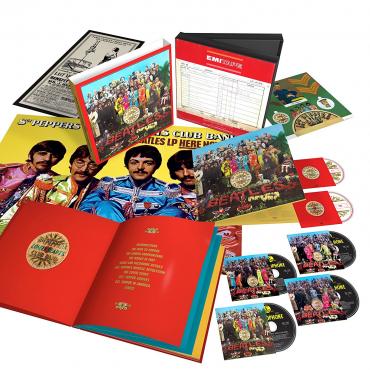 It must have been 70 years ago today when Sgt. Pepper taught the band to play, because the Beatles' iconic album came out half a century ago. It's difficult to believe that it has been that long—or that it has taken 50 years for most of the material on the about-to-be-released expanded edition of the album to see the light of day. The U.S. government has sometimes declassified top-secret documents in less time than that.
We can debate whether Sgt. Pepper's Lonely Hearts Club Band is the greatest or most influential album of the rock era, as some critics have said—or even whether it's the best Beatles LP. As much as I admire it, I find myself returning more often to Revolver, Rubber Soul, the White Album, and, especially, Magical Mystery Tour (which wasn't even conceived as an album). Certainly, though, Sgt. Pepper belongs on any list of the most important and beloved rock albums ever made. The Beatles are right when they proclaim in the title cut that their fictional Sgt. Pepper band are "guaranteed to raise a smile." But scratch the line about how "they've been going in and out of style." This record achieved instant popularity when it was released in June of 1967 and quickly became a soundtrack for the Summer of Love; and it has remained a rock staple ever since.
Sgt. Pepper has often been called one of rock's earliest concept albums but it is not a concept album at all—certainly not in the sense that, say, the Who's Tommy is. The only concept on Sgt. Pepper concerns the fact that the Beatles dressed up in costumes and proclaimed the LP to be the work of Sgt. Pepper's Lonely Hearts Club Band. The fictional group deliver an opening number and return near the end to say goodbye but the other tracks on the album have virtually nothing to do with any theme or with each other, musically or lyrically.
So what's the point of the Sgt. Pepper non-concept? According to McCartney, it freed the group from the idea that they had to deliver a new Beatles album; under the guise of Sgt. Pepper, they felt liberated to do whatever the heck they wanted. And they did, crafting some of their most diverse and inventive work to date—work that took them further away from early hits like "I Want to Hold Your Hand" and "Love Me Do" than anyone could have imagined a mere four years earlier. Songs like "Lucy in the Sky with Diamonds," "Within You Without You," "When I'm Sixty-Four," "Lovely Rita," and "A Day in the Life" showed just how much you could accomplish with four tracks. All you needed was love—plus a brilliant producer, two great songwriters, a burgeoning third one, a few drugs, a lot of instruments, and a quartet of creative musicians.
Interestingly, many of the lyrics come straight from everyday life: Lennon lifted most of the lines for "Being for the Benefit of Mr. Kite" from a 19th century circus poster; "Lucy in the Sky with Diamonds" is the title his son Julian gave to a painting he'd made (not a hidden nod to LSD, as many assumed). A corn flakes TV commercial inspired "Good Morning Good Morning" and the words "Sgt. Pepper" came to McCartney when he misheard a request to pass the salt and pepper.
Unless you were born yesterday (in which case you're probably not reading this), you don't need me to introduce you to the music on Sgt. Pepper. But you might need help deciding whether it's worth upgrading to the new "super deluxe" edition of the album. I think it is, assuming you're much of a Beatles fan, because this thoughtfully assembled and beautifully packaged collection comes loaded with goodies, most of which are worth having and some of which are arguably essential. Among the contents:
A CD that features a new stereo mix of the album by Giles Martin, son of original producer Sir George Martin.
Two CDs containing fascinating and mostly previously unreleased alternate takes, studio chatter, and overdubs.
A CD that offers the album's original mono mix—the mix the Beatles preferred—plus bonus material.
A DVD and a Blu-ray, featuring a restored documentary about the making of the album that was broadcast in 1992 but has not previously been released on disc; videos for several of the LP's songs; and, last but not least, 5.1 audio mixes of the Sgt. Pepper album and one of the greatest singles of the rock era: "Penny Lane" and "Strawberry Fields Forever," two songs that were originally intended to be part of the LP.
An oversized, hardcover, 144-page book that includes brief commentary by Giles Martin and Paul McCartney, numerous photos, and seven excellent essays: "The Path to Pepper," "The London Underground," "The World in 1967," "Sgt. Pepper's Musical Revolution," "The Cover Story," "Sgt. Pepper Arrives," and "Sgt. Pepper in America." Also here for each song, including "Strawberry Fields Forever" and "Penny Lane," are lyrics plus comprehensive details about the composition and the recording sessions.
A reproduction of the original album cover and the cardboard cutouts that came with it, plus a Sgt. Pepper poster and a reproduction of the aforementioned "Mr. Kite" poster.
The mono and new stereo mixes are being touted as the main attractions here. They're interesting and occasionally revelatory, and the well-done stereo mix helps to update the sound to today's standards. To my ears, though, neither of these mixes offers a dramatic change or the chief reason to buy this edition of the album. Much more noteworthy in my view are the Blu-ray's spectacular 5.1 mixes (including ones in DTS-HD Master Audio), especially those of "Penny Lane" and "Strawberry Fields Forever." Also terrific is the wealth of previously unreleased studio material, which sheds new light on the Beatles' creative process; and the book, which is loaded with facts and insights about the album, the band, and the era in which they worked. It's also well worth having the film, in which George Martin talks in the studio about how various tracks came together and McCartney, Starr, and Harrison colorfully reminisce.
Note to the producers: We're approaching the 50th anniversary of such other Beatles classics as the White Album and Abbey Road. More, please!
BRIEFLY NOTED
Dean Gitter and the Ute Mountain Gang, Carl Sandberg's American Songbag 2.0. Despite the 2.0 in the title, Dean Gitter makes no attempt to contemporize his approach on this new recording, which harkens back to pre–folk revival artists like the Weavers and Burl Ives. The 82-year-old Gitter—who sounds a little like the latter and a good deal like Dave Van Ronk—delivers a 21-track, 71-minute program of songs culled from Sandberg's influential 1927 anthology of American standards. Among them: "Delia's Gone," "Days of '49," "Times Are Gettin' Hard," and "Duncan and Brady." Gitter—whose claims to fame include having discovered, managed, and produced Odetta—calls the music "renegade folk." I call it a lot of fun.
Lighthouse Sweden, Silence in the City. Some of the best Americana music these days is coming not from America but rather from Scandinavia and especially Sweden. Witness this quintet, led by married couple Mats and Linda Brandemark. Both of them are distinctive vocalists and their highly accessible, hook-laden music is rock-based but with strong country and pop elements. Cuts like "Silent City," "Can't Find My Way," and "Window to the Sky"—all of which feature ringing guitars and memorable lyrics about relationships—are infectious and impossible to turn off.
Ben Bostick, Ben Bostick. Ben Bostick has clearly done some living and learned some lessons, and he knows how to turn what he's seen and felt into stories you'll want to hear. He plays acoustic and electric guitar and harmonica and delivers personality-drenched vocals on this eponymous debut, which features a versatile backup outfit that adds lap steel, piano, organ, electric bass, accordion, slide guitar, fiddle, horns, and more. The all-originals program incorporates such tracks as "The Juggler," a bouncy romp about a three-timing playboy; "Paper Football," based on a true story about an ex-girlfriend's suicide; and the lilting, melancholy "Sweet Thursday." If you like such artists as Tom Pacheco, Greg Brown, and John Prine, give this guy a shot.
*****
Jeff Burger's books include Lennon on Lennon: Conversations with John Lennon, Springsteen on Springsteen: Interviews, Speeches, and Encounters, and Leonard Cohen on Leonard Cohen: Interviews and Encounters. His website, byjeffburger.com, contains more than four decades' worth of music reviews, interviews, and commentary.
---