Ron Spencer Band's Jukebox of the Collective Consciousness Makes for Great Blues Rock
Posted On September 20, 2018
---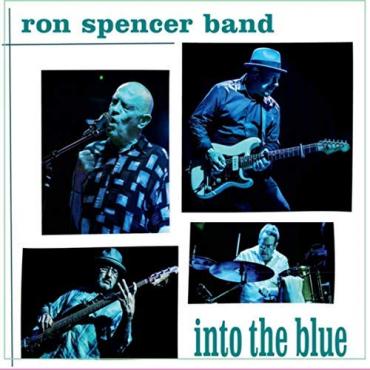 I can't think of many artists who understood songwriting better than the Beatles. So on "All You Need is Love," when John sings "Nothing you can sing that can't be sung," he's recognizing that music is really just strategic borrowing. Nothing we can sing, or think to sing, hasn't already been sung. Which brings us to The Ron Spencer Band. They're not reinventing blues rock, but the group does a great job of curating some wonderful music moments. Into the Blue, their latest album, is solid, classic blues rock. The songs are familiar, but that familiarity doesn't make the album any less enjoyable.
Singer/guitarist Spencer has a tight band. Billed as a four-piece, they feature some amazing piano from unofficial fifth member Dan 'Cato' Eaton. The rhythm section keeps songs moving at a crisp pace, and Spencer's voice is front-and-center. He sounds uniquely American, like he could be from the South or the mid-west (but the band comes out of upstate New York). His voice is strong, and while not especially bluesy, it has a certain fluidity that sounds right on every song on the album.
Spencer's also a beautifully melodic guitar player. While he's no doubt inspired by classic blues guitarists, he channels Chuck Berry. However, where Berry could go a little wild with his playing, Spencer's solos feel more composed, serving as secondary vocal lines within the songs.
Into the Blue begins with "Closer to the Bone," which is positively infectious. The song might remind you of Bachman-Turner Overdrive's "Taking Care of Business," but it takes nothing away from your enjoyment of it. Spencer has lots of nods and winks like this throughout the album. For instance, "Addicted to You" musically sounds a lot like Creedence Clearwater Revival's "Born on the Bayou." And of course, lyrically, it's hard not to think of Robert Palmer's "Addicted to Love." For whatever reason, it never comes off as theft or laziness. Instead, perhaps due to Spencer's honest, soulful voice, it feels more like he's tapping into a Jungian collective consciousness jukebox.
The album features two covers. One is O.V. Wrights' "Blind Crippled and Crazy," with Spencer giving it a funk vibe and just a hint of Johnny Marr guitar mystery. "Cadillac Walk" gives Spencer a chance to show off his slide guitar work on a muscular blues. Interestingly, the song was written by Moon Martin who also wrote "Bad Case of Loving You (Doctor, Doctor)" famously covered by the aforementioned Palmer. What would Jung say about that?
One could argue how much of Into the Blue represents songs that have already been sung. But the beauty of this album is that it doesn't make you want to play that game. Spencer and his band create a sincere, respectful environment where they're playing music that's based on the music they love to listen to. The love comes through across every track. There's nothing underhanded or sneaky about the familiar licks and riffs. They're just channeling the parts of songs that bring them joy. And the joy, like any emotion, is contagious.
---