Rodrigo y Gabriela Return with Music for a 'Mettavolution'
---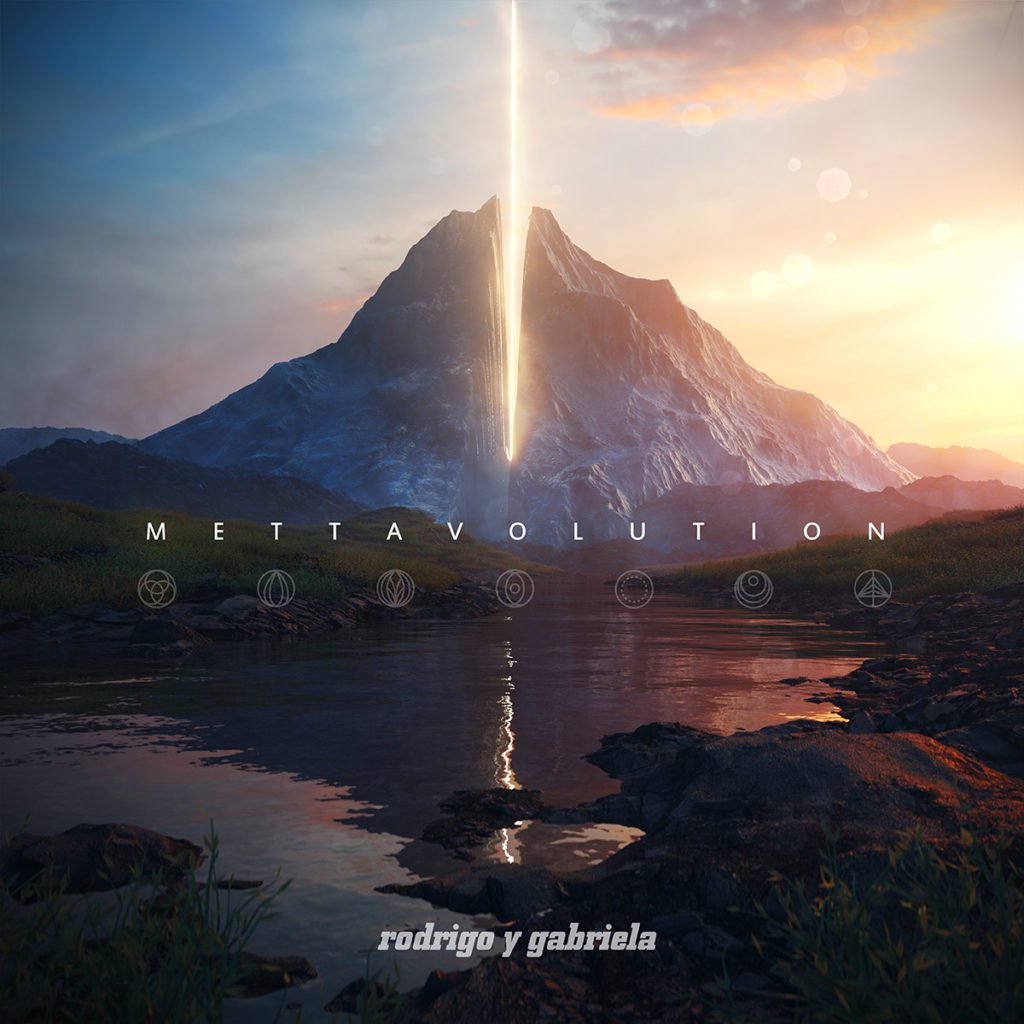 Since their first meeting and musical bonding at age 15 in the streets of Mexico City, acoustic guitarists Rodrigo Sanchez and Gabriela Quintero have gradually evolved a stunning fusion of heavy metal and flamenco virtuosity to an array of folk, rock, Latin, and jazz influences. Their self-released 2006 debut, while displaying a heavy passion for their revered Metallica, also pulled in strands of Tito Puente's Latin jazz as well as the cool rhythms and tones of Dave Brubeck. Five studio albums and decades of touring later, Rodrigo y Gabriela's nylon string artistry has been wedded to an increasing variety of global music traditions while gradually achieving an international audience.
Now, after a five-year break from studio recording, the Mexican duo re-emerges with Mettavolution, an adventurous musical and spiritual journey reflecting what Quintero describes as "an emergency for humanity." Recorded by producer Dave Sardy with dazzling clarity and only the spare support of bass, synths, percussion, and occasional piano, the album consists of six new compositions by Sanchez and Quintero and a 19-minute cover of Pink Floyd's 1971 epic "Echoes." As a whole, Mettavolution stands as a sweeping search for human meaning and social responsibility in our age of crisis. The album title references the Indian Buddhist term for a meditation state producing compassion and benevolence. For Rodrigo y Gabriela it is also a spiritual discipline "you practice like an instrument to become a better citizen in a more evolved place."
Appropriately, the title track launches the album with a mood of urgency propelled by Quintero's driving rhythmic strumming and percussive thumping on her guitar intertwining with Sanchez's blazing single string flurries. "Terracentric" follows, extending the sense of gravity with bluesy slide guitar lines and dark synth touches mixing with Quintero and Sanchez's intense solo and rhythm exchanges. However, with "Cumbé," they shift the mood with the festive cumbia music of Colombia affirming humanity through dance, melody, and rhythm. "Electric Soul" offers a few minutes of quiet introspection before escalating energy and emotions that carry over to a return to their heavy metal roots on "Krotona Days" and "Witness Tree."
For all the power, passion, and brilliance of these six self-written pieces, Rodrigo y Gabriela's ambitious translation of Pink Floyd's "Echoes" is clearly the centerpiece of Mettavolution and the biggest challenge to their singular technical skills. Recall that Pink Floyd's "Echoes" was the work of a band and told its story through lyrics. Rodrigo y Gabriela's "Echoes" evolves, without words, through extended intricate instrumental passages demanding interpretive nuance, multiple tempo shifts, and improvised interplay to make emotional connection at the most profound level. Beauty, anguish, and euphoria, it's all here, wrapped up in a visceral earthly music struggling toward enlightenment.
---