Robert Cray Channels Sam Cooke on 'That's What I Heard'
Posted On February 27, 2020
---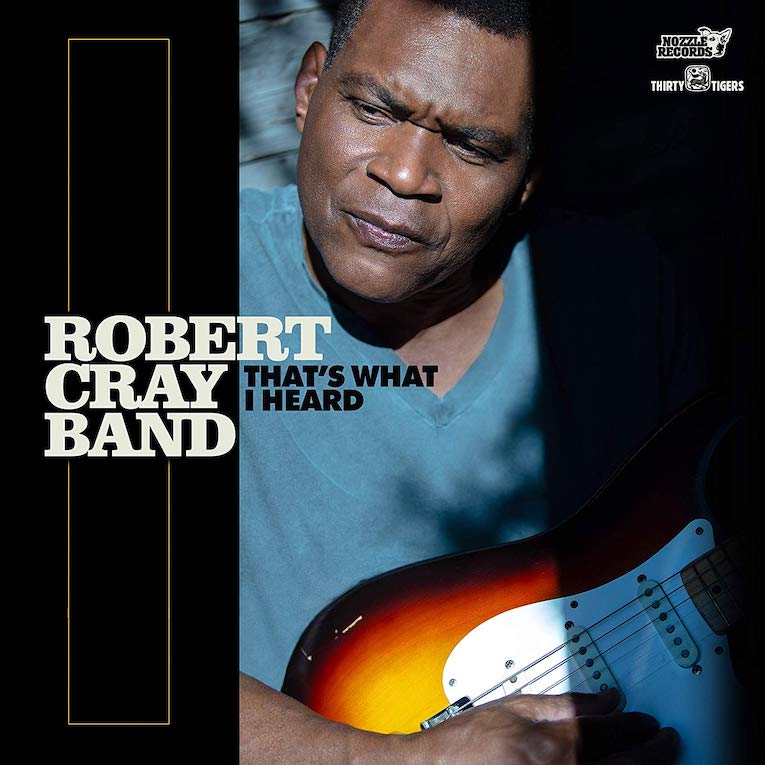 Up until now, if you tried marching into church with Robert Cray, a higher power would more than likely march your ass right back out. It wasn't that Cray was evil, just that the subjects he preferred to sing about in the mid-'80s weren't really appropriate for churchy business.
But on his latest, That's What I Heard, Cray said that he wanted to sound like Sam Cooke. Cray's churchical entrée here is his cover of the Sensational Nightingales' 1956 gospel classic "New Burying Ground," which featured the magnificent lead of Reverend Julius Cheeks. Although their styles differed greatly, with Cheeks' vocals much rougher than Cooke's, both spent time with The Soul Stirrers, Cooke leaving to cross the aisle into soul while Cheeks remained in gospel all his life. Cray's take is a mix of the two, smoothing out Cheek's rawness with hints of Cooke's tonal sweetness.
Cray keeps one foot in church on "Anything You Want" courtesy of Dover Weinberg's organ but steps across the aisle with his funky blues-drenched guitar work. He gives the Cooke tone a rest on vocals for this one, reverting to the familiar Cray tonsil output, a blend of Curtis Mayfield and Bobby Blue Bland.
Cray pays tribute to Mayfield on Mayfield's 1963 composition "You'll Want Me Back," perfectly matching Mayfield's celestial falsetto soaring over the Impressions' velvety smooth backing.
Bobby Bland gets a shout-out, or, or in this case, a croon-out on a cover of Bland's 1961 single, "You're The One," Cray Cooke-ing up celestial soul that sounds like it just ran out the back door of the sanctuary and down to the local juke-joint for some late night sinnin', stirring up shouts of praise in both places.
Cray roughs it up on a cover of Don Gardner's "My Baby Likes to Boogaloo." Gardner is best known for his duet with Dee Dee Ford on the 1962 R&B classic "I Need Your Lovin' Everyday," but the "Boogaloo" cut is string-snappin' funk, boosted by producer Steve Jordan's gut-punching drums.
Jordan and Cray met when Jordan was part of the backing band on Chuck Berry's 1987 documentary Hail! Hail! Rock 'n' Roll and Cray was a guest. Jordan was also the drummer in the Blues Brothers Band, the project for which Cray and Curtis Salgado provided inspiration and musical tutoring for John Belushi. Jordan has produced six albums for Cray, starting with 1999's Grammy-winning Take Your Shoes Off and including the 2017 Grammy-nominated Robert Cray & Hi Rhythm release as well.
Cray's crossover here is heavenly, with devilish rhythms lurking on the other side of the aisle ready to ensnare unwary worshipers unsure of where to step. But with Cray in the pulpit, all paths lead to righteousness.
---