Reliable, Faithful Introduction To Appalachian Mountain Music, Brought into 21st Century
Posted On November 9, 2018
---
For some, it's a little hard to go deep into the roots of Americana and the antique-sounding country-folk of Appalachia. It's like the difference between store-bought meat and fresh kill. But if anyone enjoys the music of Dolly Parton, Emmylou Harris, Nanci Griffith, The Cox Family with Suzanne Cox, John Hartford, Iris Dement, or June Carter, sometimes a little drift back to the history of the music is a good starting point. It reminds you where it all came from … and why.
Despite my own habit of listening to endless Beatles, Pink Floyd, Procol Harum, Elton John, and Bob Dylan, I often dig out my early Elvis, Chuck Berry, Jerry Lee Lewis, Little Richard, Dion, Muddy Waters, Sonny Boy Williamson, and yes, Anita O'Day and Billie Holiday records as well. It helps to reinvigorate my senses. To bring things back into perspective. The music may have an antique sound today, a retro feel, and old-fashioned flavor, but there is still lots of soul, melody, and magic mystery in those grooves. This is why it's necessary to listen to mountain music, it's where all the ingredients lie.
Martha Spencer is a young woman from Appalachia (Virginia) – so her genuine claim to blue mountain songs fame is undisputed. She is from traditional musical family stock (Whitetop Mountain Band, dates from 1940) and has a voice that's just naturally rich with nostalgia and authenticity. Her first solo self-titled 14-song collection has originals and traditional songs, but if you absolutely need to listen to some old tunes with the tweaking of modern technology then instead of going back to creaky heavy 78's or scratchy retreads transferred to CD, reach for Martha Spencer. Many old songs recorded in the 1920s have lost their masters, or they were destroyed, or because they had to be recorded directly to a shellac master on crude machines retain imperfections. The mastering to a CD may have come from the best 78 rpm recording the record companies could find.
So, for young ears interested in this exploration – Spencer is an invaluable resource. Starting with two originals "Blue Ridge Mountain Lullaby," and "My Heart Says Yes," Spencer – maintaining an original sound – traverses styles made famous by Dolly Parton and Emmylou Harris. The instrumentation is spare, but the originality and sheer showcase is delightful. Even if Spencer doesn't make a big splash commercially, I can't see her being ignored as a songwriter in this industry with a rich songbook for the likes of Parton, Harris, Iris Dement, Nanci Griffith, Alison Krauss, and the like. These are gold nuggets and her originals sound like they were written nearly a hundred years ago. Because they sound old, you may ask yourself? Hell, no — because they sound faithful.
Keeping her album balanced, Spencer rocks out on the classic "Hard Headed Woman," a hit in the '50s and reignited female style with some dynamic old-fashioned lead guitar by Frank Rische who has the style nailed down with a steel flat-top nail. It's hard to describe, how a song can retain the '50s feel and yet, sound new in 2018. The tune is short but anyone who remembers the rollicking dancing of '50s teenagers will fire up their heels on this one and scar the floor.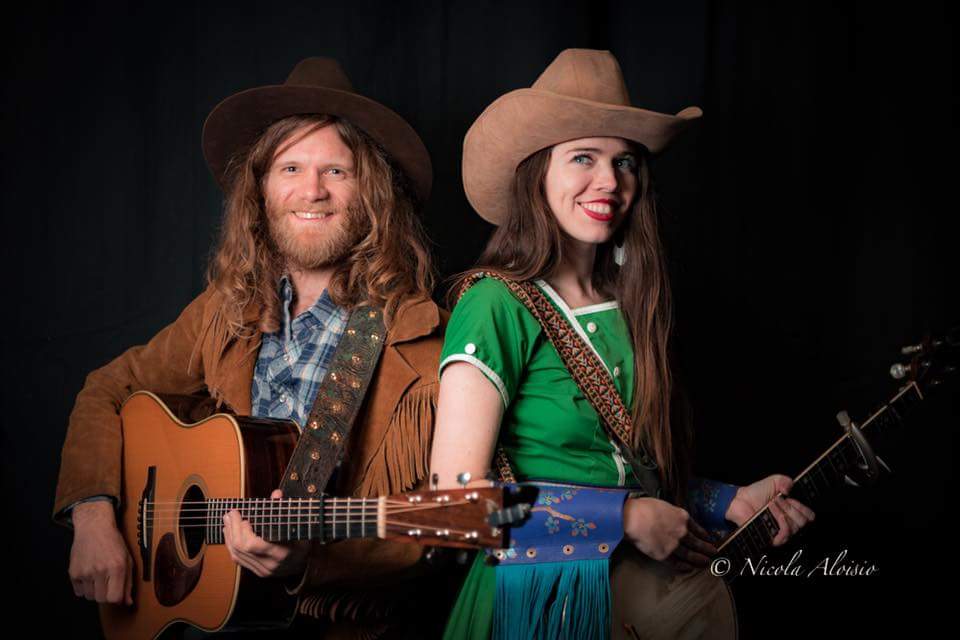 Falling back into a fiddle-driven (Billy Hurt Jr) ballad, "The Last Leaves" is another Spencer original. It sounds like it was written during the heyday of country singers like Hank Snow, Jim Reeves, or Porter Wagoner. There is no novelty in Martha Spencer's voice, it's all sincere and done with excellent tonality. The band may be playing in 2018 but their instruments were tuned in 1955.
How a young woman like this manages to write music and lyrics of this tradition without taking a time machine back to that era is beyond me. She obviously has absorbed far more of this old country-folk-roots music than the average musician. It's one thing to be able to play this music and interpret it. It's another to actually continue to write and contribute to an original and infuse it with the same musical flavors. But, it could be simple heredity.
With a beautiful Nanci Griffith enthusiasm in "Let the Wild Stay Free," Spencer has a tune that is arranged smartly and with varied tones. What sounds like lyrics that could be cliché are not. They are carefully chosen words that work within the framework of the hard-swing that is the song.
On "Chickens Coming Home to Roost," Spencer shuts her Nanci Griffith voice off and turns on an ambitious Emmylou Harris lilt. Very nice inflections in her lyrics, and tone in her voice. Though her voice is high it's never tinny, and the acoustic guitar picking is inspired. Little pieces of electric guitar, a fiddle, and a deep bass just strut along and accentuate with high points. No showboating – they are all in for the sound of the song itself and supporting Spencer. This is a fine, fine band of musicians. Despite the title of the song, it's not a silly novelty song – it's all fueled up like an old 97 and chugs along with authority. Spencer's voice toward the end of the song hits some unfiltered high notes and it all "comes home to roost tonight." Nice stuff.
A nice Hazel Dickens cover comes up in "Rambling Woman," and it has circuitry. Alex Leach offers banjo along with Billy Hurt Jr on fiddle. This is, as they used to say in the old days, a toe tapper. The late Hazel Dickens was a legendary trailblazer in this music and she recorded some great albums – one recently reviewed here was her collaboration with Alice Gerrard which is excellent and recommended.
The attraction I find with Spencer is not her "sounding"like this singer or that singer – but, in her ability to richly traverse those famous singers' styles and stimulate and invigorate a listener to want to pick up on those artists work as well. Spencer has ingrained in her vocalizing her own approach and at times in a limited manner intensifies it with harmonic power. The backup singers are exceptional and their voices blend with Spencer like chocolate and vanilla pudding.
"Ruby" is astonishing. If any of the Carter Family were alive today, they would be enthralled with Spencer's vocal and the dynamic Emily Spencer banjo and Thornton Spencer fiddle featured in this selection. Debbie Bramer's bass thuds along like a big truck and it's unifying. This is a barn burner and one of the best tracks on the album. Absolutely excellent.
"Cold Winter Lingers On," has Spencer dipping her vocal chords into a Dolly Parton strawberry punch. The musicians are balanced and the music glides along like a sled downhill in perfect snow. Andy Gibson's steel guitar is a nice touch, Brennan Ernst's bass bellows like a cello, the lead guitar is Les Paul sweet, and lead guitarist Frank also adds some harmony vocals.
Of special note: Martha Spencer also plays lead guitar, banjo, rhythm guitar, and bass. So at times, I may be inaccurate because I can't decipher all the places where she trades off with the leads listed in her credits. But all the performances are top shelf – and deserve credit for fine performances.
Alex Leach plays lead banjo on "Jonah," – a public domain song that in its briefness is fiery and melodic. By the beginning of "No Help Wanted," Spencer returns to her Nanci Griffith voice and while this is a bit of a novelty song with the call and response vocals of the male singers – Spencer provides a humorous, well-played tune with some tangy upright piano. Good dance tune.
One of the best tracks on this album is the sprightly "Tree of Heaven," and the string band backing is on target throughout. A beautifully written and performed ballad. Another Martha Spencer original tailored made for a cover by Alison Krauss. It is such a piece of artwork as a song. Deliciously infectious melody and Frank Rische guitar. I've had this track on repeat all day – it's a classic in the making. The forefathers and mothers of this mountain music would be proud of Spencer for having written this story and set it to this kind of music. This can be easily adapted to any genre – folk, country, bluegrass, country & western, roots, because it's true Americana. Better than most of the stuff that passes for Americana today. All the musicians on this track are intricate and important splinters in the beam that holds the song.
The final track banjo's in hot with tight picking and this must be Martha Spencer herself. "Ramblin' Hobo" is a short instrumental with that same thick steam that made the legendary acoustic guitarist John Fahey so great in his day on acoustic guitar ("Desperate Man Blues," "Poor Boys Long Way from Home"). Those are two instrumentals worth checking out along with Spencer's music.
There is no filler on this 41-minute album – every track has something to recommend it. If you are not accustomed to this kind of traditional folk music that originated in Scotland, Ireland, England, and developed from caterpillar to butterfly into its own hybrid in the Virginia mountains – then choose Martha Spencer as a reliable and faithful introduction. She is the real deal and she is alive.
Then, move on to the more rustic fermented originals. Even after a few rounds of the harder whiskey music you will return to Martha Spencer and marvel at her honey enriched hallmark of modern-day Appalachian music. I'm not a big fan of this kind of music – being my ears are New York tuned and not rural Virginia, Kentucky, and the Carolinas. But I must admit – it always puts a smile on my face and curiosity in my soul about wanting to hear more.
I would also highly recommend the Down from the Mountain documentary that featured music – with major legendary singers performing — from the film O Brother, Where Art Thou?. Also, a film about discovering and documenting the old music of the mountains is Songcatcher. These are all eye-opening experiences if the love of this music intrigues you.
The album and Martha Spencer were endorsed by Rita Forrester of the legendary musical Carter Family – no better authority than that if you sing this kind of song. Yes, the same Carter Family as the one June Carter (Johnny Cash's wife) was born into.
Produced by Martha Spencer, Frank Rische, and Wesley Easter. The album is a full-color 4-panel fold out designed by Fiddlin' Nita's Design.
The only mis-step: I was in entertainment PR for over ten years so my only marketing suggestion to the CD art and website: Next time — design something a little closer to the music recorded. More rural, back porch, homegrown and sour mash — and not so much Patsy Cline – Loretta Lynn – Tammy Wynette — country and western.
The LP was recorded in Cana, Virginia. CD photography by Christy Baird – Atomic City Photography.
Website: https://www.marthaspencermusic.com/
Facebook: https://www.facebook.com/martha.spencer.9
Bandcamp: https://marthaspencer.bandcamp.com/album/martha-spencer
Disclaimer: The opinions expressed in this review/commentary are those of the author and do not necessarily reflect the official position of No Depression. All photography is owned by the respective photographers and is their copyrighted image; credited where photographer's name was known & being used here solely as a reference and will be removed on request. YouTube images are standard YouTube license.
---