Peggy Seeger Caps Career with Stunning 'First Farewell'
---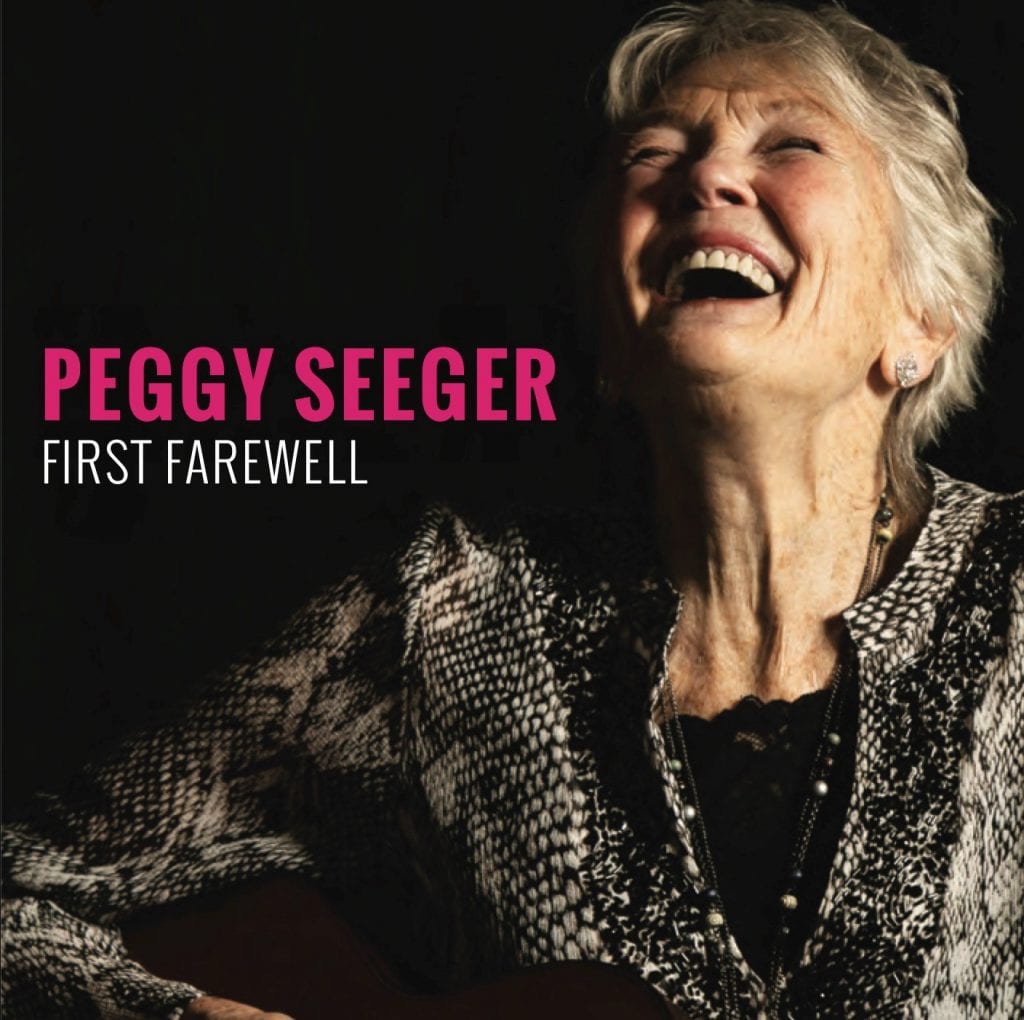 At the age of 85, after six-plus decades in the music business — including numerous collaborations with Ewan MacColl, to whom she was married from 1977 until his death in 1989 — Peggy Seeger releases her 24th solo album, First Farewell. Over the course of 11 songs, Seeger navigates perennial themes, including romance, the impact of discrimination, and the excesses of consumerism, all the while sustaining an optimistic tone, her voice as clear and crystalline as ever. She is joined by children Neill, Calum, and Kate, with whom Seeger shares co-writing credits and who contribute musical accompaniments on various songs. If First Farewell is indeed Seeger's sign-off, as her PR statements suggest, it's a stellar conclusion to an eminent career.
The opening song, "Dandelion and Clover," is narratively and descriptively complex, even elusive, at least in part an oblique take on reincarnation. Seeger's voice, however, is complementarily buoyant; as a result, the track never strikes one as abstruse, but instead is consistently and beguilingly accessible (any masterclass on nonlinear songwriting should include a discussion of this tune alongside, perhaps, such standards as "The Ballad of Frankie Lee and Judas Priest" and/or "American Pie").
"The Invisible Woman" is a manifesto on the way in which older women are frequently marginalized and disrespected. The song is a potent elaboration on "I'm Gonna Be an Engineer," from 1971's Different Therefore Equal, in which Seeger wove a scathing jeremiad on gender-based inequality, how girls and women were/are treated disdainfully, paid less, and conditioned to be deferential to men.
"Love, happiness, money, and stuff / Whatever we have it's never enough," Seeger sings on "All in the Mind," diagnosing our addictive proclivities and how, as a global society, we've lost the capacity for contentment. This message is reiterated in "How I Long for Peace," in which Seeger unabashedly proclaims, "Hypocrisy and greed control the lifeblood of our system." Seeger further embraces this line of exploration with "We Are Here," offering a mock-portrait of a selfie-driven and online culture in which "we don't talk anymore." With "The Puzzle," on the other hand, Seeger employs sophisticated metaphors and allegorical elements to encouragingly emphasize how each person has a specific and essential contribution to offer the world.
With the biblically dramatic imagery of "One of Those Beautiful Boys" ("The sea sweeps through our house / The stars have all gone out"), Seeger captures the epic tragedy of suicide. The song may remind some listeners of "We Watch You Slip Away," from 2014's Everything Changes, a tune that addresses depression, the experience of being out of sync with conventional standards and expectations, and the heartbreaking decline that so often precedes death. The album ends with the upbeat "Gotta Get Home by Midnight," Seeger's riff on the mind-over-matter motif. When the singer wakes, it's as if she's 100 years old; as the day unfolds and she gains energy and traction, she's revitalized and empowered, once again feeling as if she's a teenager.
If First Farewell does in fact turn out to be Seeger's final release, it'll stand as a memorable conclusion to a career that has flourished since the mid-1950s, including persecution during the McCarthy/anti-Soviet era and involvement in the civil rights, women's, and anti-war movements. Seeger, sister to Mike and Pete Seeger, should likewise be acknowledged as one of America's heritage icons, an artist who expanded and mastered her craft, who has unfailingly merged wisdom and courage, a radical traditionalist who effuses love and a wish for justice with every note that she plays.
---