Outlaw Country Is Dead. Long Live Outlaw.
---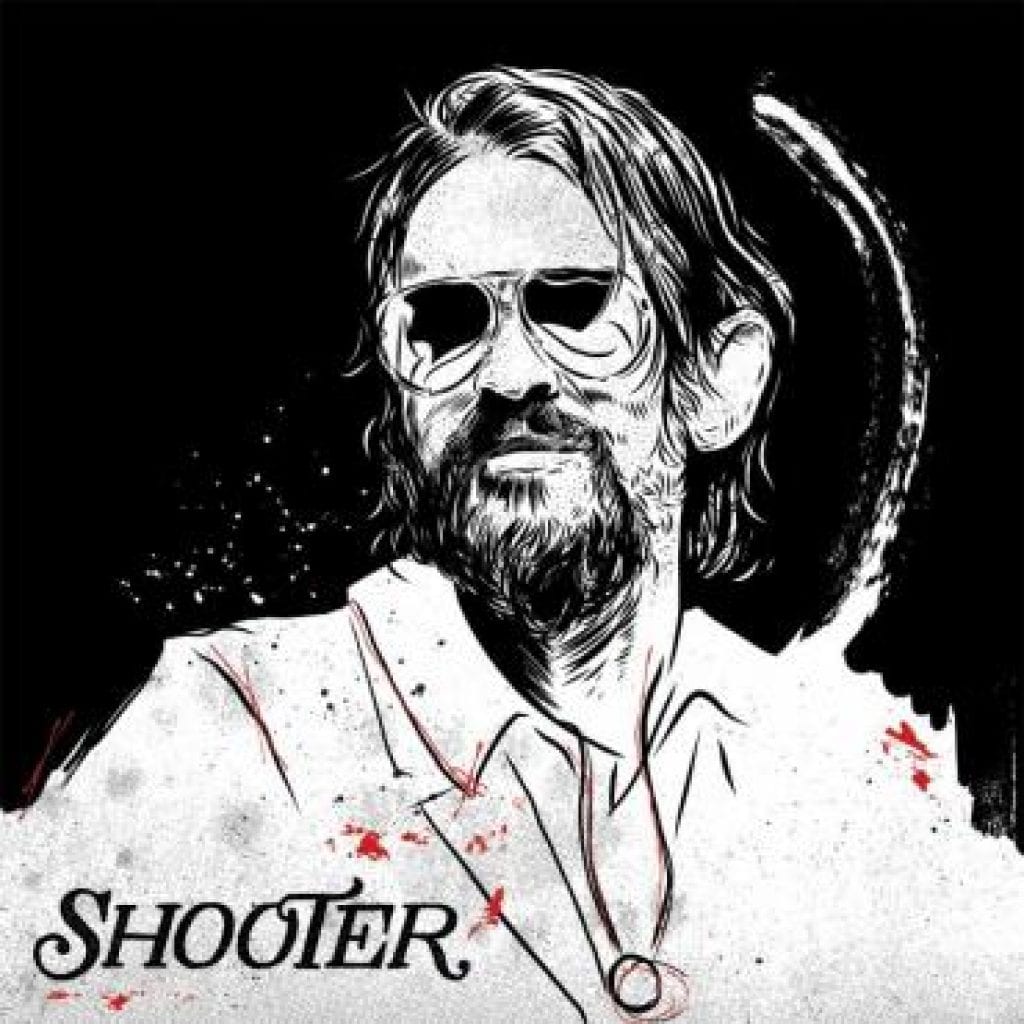 Outlaw country has almost become a brand.
Think about it: How many Cash stickers have you seen in Target parking lots or rush-hour traffic? These are utterly anonymous settings, places approximately as badass as a post office. In this context, the Cash sticker fills about the same niche as a Star Wars or Captain America T-shirt — it's quick and easy (and sometimes lazy) cultural shorthand; it's an automatic and borrowed personality. This kind of nuance-poor overexposure can make one wonder whether there's anything left to say in outlaw country.
But just like there are true Star Wars nerds and true comic book heads (many of whom cast similarly scathing side-eye at casual fans), there are certainly listeners to whom outlaw country is more than just a vaguely countercultural signifier. Shooter, Shooter Jennings' latest LP, should appeal to both sides. To the casual fan, there's the last name Jennings: As the son of Jessi Colter and Waylon Jennings, Jennings' pedigree puts him on the playlists of even the least adventurous fan.
To those whose ears are a little better trained, though, it'll be obvious that Jennings gets what made this music resonate the first time around. At a refreshingly concise half-hour, Shooter communicates the punk-rock ethos so often associated with outlaw by hitting hard and fast, then leaving the listener wanting more. Jennings knows not to take himself (or his music) too seriously and, importantly, he knows how to bring outlaw into the present. The latter skill keeps the music current and interesting, even while Jennings makes musical nods to the '70s.
He blurs the two right off the bat. "I wanna get down / down like a basset hound / down to the honky-tonk sound / burn this juke joint down," he hollers in the chorus of autobiographical opener "Bound Ta Git Down." "Make Hank proud / get drunk / get loud." It's a scorching horn-driven boogie, a well-trod form with a chorus constructed of familiar phrases and images. Yet in the verses Jennings talks about outgrowing Tennessee and moving to California, where he "played with Guns N' Roses by the time I was 23." An offhand confession that Jennings wants to start a band with Marilyn Manson, who he has collaborated with in the past, establishes Shooter in the wider context of irreverent music, country or not.
Sonically, Shooter sounds refreshingly '70s, but not reductively so. Album closer "Denim and Diamonds," for one, nods to "Gold Dust Woman," but also rides a patient, infectious groove reminiscent of Pink Floyd's "Time." There's a little gospel in "Shades & Hues," a lot of honky-tonk in "I'm Wild & My Woman is Crazy," and spacious, cosmic washes in "Fast Horses & Good Hideouts." "Do You Love Texas?" asks a familiar question and receives a familiar answer, though the backup singers shouting "hell yes!" include Kris Kristofferson and Jason Boland. New tune or not, it's up there with Lyle Lovett's "That's Right (You're Not From Texas)" in terms of Lone Star State odes. Like Lovett, Jennings doesn't take himself too seriously; and like Lovett, he knows how to craft a solid melody. Now let's all hope his quick Alex Jones mention wasn't a sympathetic one …
On top of that, Jennings knows how to hit the touchstones without recycling others' versions of these same tropes. "Tell ya what I'm gonna do with my whole day / I'm getting d-r-u-n-k," he sings on the hilarious "D.R.U.N.K." It's familiar but not predictable — plus, Jennings has a ton of fun with the song. "I lost you / whoop-de-do / yippee-ki-yi-yay," he sings with flippant glee. "Hell, I'm glad you're gone / you can kiss my ass / d-r-u-n-k." It's a type of country tune we've heard before, but the approach is Jennings' own.
So is Shooter relevant? Maybe. Sure. Why not? Is it well-crafted? Definitely. Is it fun? Hell yeah.
---