On 'Quietly Blowing It,' Hiss Golden Messenger Holds Out Comforting Music in Complicated Times
---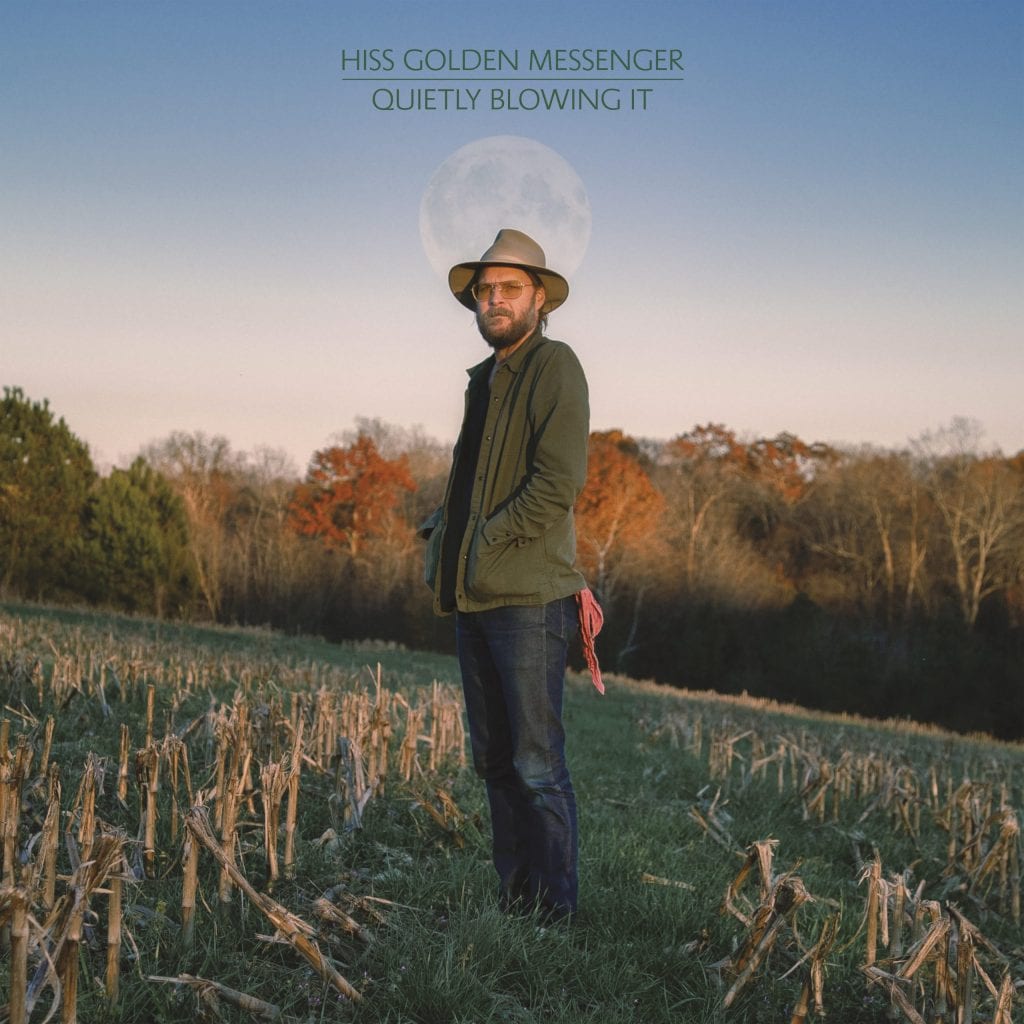 M.C. Taylor's music has always lifted us up. It has been the reliable light in the darkness, seeking goodness in everyone and creating the kind of live show experience that leaves you feeling satiated and unburdened, with an inkling to get back to a simpler way of being, to uncomplicate your life. So how fascinating and utterly harmonious that the set of songs that makes up the latest Hiss Golden Messenger album was written at the height of the realization that we are all capable of living with less; less consumption, less activity, less superficiality. Quietly Blowing It asks how we can do and be better in the world, strip away the excess, and get to the root of ourselves. Or essentially, what we were all asking ourselves in 2020 amidst a raging global pandemic that forced us out of our comfort zones and back to the basics. Are we doing what we really want to do or are we just going through the motions?
Writing songs through 2020, alone and without any influence (label, bandmates, or otherwise), Taylor eventually assembled his beloved band last summer to record Quietly Blowing It. The result is the kind of golden, homespun twang-soul we've come to find so comforting from Hiss Golden Messenger, warmed up with touches of saxophone, mandolin, Wurlitzer, and a bit of synth. That unmistakable Hiss groove you can't help but sway to, the one that makes you want to grab a loved one and dance barefoot in the dirt, is present all over these songs.
"Mighty Dollar" tells that familiar story of the destructive nature of chasing wealth, but instead of a finger wag, we get a slowly simmering warning. "It never fixed a broken heart / It never made a dumb man smarter," Taylor sings. "Way Back in the Way Back" is a kind of affirmation, a reminder to be grateful for just "a body that's able." The album's smooth, melancholic title track looks for the silver linings in a world on fire. "You gotta let someone in / That's all that'll save you," he sings alongside trembling organ. And the soft acoustic opening strums of "Sanctuary" introduce what is probably one of the best "pandemic songs" yet. "Feeling bad, feeling blue / Can't get out of my own mind / But I know how to sing about it," Taylor sings in that beautiful reedy moan. If Taylor was looking for some inner peace while writing this album, it lives here, in this track.
Even amidst such epic doom — countless deaths, climate change, the reckoning of racial injustice — Taylor and his band offer some solace with Quietly Blowing It. "I know that there's good in me / Why's it such a hard time?" he sings in the closing lines of the driving, hymnal "Glory Strums (Loneliness of the Long-Distance Runner)." In these songs that beg to be heard communally, Taylor keeps searching for the good, for the humanity, always with the promise that tomorrow is a new day.
---