---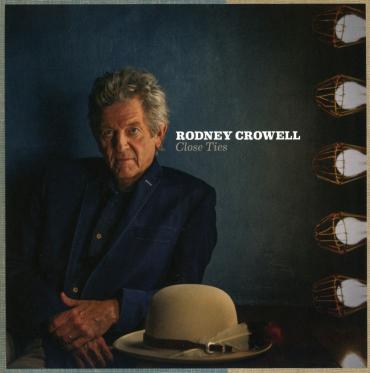 On Rodney Crowell's new Close Ties (out March 31 on New West), there's a thin line between self-mythologizing and self-lacerating, though its edge is sharp enough to draw blood. Crowell once titled one of his lesser albums Life Is Messy; it can look even messier through the ravages of time and memory. This is an album of looking back and coming to terms, letting no one off easy, least of all the singer-songwriter himself.  It evokes Crowell's early years in Nashville (as his pivotal The Houston Kid did his coming of age), within a community of aspiring artists that included Guy and Susanna Clark.
The devastating "Life Without Susanna" suggests that once Townes Van Zandt died, Susanna was all but gone as well, and the singer isn't proud of the way he behaved—with a mixture of "tough love, tenderness and anger"—toward "the most near-perfect woman I've ever seen/She was hardly routine." That last line is almost wince-worthy, a lazy rhyme from a master craftsman, but the song itself suggests that he is reaching deeper and cutting harder into territory that lies beyond craft. There are lines here that must have been painful to write, and are painful to hear.
The following song is the standout of this ambitious, uneven collection, as "It Ain't Over Yet" seems to find inner voices wrestling with the fate of the narrator's soul, with a visitation from John Paul White offering hope for the future, and Rosanne Cash reuniting with her former husband as voice of a past incarnation: "If you came by it easy/you wouldn't be you," she sings (what he wrote).  He revisits the emptiness of a playboy past on "Reckless," offers a kiss off to commercial careerism on "I Don't Care Anymore," harmonizes with Sheryl Crow on the brooding "I'm Tied to Ya" and rocks with conviction on "Storm Warning." Built on stately church piano, "Forgive Me Annabelle" is balladry at its most gorgeously bittersweet.  "Nashville 1972" closes the album on a comparatively upbeat note, as Crowell recalls his days as a young upstart, learning from masters.
He may not have exorcised all his demons here, but he sure has confronted a whole bunch of them.
---