Mick Flannery's Graceful Irish Fire on a Borrowed Guitar Lights New York's Mercury Lounge
---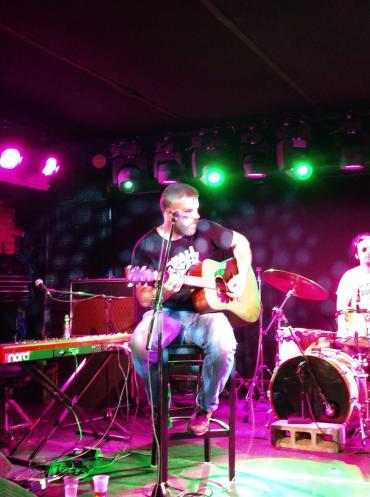 Mick Flannery took the stage July 17 at Mercury Lounge on Manhattan's Lower East Side wearing a Niall Connolly t-shirt and jeans—clothes Mick announces he borrowed from his brother. "Because my clothes and my guitar were lost in transit," Mick explains, "and my brother lives here in New York. Thanks, bro!" He plays a borrowed right-handed guitar upside-down, displaying how a leftie first learned to play back home in Blarney, County Cork, Ireland.
Second hand duds or not, Mick Flannery takes command of the room from the first note he strikes. His gruffly charming voice–reminiscent of Tom Waits's before it turned to sandpaper–and intriguing melodic hooks rivet the full-house standing audience's attention. And then there are Mick's words: economical and brilliantly chosen, bringing us mini-stories and vignettes which are impossible to forget.
Chatting with this reporter before the show at the Boulton & Watt pub across E. Houston Street, Mick mentions that he had thought of moving to NYC himself a few years ago when he felt restless at home in Ireland. "But it was easier to move to Berlin, so that's where I went. To work on my songs without so many friends around down the Cork City pubs. But what I found was that I still drank about as much, but was more lonely. It might have been good for my songwriting in the long run, but I did move back to Ireland."
Though he mainly focuses on writing and recording songs these days, Mick acknowledges that he does still sometimes practice his skilled trade, stone-masonry. "Yes, building walls does relax me, "he says, "and somehow it does seem to help with the song-building, if you will. I don't know why, maybe it is just that keeping the hands busy frees the mind a bit."
Mick, who is now 34 recalls that he tried to get a gig at The Mercury Lounge about 13 years ago when he first visited New York, but they did not seem all that interested and he feels he did not have enough confidence in himself, or enough good songs back then. "So it is nice to be invited back now," he smiles. Mick admits he is "a bit nervous" about the gig, given that he will be using borrowed instruments and working with a local pick up backing band with whom he only got to rehearse that morning and afternoon. "But they are great guys, and they have learned my songs, somehow," he adds, "So I'm not all that worried." He need not have given it a second thought, as the pair of NYC professionals on drums and bass set a tight groove for his songs and maintain the flow. Even a malfunction of Mick's keyboard only breaks the musical trance momentarily, as he deftly switches back to guitar, missing hardly a beat.
Mick Flannery is a sharp-eared lyricist who learned from the best songwriters–most of them North Americans, as is shown by his fondness for American phrases and even a sort of mid-Atlantic bluesy vocal drawl, not too obviously Irish in tone at all . "Generally, Irish people are more drawn towards American singers than to English ones, I think. I grew up in a music-loving family and l loved hearing records by Bob Dylan, Tom Waits, Joni Mitchell, Tracy Chapman, although of late I find Blindboy Boatclub of the (Limerick-based hiphop group) Rubber Bandits very inspirational," he says, adding, "When you start writing your own songs you realize there is a lot of work involved getting feelings and thoughts into a fairly tight structure." Indeed, on his albums and in his Mercury Lounge concert, Mick delves into his five- album repertoire and stays within a 3-4 minute song length, with no "Sad Eyed Lady of the Lowlands" epics in evidence. This works very effectively, as the audience is barely able to catch its breath before taking another, often different, musical ride.
In performance, Mick's voice rises from a near whisper to a growling shout, depending on the song's narrative needs. This controlled emotional variation creates a sense of shared intimacy, as he moves from a song based on a wistful childhood memory to a fierce observation of the perils of the over-indulgent rock 'n' roll lifestyle. On his most recent album, "I Own You" (Universal), Mick says he overtly moved towards songs which reflect a deeper social awareness than he might have had in the more personalized songs on earlier albums. "I guess in your thirties you start to notice a bit more what is happening outside yourself and your immediate pains and joys," he says, "In any case, I have been trying to write some songs with a wider focus, although somehow it always does seem to come around to the personal in the end. You can't ever get away from yourself and your own feelings, and those of your friends, I guess. I am not rich, so I am not cut off from the rest of society, and I guess I am lucky in that way." His witty self effacing remarks between songs show that he never takes himself too seriously, yet you have the sense that Mick Flannery is a man who knows himself well and is not afraid to share himself honestly with the rest of us. That makes his art intensely appealing and accounts for his loyal fan-base, eagerly awaiting each new album. (He tells us the next one is expected sometime in 2019, after his current tour finishes.)
Asked about his thoughts on his homeland, Mick says, "Well, I'm not a nationalist and so I have a broader vision of society than just Ireland, much as I love our island. What does concern me is the way immigrant and refugees are being treated, not only in America but also in Ireland. They are put in detention centers where they are not permitted to have jobs. They are fed and housed well enough, but what really bothers me is that the parents are not permitted to prepare meals for their own children. The meals are provided by a contracted service. You know, preparing and serving meals for one's kids is a great part of the family bonding process, and those folks are being denied that. It is not right. And they are held for indefinite, long stretches of time."
Perhaps the most touching and recognizable of Mick Flannery's songs, "Get What You Give" (from his 2014 album "By the Rule") includes a wry reference to his upbringing. "I was raised by agnostic parents and kept out of the religious instruction classses at school," he recalls. That song reveals a persona who has realized how alone he is, and perhaps all of us are, in this wide world, with its alternating chorus lines: "Not even a God to pass judgement on me . . . Not even a God to have mercy on me."
Mick Flannery may at times feel existentially alone, but in concert he is among close and caring friends, listening to his every word, inflection and hint of redeeming grace filtered through sadness. Isn't that our shared human condition after all, and doesn't Mick's music reflect it back to us so well? A keen songsmith and a masterful performer.
---