Michelle Malone's Outrageously Good Latest
---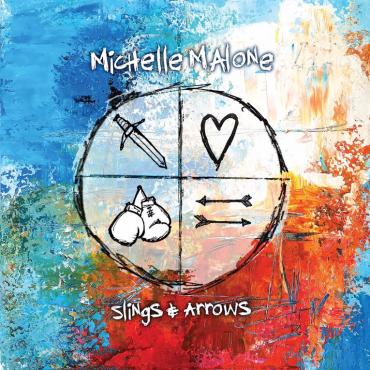 Michelle Malone's Slings and Arrows isn't a great album because it challenges so many of the assumptions / presumptions / misconceptions about female artists. It's just a great album; one that also happens to do do those things.
Quite a few elements make Slings and Arrows an excellent listen. One is the songwriting, which beautifully melds, rock, blues, folk, and pop—often within the same song. Another is the guitar playing—especially the slide guitar work, which is exceptional. While Malone's voice is the heart of the album, the guitar work shows a comparable finesse and versatility, establishing itself within the songs without overpowering them. And finally, the production is fantastic, with a balance of sounds, a solid mix, and the vocals front-and-center. Malone is responsible for it all, which pushes against the Phil Spector narrative of the all-knowing producer elevating the work of the powerless female artist. Slings and Arrows demonstrates the power of a talented artist maintaining control of her work.
Malone draws you in with her vocals and with her melodies. They jump out of the mix and propel the songs. While her voice isn't bluesy in its register, there's a lot of depth and emotion. She hits you with that voice from the first track, "Just Getting Started," a manic bluesy gallop. But when you manage to take your ears off her singing for a moment, you notice the beautiful slide guitar, also courtesy of Malone. From there, she segues effortlessly into "Love Yourself," a poppier song with a Jackson Five groove and a big, sweet chorus. And the slide is present again, this time almost violin-like, reminiscent of Duane Allman. Her voice locks in with the drums, the two combining to create a syncopated beat and a huge 70s sound.
The album is full of pleasant surprises like these and every time you listen, you hear something new. "Matador," a rocking pop song, is pure 90s (in a great way). It's got angst and melody, like grunge in a higher key and with cleaner guitars. "Boxing Gloves" bounces just as much, but with bluesier touches, including acoustic slide guitar.
Truth be told, while the vocals and songs on Slings and Arrows are outstanding, the slide guitar work throughout it is the real revelation. Malone has a knack for choosing the perfect slide guitar sound and technique for every part of every song. The slide work hits traditional blues slide markers, but Malone also goes beyond the usual licks, exploring lighter, more atmospheric slide sounds in "Fox and the Hound," writing a standard blues boogie but giving it a richness and depth that's atypical of the genre.
Malone has 15 albums behind her, so it's not entirely surprising to see the command of her craft she demonstrates on Slings and Arrows. What is surprising is the energy and subtle creativity she brings to the record, writing solid songs and then taking them to another, higher level with well-crafted guitar parts and thoughtful production.
---