Michelle Malone Casts the First Stone in Slings and Arrows
---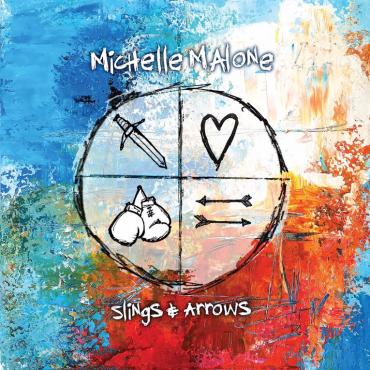 It's been a while since I've heard somebody come out swinging like Michelle Malone. The Atlanta-based blues guitarist doesn't hold back with Slings and Arrows — a blues rock album that nods to the Civil Rights Movement and present-day struggles for liberation: for people of color, for queer people, for women. That doesn't mean it's not a big party: her duet with Sean Mullins on Otis Redding's "I've Been Loving You Too Long" is a fun romp. Her original song, "Sugar On My Tongue," sounds like it would be right at home on a particularly smoldering Marvin Gaye song.
Malone is a seasoned guitar slinger and it shows here for sure. Malone's songwriting chops, though, are what got me. Whether it's a  more openly political piece or the highly personal "The Flame," the songs are brimming with confidence and humanity. The album's closer, "Boxing Gloves," is a tour de force of Malone's pointed lyrics, soaring vocals, and furious licks. Slings and Arrows teaches us how to take our anger and pain and transform it into strength. It's the kind of album that'll make you carry yourself a little taller having heard it.

Michelle Malone — Official, Facebook, Purchase
Michelle Malone will be featured on tomorrow's podcast! Can't wait to hear it? Subscribe to Patreon for an extended cut! You can also help us with a one-time tip on Ko-fi!
---