Metallica Flips the Cover Album Script With Renditions from Isbell, Stapleton, and More
Posted On September 7, 2021
---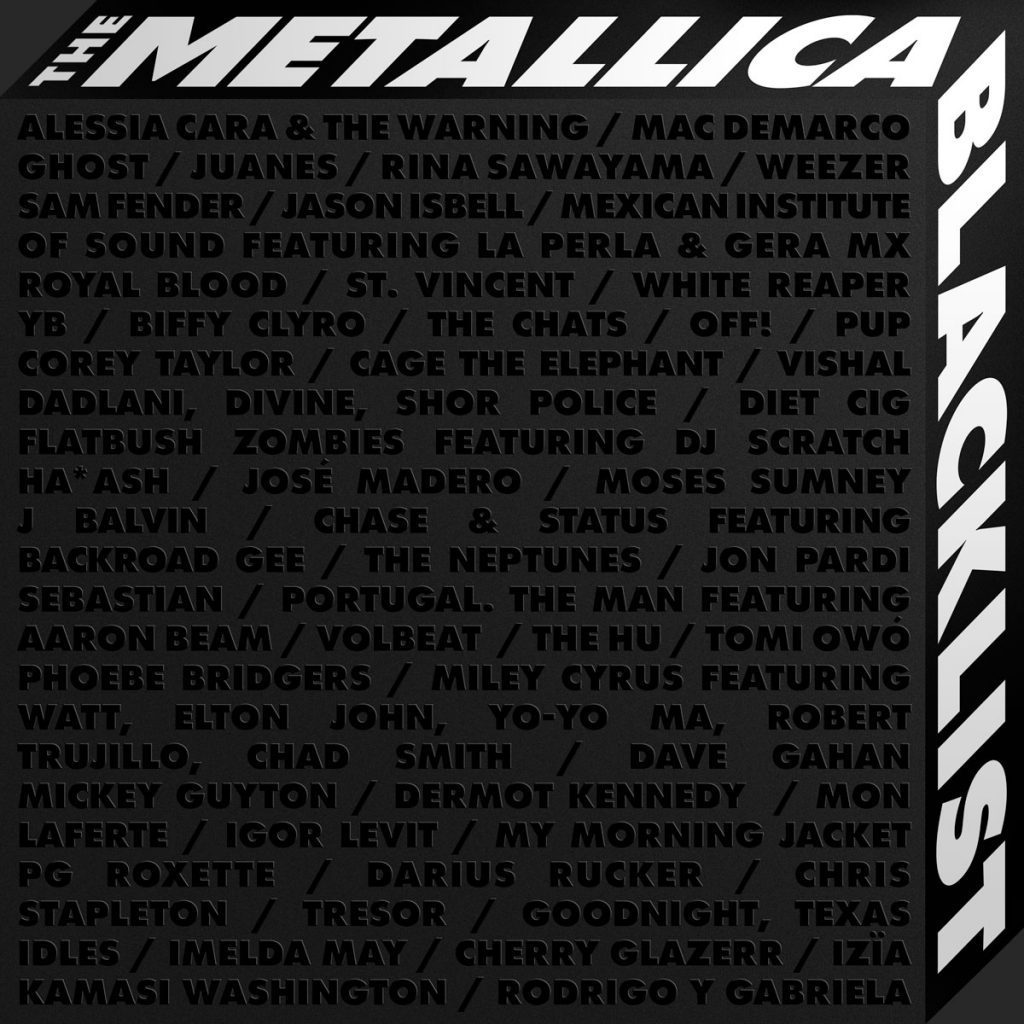 Cover songs and Metallica go together like black denim and whiskey. Early on in their 40-year career, the Bay Area thrashers put together their infamous The $5.98 EP — Garage Days Re-Revisited, which features covers of some of their favorite tracks from bands like Diamond Head, Killing Joke, and Misfits. Then about 10 years later, in 1998, they reissued the EP along with a compilation of even more cover songs in the double album Garage Inc., in which they expanded their repertoire and covered Bob Seger, Nick Cave and the Bad Seeds, and even Lynyrd Skynyrd.
Metallica is known to share a cover or two in the live setting, too. Queen's "Stone Cold Crazy" or Anti-Nowhere League's "So What" are fan favorites, and they sometimes pay tribute to The Ramones with their rendition of "53rd & 3rd."
In celebration of the 30th anniversary of their most commercially successful album (and one of the most commercially successful albums in music history), Metallica — better known as The Black Album — the band decided to turn the tables and invite a wide range of artists to share covers of Metallica tunes. The result is The Metallica Blacklist, a massive set that covers four CDs and seven LPs and features 53 artists sharing their takes on their favorite tracks from The Black Album. On top of it being a one-of-a-kind listening experience, this compilation is also doing good in the world; as the band describes, "All profits from every track on The Metallica Blacklist will benefit Metallica's charitable foundation, All Within My Hands, along with a charity of each artist's choice."
For fans of heavier music, there are a number of guests on Blacklist that bring the heat, like IDLES, OFF!, Corey Taylor, Ghost, and Volbeat. But the true magic of this huge compilation comes from artists you've rarely associated with Metallica.
Artists like Cage the Elephant, who take the powerful "The Unforgiven" and turn it into a fragile, almost hypnotic trance for listeners. Or Chris Stapleton, who puts an impeccable Western spin on "Nothing Else Matters" and creates a dynamic version of the song that feels like it's going to explode by the climax.
"Nothing Else Matters" is the most-covered track on Blacklist, with 11 other artists contributing their visions. While Stapleton turns it into a Western, Phoebe Bridgers makes it an eerie, deeply personal ballad. Darius Rucker does his best to remain faithful, taking it to a new orchestral level. And My Morning Jacket puts a fresh, upbeat spin on it, turning the otherwise somber, introspective song into a catchy summertime jam.
It is safe to say that there is a little something for everyone on Blacklist. St. Vincent creates another world on "Sad But True"; Portugal. The Man turns "Don't Tread on Me" into a cinematic masterpiece; Kamasi Washington does what only Kamasi Washington can do with his jazzed up, simply amazing take on "My Friend of Misery."
But the two unforgettable standouts on this compilation come from Goodnight, Texas and Jason Isbell and the 400 Unit. The former is the only band brave enough to take on "Of Wolf and Man," a pummeling rocker that, at least on the surface, tells the haunting story of a werewolf. Goodnight, Texas make it completely their own by stripping away the heavy guitars and refocusing the listener's attention on the lyrics.
And Isbell and company take one of Metallica's most popular songs, "Sad But True," deconstruct it, and put it back together with a riff that's reminiscent of Robert Johnson's "Poor Black Mattie." In a rare moment on Blacklist, the cover song turns into something that sounds as if it has existed on its own for years; "Sad But True" may now belong to Isbell as much as it belongs to Metallica.
The Metallica Blacklist is an experiment, and because of that, it may, at times, offend some longtime fans while also bringing in new members to the Metallica family. The beauty of this experiment, though, is that it offers listeners across the globe the chance to hear an album that has sold 30 million copies worldwide in brand new and unprecedented ways.
---