Mesmerizing New Album From Sara Petite
---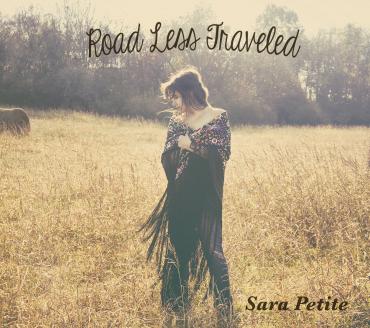 When I'm not spinning vinyl on the stereo or listening to a ménage of tracks while on the computer, I find comfort in playing new albums while driving the highway.  So it's apropos that I fell in love with a new release from Sara Petite titled Road Less Traveled which will hit record store shelves May 19th.  In somewhat of a true classic movie moment, I felt like I needed to smoke a cigarette after spending an intimate first listen with this stunning recording.
It's been a rough go since the passing of her partner John Kuhlken and the grieving steps to make Circus Comes To Town in 2013. "Everything went south for a long time" says Petite.  "I was trying to stay numb so I wouldn't lose it.  Music was the one thing nobody could take away from me."   With The Road Less Traveled, Petite takes the pieces of her broken heart and glues them back together, with just a few scars to remind you of what life has thrown at her.  Originally from Sumner, Washington and now residing in San Diego, Petite's fifth release was recorded in Escondido, CA at Chaos Records with Christopher Hoffee.  The process was relaxing and creative for Petite using her bandmates instead of going to Nashville alone to cut demos with hired hands.   Besides Hoffee (Wurlitzer, percussion), her outfit includes Erik Olson (guitar), Wade Mauer (bass), Mike Kastner (drums), and multi-instrumentalist Steve Peavey (pedal steel, dobro, banjo, mandolin) to mesh with Petite's acoustic guitar and sweet vocals.
Represented by KG Music Press, the autobiographical self-produced twelve tracks has a vintage mix of classic country with a little Tijuana Brass as you'll hear in the train beat title song featuring Phil Jordon on trumpet.  The first single that will catch your attention is "It Was Just A Kiss", followed by the western guitar riffs of "Blackbird". Another song getting airplay is "Getting Over You" that was inspired by her love of Tammy Wynette and Herb Alpert. The Appalachia foot stompin' song "Patchwork Quilt" and the lovely "Sweet Pea Blues" features guest musicians Melissa Dow on fiddle and Ken Dow on upright bass.  Petite channels her Tom Petty soul into "Good 2 B Me" after having a surreal dream where she looked in the mirror and saw T.P. instead of her own reflection.  She also pays homage to The Beat Farmers, with a cow-punk inspired song called "Monkey On My Back" about taking too many swigs on the bottle.  Already a semi-finalist in the International Songwriting Contest, the lone torch song ballad, "I Will Rise", lyrically inspires one to persevere that musically shines a light on each member of the band.    The final single, "Sweet Pea Patch" is a playful song that lures the listener into a mesmerizing jam session timing out over nine minutes long.  The reprise of the title song closes out the album as a front porch acoustic picking number.  It's as though the troubadour has thankfully survived her long journey, but knows that tomorrow she'll be starting another adventure.
Keep an eye on this little sweet pea singer/songwriter as 2017 looks to be a breakout year for her with Road Less Traveled.  Make time to catch her when she happens to pass through your hometown.
---