Mdou Moctar's Virtuosic and Thoughtful 'Afrique Victime'
---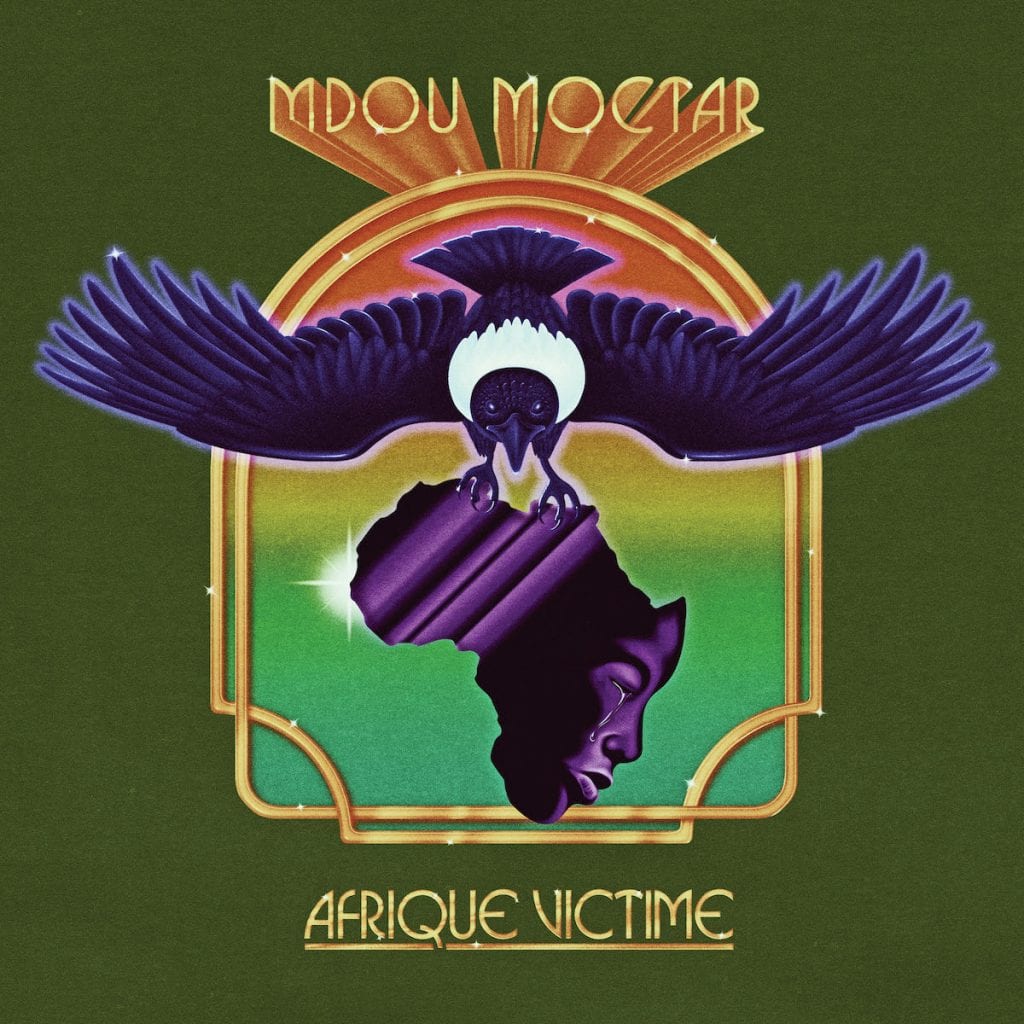 Those even loosely familiar with the contemporary musical traditions of Western Africa might already know of Mdou Moctar. The story of the virtuosic, millennial guitarist from Niger is well-told at this point: Music from his first album in 2008 was gaining traction underground in the Sahel (the climate region between the Saharan desert and Sudanian savanna), but when Portland-based independent record label Sahel Sounds placed "Tahoultine" on its 2011 compilation, Music from Saharan Cellphones: Volume 1, the song went viral. From there Moctar starred in Akounak Tedalat Taha Tazougha (Rain the Color of Blue with a Little Red in It), described as "the first ever Tuareg language fictional film, based on the legendary rock-u-drama Purple Rain" in 2015, and released his first full-band LP Ilana: The Creator in 2019.
Touring multiple continents in support of Ilana: The Creator, Moctar won over audiences with the style of his playing — immediately reminiscent of Jimi Hendrix due to his left-handed instrument and propensity for blistering, improvisational solos, but that comparison is reductive on its own. Integrating tapping techniques that he learned by watching videos of Eddie Van Halen on YouTube as well the tones and traditions of Niger guitarist and composer Abdallah Ag Oumbadagou helped solidify Moctar's complex sound. And combined with an interest in the taping culture of jambands like The Grateful Dead (explored more in a piece by Allison Hussey in No Depression's Summer 2020 "Tools of the Trade" issue), Moctar has become one of the most exciting musicians in the region to explore his native roots music and challenge their place in a global setting.
It took three years to gather and record Afrique Victime, though, and scheduling was often dependent on when producer and bassist Mikey Coltun could make the more-than-40-hour journey from Brooklyn to Agadez, Niger, the rural desert village where Moctar lives. They ended up recording in studios, apartments, hotel rooms, and backstage spaces of venues around the world, even integrating field recordings (which can be heard, for example, in the outro of the closing spiritual invocation, "Bismilahi Atagah"). The other two band members — rhythm guitarist Ahmoudou Madassane and drummer Souleymane Ibrahim — help give Afrique Victime its easy fluidity.
For while Moctar's uncanny ability on lead guitar is a show-stealing phenomenon, his bandmates are equally impressive. Madassane in particular, who has played with Moctar since 2008, is known as "the premier musical ambassador to Tuaregs in Niger." He manages to keep the entire band together and in time on songs like "Taliat," a song of lost love in which Moctar's sweeping, wah pedal-enhanced runs could break away from the rhythm section like a competitive horse race.
Although it'd be easy enough to lose oneself in the trance-like and transcendental grooves of Afrique Victime, it's worth noting some of the stories Moctar tells in Tamasheq (the Tuareg language spoken by many nomadic tribes across North Africa). He sings of the land in songs like "Layla," which showcases his skill on an acoustic guitar, and "Asdikte Akal." But it's the seven-and-a-half-minute title track — explosive in both technique and in spirit — that serves as the centerpiece of the record with its lamentations and searing indictments of French colonialism. The lyrics of the opening verse translate:
Africa is a victim of so many crimes,
If we stay silent it will be the end of us.
Why is this happening? What is the reason behind this?
My brothers and sisters, tell me why is this happening?
As Coltun's melodic bassline rumbles, the band manages to accelerate jointly and intentionally, allowing Moctar's fury — conveyed in his distorted guitar and vocals — to peak. There's a sadness here, but a defiance, one that Western audiences ought to heed.
---