Lucinda's World Remade, Even More Sweetly
Posted On November 10, 2017
---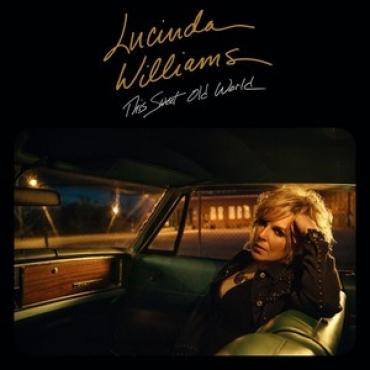 Given that this is essentially a re-recording of Lucinda Williams' 1992 album Sweet Old World, the two questions that those who know her music will be asking are a) is there any point to it, and b) is it worth buying (again)? Given that the 1992 album cannot be considered as anything but an artistic success, it's also a brave step for Williams. It's not as if she can look back and complain about something like inadequate production and say this is how it was meant to be. So this album has to justify itself on its own terms.
To return to my original points, the answers are yes and yes. It's a wholesale reimagining of the original release, representing an artist who has moved a long, long way in the intervening 25 years, and it absolutely works as an artistic statement as well as an entertaining and entrancing piece of music.
There is also the question for me as to whether I review it as an album in its own right, or do I compare and contrast with the original. Given that the original played such a large part in shaping my current musical tastes I decided that I had to consider the original despite comparisons being invidious and all that.
It most respects it is essentially the same album. Of the 12 songs originally recorded, 11 remain. From the original dozen, the song "He Never Got Enough Love" is not included, and has been replaced by "Drivin' Down a Dead End Street" (an earlier version can be heard on the Sweet Old World Demos bootleg if you can find that on the internet), plus four more songs that I've not heard before.
Sweet Old World, in my view, was Williams' breakthrough album (it didn't sell commercially like its successor Car Wheels …), but it marked her emergence as a notable singer/songwriter. Some may point to the Lucinda Williams album on Rough Trade as her breakthrough, but for me that is more of a transitional effort, bridging from her blues albums Ramblin' and Happy Woman Blues to the more country influenced SOW.
As on the original, the album starts with "Six Blocks Away," and the 12th song is "Which Will," but in between the songs have been reordered. Then there are an additional songs.
The most noticeable thing that occurs to me when she starts singing is how her voice has changed. I went back to play the original after a few listens to this and found the contrast is even more striking and remarkable. It's hard to believe this is the same woman singing. Back then she was singing in (I'd guess) the contralto range. Now she sings in something much lower – tenor with shades of baritone probably – but it's the lived-in timbre that she brings to the interpretations of the songs that make it such a worthwhile experience. A lot of life has been lived with candles burned at both ends (the final song, "Dark Side Of Life," testifies to this "I know all about the things that cuts (sic) you like a knife, Yes I know about the dark side of life").
The pace of the songs is generally more languid than on the original. That may not be to everyone's taste, but I love it.
One of the standouts is the new version of "Which Will." Williams' first version retained much of the delicacy of Nick Drake's original, while putting her own stamp on it. This version is slowed to about half the speed with bass to the fore, a delicately picked guitar weaving patterns around the bass-line while the heavenly vocal envelops the listener in honey. Just as you think it has ended the first two verses and chorus are repeated. It's beautiful and brilliant.
The title track digs even deeper into the emotions of confusion and loss that the original conveyed. Originally when she sang "Somebody so warm cradled in your arms, Didn't you think you were worth anything," her voice was counterpointed by Byron Berline's violin. Now when she sings it, it's a far simpler arrangement, but the emotional resonance is so much more profound and harrowing and is felt even more so toward the end when she sings "Didn't you think anyone loved you" and her voice cracks as she sings "loved."
"Sweet Old World" is followed, as on the original, by "Little Angel, Little Brother." Again, it's the simplicity of the new arrangement that makes it so affecting. Stripped of the angelic backing vocals and of violin, it's just Williams' voice all the way through, again with the three-piece guitar, drums, and bass playing in an understated yet groovy way. No backing vocals, no double tracking of her voice. Just her love for her brother shining through.
The most significant change for me is to "Sidewalks Of The City." It's transformed into a impression of urban decay where the mood of the song matches the lyrics. The final plea "… tell me that my world is safe" is answered by a searing guitar solo from Stuart Mathis. It's a song that has gone from good but unremarkable to a cornerstone of the reconstructed work.
"Drivin' Down A Dead End Street" is very different from the version I'd previously heard, stripped of harmonica and slowed down. The previous was almost jaunty. This version is far more in tune with the sentiment of the title. The despair in her voice as she opens with "His Mama ran off…" is exactly what you'd expect. I think it's a worthy substitution for "He Never Got Enough Love."
The only song that doesn't work for me is "Memphis Pearl." It was always my least liked song on the album. It retains the waltz time, which was acceptable when it moved along, but slowed down it's just a drag and seems totally disposable.
"Lines Around Your Eyes" remains the most uptempo song on the album. Different, but no better nor worse.
Of the additional songs (not listed as bonus material so apparently seen as integral to this new release), none seem to my ears to add anything of great value and in some respects could be considered as detracting from the purity of the main tranche of songs. But let me not be so churlish. It's easy to stop at the end of "Which Will" if it's felt that is all that is needed.
There is "Factory Blues," which is, no surprise, a blues number. Coming straight after "Which Will," it's quite a shock. Her harsh vocal contrasts vividly with what has gone before.
Next up is "What You Don't Know," which is another blues. It contains an homage to Howlin' Wolf, with Williams hitting some oooh-ooohs redolent of Smokestack Lightning at the end of the verses.
Then there is "Wild And Blue," which is another country waltz. Sadly it doesn't live up to its title, and comes across more as Mild And Blue.
The album closer is "Dark Side Of Life." A straightforward country song, but the pick of this quartet of additional songs. It features some lovely steel guitar from Greg Leisz.
What Lucinda Williams demonstrates with this album is that past glory can be revisited, remade, and emerge yet more glorious.
---