Lucero's new release delivers a little something for everyone
Posted On August 16, 2018
---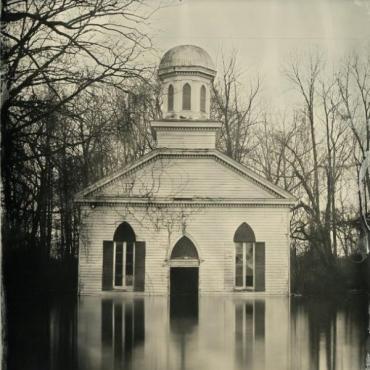 'Among The Ghosts' is the latest release by Memphis roots rockers, Lucero.  For this record, the band has gone back to their five piece iteration, forgoing the horns that had been on their three previous albums. For some bands this might have been a return to the sounds of old. But if you know anything about Lucero and their work over the past 20 years, you know they are always moving forward. As in life, there's no going back.
In this set up, each of the five pieces has room to stretch their legs a bit, and rather than sounding sparse, you get a full, rich sounding record throughout. The rhythm section, made of John C. Stubblefield on bass and Roy Berry on drums, sets the table perfectly. Berry plays the role of mad scientist — delivering some of the more creative, thoughtful percussion you'll hear without stepping all over the tracks. Brian Venable's guitar shines through on several of the songs, and Rick Steff's keys drive the sound home. Ben Nichols, the band's versatile front man, seemingly can do no wrong whether it is on guitar, vocals or with lyrics. Nichols feels right at home whether he's spilling his guts in a ballad, telling a story or sorting out his turmoils.
Lucero have always been at their best when dealing in the heart and the mind, and 'Among The Ghosts' is no exception. Standout tracks include "Everything Has Changed" which sets out a struggle with the past and with your demons ("ain't no fire can burn up my mistakes"), and "Always Been You" which sorts through the complexity of relationships ("put aside the cruel things, and god damn the wedding rings, tell me it's always been me"). "To My Dearest Wife" uses a civil war soldier's letter home to play back and forth in your mind between story telling and relating to one's current battles. And the album wraps up with a raucous song in "For The Lonely Ones" featuring some old school saxophone.
When listenting to 'Among The Ghosts' you can't help but notice the level to which this band has risen.  This is their 10th album of new material, along with an EP, a live record, and several 7 inches and other appearences. For a band with that type of arsenal and 20 years under their belt to be releasing what may be their best record is remarkable.
'Among The Ghosts' is a strong rock and roll record with the type of sticky quality that should keep it in your rotation for a while. Whether you're a long time fan or brand new to the band, this one is not to be missed.
---