Luca Di Fabio recalls fragile beauty of Jeff Buckley on new album
Posted On February 8, 2017
---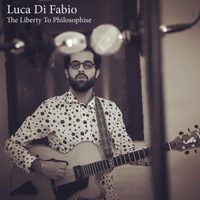 New York-based singer/songwriter Luca Di Fabio has a unique style that showcases elements of jazz, soul, and rock & roll. Equipped with his vast experience and eclectic influences, Di Fabio combines the fragile beauty of Jeff Buckley with the accessibility of Sting.  His latest album, The Liberty to Philosophise, is a product of Di Fabio's spellbinding creativity and knack for reeling in listeners on an emotional rollercoaster. Let us take a peek at some of the album's tracks.
Di Fabio should be applauded for covering Queen's immortal "Bohemian Rhapsody," especially as the opening track. It certainly takes great courage to perform what is arguably one of the best rock songs of all time. Freddie Mercury's powerhouse vocals on the original are intimidating, yet Di Fabio pulls it off. Di Fabio's raspy voice is naked and brimming with feeling, closer to Buckley's ghostly falsetto than Mercury's operatic cry. Although nothing beats the original, Di Fabio's take on the song is enchanting and completely moving.
"Another Man" exemplifies Di Fabio's high standards of production and recording. The reverb in the track highlights his singing style and string-plucking skills. This is a song about frustration and the "what-ifs" of a man who is deeply in love; it is also dreamy and mesmerizing. "Whiskey in the Car" has a faster melody and tempo compared to the other cuts on the album. It's a hybrid of mix of jazz, rock, and a little bit of country vibe. It features an electrifying performance that can definitely pump up the speakers. Di Fabio is able to create magic by only using his guitar and signature voice.
Website:
https://lucadifabio.bandcamp.com/releases
---