ALBUM REVIEW: Low Cut Connie's Brash 'ART DEALERS' Thrives on Subtleties
Posted On September 7, 2023
---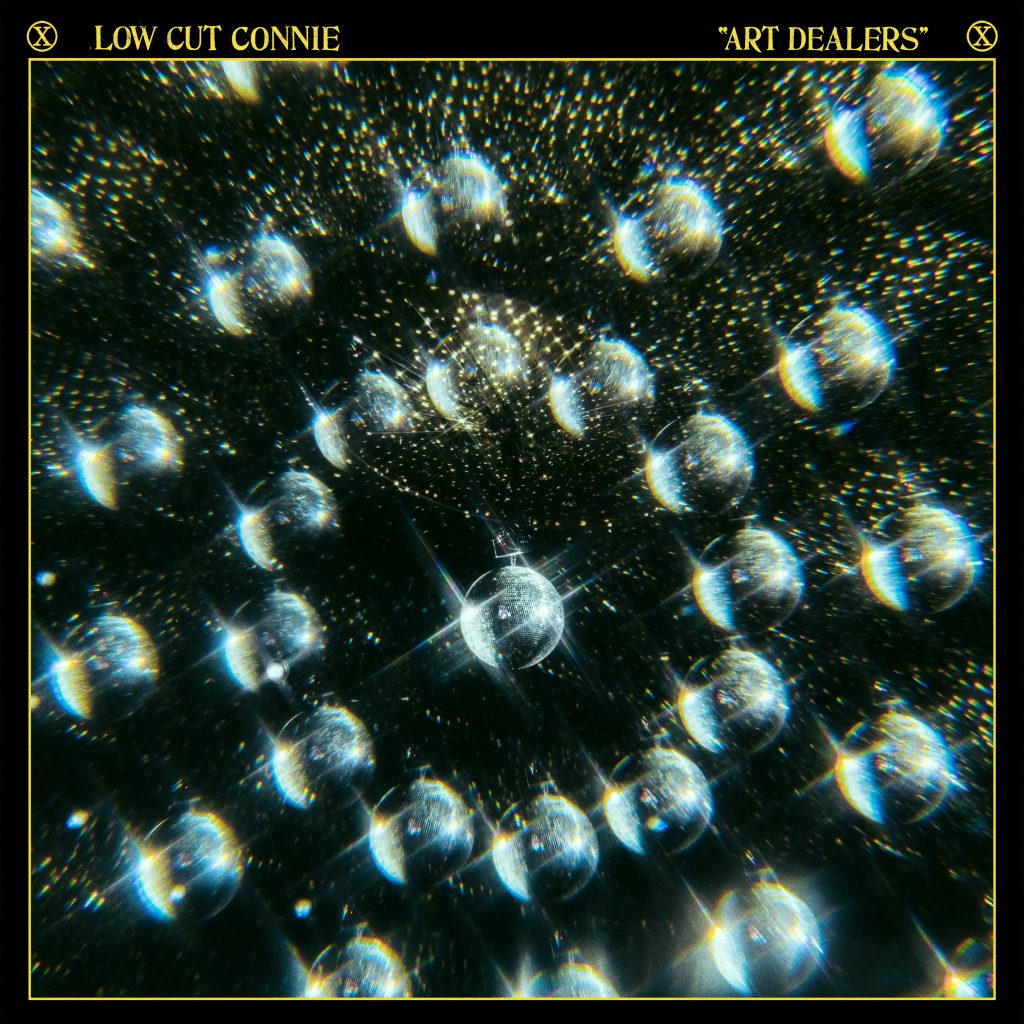 Like The Last Waltz, Low Cut Connie's new record ART DEALERS is a collection that is "meant to be played loud." The South Philadelphia-based band makes bawdy piano rock and roll — the kind of music that fuels frontman, bandleader, and songwriter Adam Weiner to rip open his tank top and spread out his arms and scream out of sheer revelry every live show.
Low Cut Connie's appeal for loudness is less overt on ART DEALERS than The Band documentary's famous title card. Sonically, the follow-up to 2020's double LP and pandemic-era lifesaver Private Lives is actually heavier, more influenced by classic rock and punk than any of Weiner's previous work. But the record shines in its subtleties, starting with the conscious choice to stylize all album and song titles in capital letters.
In many ways, ART DEALERS is a meditation on Weiner's time growing up in suburban New Jersey and early years trying to make it in New York City. According to legend, his first full-time music job was piano man at Pegasus in Manhattan, a haunt and safe space for drag queens and the wider queer community. These memories manifest in songs like the title track and the sprawling "TAKE ME TO THE PLACE," and also informed his willingness and ability to sing from other gendered perspectives on songs like "SLEAZE ME ON" and "WONDERFUL BOY," with its impressive falsetto.
Just as importantly, the ballads on ART DEALERS show how Weiner can wield his musical power and showmanship with nuance and sensitivity. "KING OF THE JEWS" offers a pointed attack on antisemitism while showing the importance of self-acceptance. And standout track "ARE YOU GONNA RUN?", in some ways a musical mirror to Private Lives' closer "Stay As Long As You Like," is crushing in its yearning and its urgency.
ART DEALERS also comprises an 80-minute visual companion piece that will debut at film festivals later this year. Neither traditional concert film nor documentary, the feature splices snippets of an interview with Weiner in a Philadelphia diner with live concert footage taken from last year's New York City residencies at The Blue Note and Sony Hall, "Tough Cookies" livestreams during lockdown, 15 years of performance history, and more.
The conversations touch on, but never dive deeply into, topics like show business versus daily life, mental health, body image, Jewish identity, and sexuality and sexual experiences — in a way, the storied trifecta of sex, drugs, and rock and roll. These nuggets of wisdom and/or vulnerability often lead into a song that emphasizes the topic, but not always. In the case of the film, this subtlety is less effective because the story of Low Cut Connie is so interesting, honest, and profoundly human; it ought to be told in full.
What ART DEALERS the film lacks in traditional narrative structure, it makes up for in stunning visuals — portraits of all band members by Skylar Watkins and Shervin Lainez and cinematography by Andy Drachman and Murphy McCann — and overall warmth and welcome. "I try to make everybody feel like a star for a couple hours but then we're back to our lives," Weiner says in the film.
And that is the magic of Weiner and Low Cut Connie — the ability to make every listener, every showgoer, every fan feel special, understood, and never alone. Experiencing Weiner in his element, whether on the new record ART DEALERS, its accompanying film, or live, is a gift of melody, messages, and community.
Low Cut Connie's ART DEALERS is out Sept. 8 on Contender Records.
---