Live Album Marks Fairport Convention Meeting on the Ledge 50 Years On
Posted On December 17, 2018
---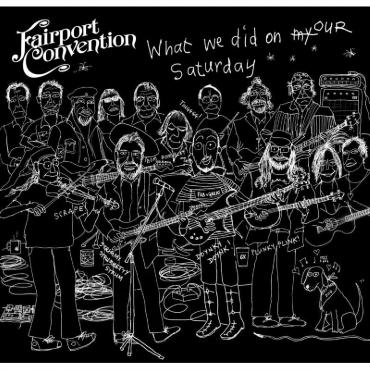 EDITOR'S NOTE: As 2018 comes to a close, we're looking back at some releases from the year that we didn't get a chance to write up when they were released. Fairport Convention's What We Did On Our Saturday live album was released in June.
There is something almost biblical about British folk-rock band Fairport Convention — at least as far as begetting and multiplying are concerned. Over the 50 years since the original band got together, its various members have been linked with the likes of Steeleye Span, The Albion Band (and its many offshoots), Matthews' Southern Comfort, the Strawbs, Fotheringay, The Golden Palominos, Pentangle, and even Jethro Tull.
Little surprise then that when the band celebrated its 50th anniversary in the summer of 2017, it brought together some 15 of British folk-rock's good and great, most of whom at one time or another had been or are currently members. Let's hear it for Simon Nicol, Richard Thompson, Dave Mattacks, Ashley Hutchings, Iain Matthews, Dave Pegg, and Judy Dyble, among the many.
The gig — held at Fairport's annual Cropredy festival in England, was released earlier this year as a two-disc album. It is a delight — and quite moving — for anyone who loves the crossover genre that Fairport essentially created: rollicking rock about faeries, naughty goings-on with fine ladies, and poor people about to be hanged.
This said, the album actually starts with two American-style '60s rock tunes — "Time Will Show The Wiser" and "Reno Nevada" — both harking back to Fairport's earliest incarnation before they got Brit-folky.
The guitar on both these tracks — and most of Disc 1 — is just wonderful. But then it is Richard Thompson, an original Fairporter, so that is hardly surprising. It does make you wonder what would have happened if he had stayed.
A bit further on come six tracks from 1969's Liege & Lief, the Joe Boyd-produced album that pretty much invented the British folk-rock genre and which ranked 58th in Mojo's "100 Records that Changed the World."
Thompson, Nicol, Hutchings, and Mattacks all played on the original and participate in some of the Saturday Night replays, with Chris Leslie, a current Fairporter fiddler, standing in for the late Dave Swarbrick and Chris While taking on the legendary Sandy Denny's vocals.
When Denny died aged 31 in 1978, Fairport decided not to bring in another female on the grounds that Denny was irreplaceable.
Emotionally, that may indeed be the case, and who could fault them? But musically, While does the job magnificently, particularly on the standout "Tam Lin," the archetypal British folk-rock anthem involving a faerie queen, a virgin called Janet, magic, elves, and transmogrification. It puts shivers down your spine (in a good way).
Much of Disc 2 is more typical of Fairport's current lineup of Nichol, Pegg, Leslie, Ric Sanders, and Gerry Conway, who have been together since Conway joined in 1998. This band tours regularly and busies itself with side projects such as The Albion Christmas Band, The Dylan Project, and Feast of Fiddles. It also hosts the wonderfully eclectic festival each summer that is formally known as Fairport's Cropredy Convention.
But this second disc is mainly folk with a bit of rock, where Disc 1 is rock with a bit of folk. Examples would be the gentle and beautiful airs "The Hiring Fair" and "Fotheringay." There is also a smooth rendition of Denny's classic "Who Knows Where the Time Goes" mainly sung by Nicol but again with While doing justice to the late diva.
It is all brought to a finish with two of Fairport's greatest hits — the foot-stomping "Matty Groves" and an ensemble rendering of "Meet on the Ledge."
The latter — an anthem now taken to be about the afterlife — closes Cropredy each year. In this Saturday Night context, it is more moving than usual given the 50 years, the collection of old mates jamming, and the absent friends.
Meet on the ledge / We're gonna meet on the ledge
When my time is up I'm gonna see all my friends
Meet on the ledge / We're gonna meet on the ledge
If you really mean it, it all comes round again.
* * * * * * * * * * * *
Your subscription helps keep independent roots music coverage alive! Subscribe to No Depression now and join a community of roots music fans from around the world.
---