Learning to Let Time Be the Sacrifice with Amasa Hines
Posted On October 11, 2018
---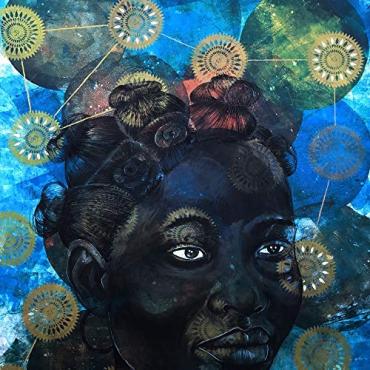 Amasa Hines are evangelists of the exploratory potential of music. Since forming in 2012, the Little Rock, Arkansas based collective have been offering up their interpretations of the musical divine. Their latest is Ivory Loving Glass, the long-awaited follow-up to 2014's All The World There Is.
"Zatoichi" finds inspiration in its namesake, a famed fictional Japanese masseur and swordsman, asking "Will I see the signs, my love?" Joshua Asante doesn't sing so much as pleads, verbally rebelling against the "blue kind of feeling" that he's being left with. The whole track is thick with sonic seppuku, like Asante cut the vocals while kneeling down on the studio floor.
"Life in the Wake of the Eternal Noir" is a piano soul ballad composed of both the grand phrases we hide our love in, and the actual things which make it up: waking up and going to bed, taxes, things to clean, all the things the children always need.
"If I lie here with you/Will the devil still find me?" Asante asks. Judson Spillyards' guitar is lush and haunting, the melodic breaking down and underlining of Asante's repeating line: "I believe."
"7" hums with friction, an eruption of unbridled collective power the band is known for presenting on stage. It also holds the first horns we hear from multi-instrumentalist Norman Williamson on this release, a marked departure from their debut record, and seemingly a subtle reply to Asante's assertions:
"The silence tells us so much/The silence covers the blood, the violence."
"Nimbus" sees the band attempting to find out what is left when all of your best friends have let you down. "Won't you worship with me? Let time be the sacrifice," Asante preaches. It's nothing short of a spiritual descent into illusion and self-discovery, with Asante revealing that "I am wearing the nimbus of light." But he isn't alone: We are right there with him.
"Someone Like Me" reads like a lullaby, a rain splatter piano-driven tune that introduces a metronome to push us forward and out of this brief collection. It's a fitting coda, too. Throughout, these songs pulse and teem with the makings of modern life, constructed in all its paranoia and absence, but still holding on to some untouchable pure belief. With Ivory Loving Glass, Amasa Hines is writing the evangelical folk music of tomorrow, performed in the darkness of today.
May we all sacrifice the time enough to listen.
https://open.spotify.com/album/5d4efeDz4de2wJz5SIgsF1
---