Laura Benitez and The Heartache Capture Something Beautiful on 'With All Its Thorns'
Posted On February 16, 2018
---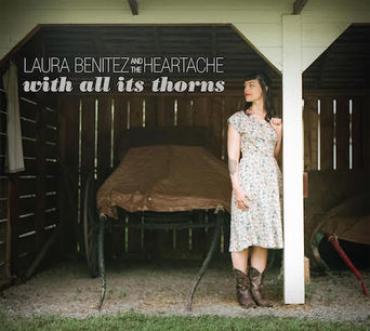 On January 26th, Laura Benitez and the Heartache released their third full-length, With All Its Thorns, which, despite its name, is something to behold as Benitez tackles the prickly aspects of relationships with keen insight, unique perspectives, and heart.
With All Its Thorns starts off with the Tex-Mex flair of the lively "Something Better Than a Broken Heart" which with its opening line "I'd always thought I'd get that diamond ring" and accordion work (courtesy of Billy Wilson who plays throughout) instantly grabs your attention. That's followed by ten more songs, told by Benitez's distinct voice, that strike a chord, whether they're breaking your heart or lifting it up.
The slow shuffle of "Easier Things To Do" conveys the thought that even though things, whether in work or love, aren't always we easy, we shouldn't avoid them; while the jaunty "Our Remember Whens" tells a darling story about looking forward to being able to reminisce with a new love, and the rollicking "Whiskey Makes Me Love You" where she asks, "How can you say it's wrong when that amber starts to pour" extols the virtues of the favored beverage.
While Benitez is the primary songwriter, The Heartache – Bob Spector (acoustic and electric guitar), Ian Sutton (pedal steel), Mike Anderson (electric and upright bass), and Steve Pearson (drums) – elevate her lyrics with their dynamic musicianship whether with the dark backbeat on the murder ballad "In Red," the haunting fiddle (courtesy of Steve Kallai) and steel on the stirring "Ghostship," a true story of a fire in an artistic collective, or capturing the conjunto feel of "Almost the Right One/Casa Mi Cielo."
With All Its Thorns is rounded out by the astutely told tale of two cheaters entitled "Secrets," the charming "The Fool I Am Right Now" and the bluegrass-infused closer, "Nora Went Down the Mountain" which tells the story of an ordinary woman who, one day, simply picked up and left.
Alphonse Karr is quoted as having said, "We can complain because rose bushes have thorns, or rejoice because thorns have roses." Benitez and company adeptly tackle life's sadness, heartaches, and struggles on With All Its Thorns, and in doing so have exposed the beauty behind those thorns, capturing something incredibly pure, poignant, and timeless.
Originally appeared on The Daily Country
---