Kruger Brothers' Tribute to a Magnificent Mountain
---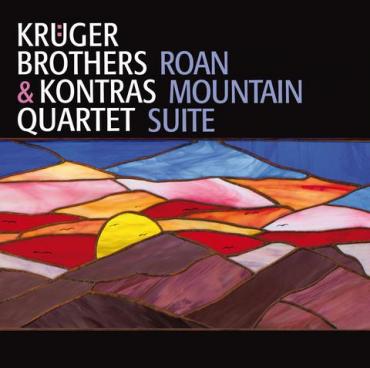 The Kruger Brothers' dedication to Americana music is sincere and profound. It's the thing that inspired Jens and Uwe Kruger to leave their native Switzerland, bond with bassist Joel Landsberg and resettle in North Carolina, a pilgrimage of sorts that had them embracing the music of their soon-to-be mentor Doc Watson, as well as Bill Monroe, Flatt and Scruggs and other champions of traditional American music. The music they make is a tribute to the very idea that indeed America is a melting pot and the sounds that were birthed from the heartland find a universal touchstone.
If further evidence is needed, one need look no further than the Kruger Brothers' latest undertaking, a collaboration with the Kontras Quartet on a commissioned work about the majestic mountains that straddle the border of North Carolina and Tennessee. Dubbed Roan Mountain Suite after the prominent peak that commands many a scenic gaze, the work forges a link with such contemporary classics as Ferde Grofé's Grand Canyon Suite and the Aaron Copeland's compositions explore the American ethos in sight and song. Pursuing a theme that bows to nature's magnificence, Jens Kruger composed the music through a series of seven movements, seamlessly merging chamber music and strings with the traditional sounds of banjo and guitar. The result is a sound that's both simple and suggestive. Within its idyllic setting, the music ebbs and flows, always melodic and clearly tied to the idyllic setting that provided him with his inspiration.
Granted, an orchestral work of this design isn't the sort of thing that's destined to make a major dent in the mainstream marketplace. Still, it does stand out as an ambitious undertaking, a work of great importance and consequence. At its most basic, it's a tribute to a conspicuous corner of the American landscape, a place where an essential music originated and prospered. In a larger sense however, it represents a melding of vision and culture, and the fact that indelible impressions can spur even greater glories.
---