Kingsborough Reveals the Impressive "1544"
---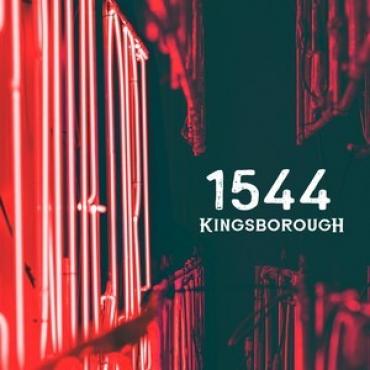 Kingsborough integrates many faculties within the intricate music industry and possesses substantial talents of epic proportions when it comes to their versatility pertaining to ingenious musical innovation. This entire album, 1544, was self-produced and providentially holds substantial weight even amongst the top hip tier bands in the contemporary rock genre. Kingsborough modernizes on an exponential level coupled with instrumentation skills that go beyond the average hybrid musicians as they challenges the mainstream. The production of the songs in particular are immaculate in conception with the overall fullness and power of vocals resonating effortlessly as Kingsborough enhances the vibrancy of the compositions. The pristine engineering cannot be discounted as it plays a vital role in bringing life to the mixes themselves.  The flagellated FX coupled with the stereo imaging and delay patterns make for an interesting and pioneering dynamic. The equalization and compression were done professionally establishing a sense of uniformity that is congruent to the musician's signature style. The songwriting supplies carefully orchestrated guitar picking patterns with fascinating percussive sounds.
The vintage elegance of Kingsborough's music sets an endearing reminiscence of boundless regularities that has been altered to appeal to an ever-changing musical audience. The lavish vocals on the tracks set the foundation as an additional apparatus in the assortment that holds the bedrock of the LP's infrastructure intact in relation to the subatomic bass. I would argue there is an element of emotional execution to their style that has a retroactive essence embedded in the music that is congruent to the collective authentic story. The rhythmic style of musicianship meshed within the improvisation performance artisan is extremely apparent giving a conscious feel dispersed within the boomy bass slaps, syncopated percussive elements, ambient synthesized instruments, vinyl sampling and original vocals.
Inventiveness is an important constituent in music that Kingsborough expounds upon in his revolutionary production philosophies that has been lost in the art of over planning. The synchronizations of the melodies supporting the primary chord progressions layer an interlocked intransient sound that really fulfills the holistic approach of the album. Kingsborough harnesses a wide subset of structural approaches that alter between minor and major chords tapping into the poignant abilities of his music. In summation, Kingsborough's music is timeless in a sense that appeals to all generations and there is enough music in each subset that can appeal to a versatility of distinctive music loving fans!
Grab a copy for yourself, here: http://www.pledgemusic.com/projects/kingsboroughmusic
---