---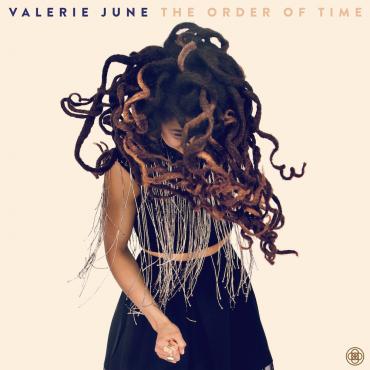 With The Order of Time (out March 10 on Concord), Valerie June extends her vision and her voice. Or, her voices.  She can still sound like something of a helium caricature, the Macy Gray of Americana, and some of her forays into roots music can seem learned rather than lived.  But four years after her popular breakthrough with Pushin' Against a Stone, her label debut following three self-released efforts, the new album represents a major artistic leap.  And a change of producers, from the Black Keys' Dan Auerbach to Matt Marinelli, seems to have helped her renew her musical inspiration as well.
The material, all written by June, ranges from the spiritual revival of the opening "Long Lonely Road" to the juke-joint jaggedness of "Shake Down" and "Man Done Wrong," but as the song cycle progresses, the music focuses less on looking back than moving forward.  The arrangements are more fully fleshed this time out,  with the judicious employment of brass and strings helping her soar on highlights such as "Astral Plane," "With You" and "Slip Slide On By," songs that hint at a more contemporary musical direction than she had previously shown.
The closing, rousing "Got Soul" beings the album full circle, with June testifying, "Yeah, I got soul/Yeah, I got sweet soul, soul."  But by this point, she no longer has to say it. She has proved it.
---