Julia Jacklin Reveals New Layers on 'Crushing'
Posted On February 21, 2019
---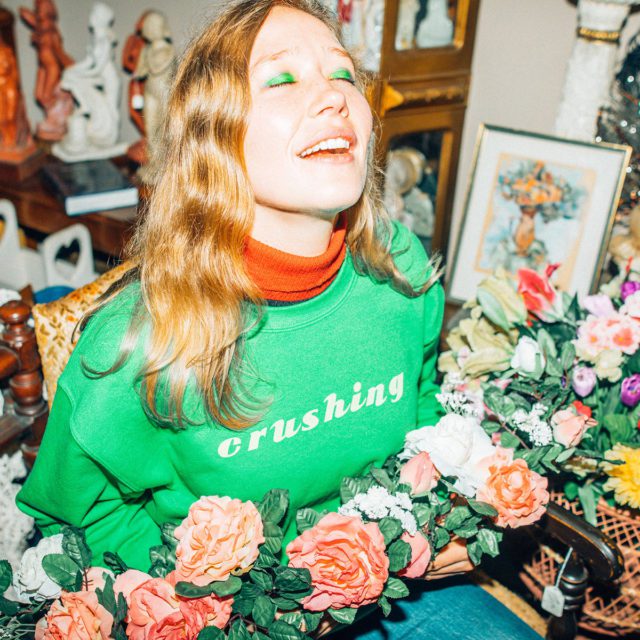 There is less than three years between Julia Jacklin's two full-length albums, 2016's Don't Let the Kids Win and her follow-up out this week, Crushing, but it feels like a lifetime. This is partially because that first record was an exciting, powerful debut from an artist whose voice already felt so pure and singular, it left us eager for more. But it's also because a lot has changed in Jacklin's life since then. The wisdom beyond her years we saw glimmers of in 2016 and in the singles she put out in between is beaming full-force on Crushing. Though it captures Jacklin in the midst and aftermath of ending a relationship, Crushing is more than just a "breakup album." It is an empowered grab at self-discovery in the wake of a significant shift.
Crushing is a funny title for this record. It can be interpreted as a crushing loss of a longtime partner, or the celebratory sense of pride that comes with success and maturity. For Jacklin, it feels like both. She sings with a newfound sense of agency over her whole self — mind and body — in the context of a stale relationship she's outgrown, and of a society in which women are weighed down by impossible expectations. On the gloomy, pulsating opening track "Body," Jacklin makes a kind of pilgrimage, literally back home and in a more spiritual sense, back to herself, as she reckons with the humiliating aftermath of a betrayal by a childish lover. And on "You Were Right" and "Pressure to Party" she turns the amps up and expertly captures the chaos of trying to be all things to all people all the time, managing her introvert tendencies against what the people around her are telling her she's "supposed" to be.
Written mostly on tour, there's a transitional quality to Crushing, like it's constantly in motion. It has those quiet, contemplative moments we expect from Jacklin, and her angelic, masterfully controlled voice, but it's confident in a way we hadn't yet heard. Songs like "Good Guy" and "Don't Know How to Keep Loving You," both standouts, are watery and smooth. On the latter, she wonders how to keep going with someone she's fallen out of love with — a steady theme of Crushing. She moves coolly between feeling repulsed by this lover and feeling sad at the thought of him moving on ("Comfort"). "I don't want to be touched all the time / I raised my body up to be mine … you can love somebody without using your hands," she sings on "Head Alone," craving the space and independence she knows she needs. Crushing is an exploration of the growth we experience each time we shed a layer, told by an artist who has shed many herself and lived to tell the tale.
---