Judy Collins Delivers New Folk Classic with 'Winter Stories'
Posted On November 26, 2019
---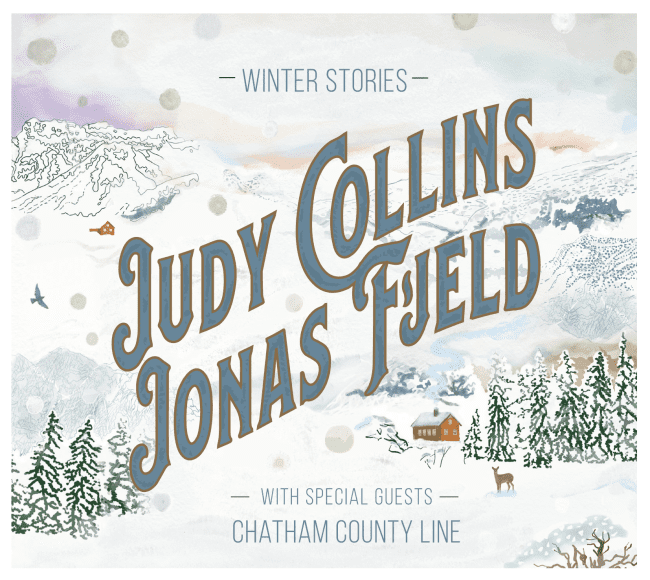 Ships running off course, lost sailors, broken hearts and blizzards, chilled bones and lonely inclement weather. Judy Collins' Winter Stories, the fourth seasonally themed record of her career, is very far from being just another of her feel-good Christmas albums. Those seeking solace and good cheer would be better off listening to 1994's Come Rejoice: A Judy Collins Christmas or 2000's All on a Wintry Night. But listeners who are interested in hearing engaging new music from one of the most important singers of the last half century will find a lot to challenge and engage them in Winter Stories' 11 new recordings.
Like her old pal Leonard Cohen before her, Collins has been enjoying a late-career renaissance and flurry of creative activity in recent years. Since 2016, she has released four records, including Silver Skies Blue, the Grammy-nominated album of duets with Ari Hest, and Everybody Knows, her 2017 collaboration with her old friend and collaborator Stephen Stills. And like Cohen's later work, Collins' recent recordings have showcased great performances and very strong material. Meticulously recorded and sympathetically produced, her recent flood of releases will likely come to be seen as being amongst the very best work of her long and distinguished career.
Like most Collins records, Winter Stories features a mixture of original compositions and well-chosen cover songs. And, as her fans have come to expect of late, the performances on the album are elevated by her collaboration with other top-flight musicians.  This time around, she's teamed up with the Norwegian guitarist Jonas Fjeld, best known for his work with The Band's Rick Danko and Chatham County Line, a North Carolina bluegrass outfit that regularly records and tours with Fjeld.  It's a winning combination. Together, the musicians create such fluid melodies, carried along by such truly nimble and breath-taking string playing, that Winter Stories would be a great record even without Judy Collins. Add her, and you've got a contemporary folk classic.
Collins herself is in very fine voice throughout the album. Though her vocal range has shrunk slightly over the years, she is still capable of hitting high notes and singing through a melody with more precision and conviction than many singers half her age.  Just when you thought you'd heard Joni Mitchell's "River" enough to last a lifetime, Collins delivers a heartfelt version that reveals previously unexplored nuances in the lyrics and melodic variations in the song's arrangement. Collins has always been a singer who can breathe new life into old classics, and her take on Stan Rogers' "Northwest Passage" is no exception. The track's soaring vocals and complex harmonies are exhilarating to hear, without ever muting the tragic overtones in Rogers' ballad about British explorer Sir John Franklin's doomed voyage into Canada's frozen northern waters.
Fjeld contributed two of his original songs, "Frozen North" and "Angels in the Snow" — a song that he regularly performed with Rick Danko — to Winter Stories. Reimagined here as a duet with Collins, "Angels in the Snow" is one of the many highlights of the album. Soulful and uplifting, it provides a perfect counterpoint to the darkness communicated in this group's version of Jimmy Webb's "Highwayman."  The album closes with a long, jammed out re-recording of Collins' classic "The Blizzard" that encapsulates everything that is good about Winter Stories.
Six decades into her career, Collins is creating some of the best music she has ever shared. With its great songs, lovely vocal performances, and beautiful instrumentation, Winter Stories is a very fine piece of work that will warm up even the coldest night.
---