JP Harris Finds a New Voice
Posted On October 1, 2018
---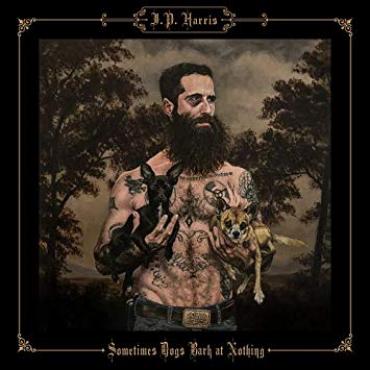 Pulling off the whole working class country music outlaw thing can feel inauthentic, but not if you're JP Harris. The freight train-hopping troubadour has been delivering tried-and-true tales of life as a teenage runaway, hard livin' and honky-tonkin' for nearly a decade, his low rumble twang driving nails through your heart with one hand and toasting with a frosty one in the other. His sound harkens back to an old-school country and western sound, showing a deep appreciation for the greats without any added gimmick or phoniness. In the four years since Harris' last record, Home Is Where the Hurt Is, he's continued to make an honest living as a carpenter in Nashville and toured a bit with Old Crow Medicine Show's Chance McCoy, all the while working on his new record, Sometimes Dogs Bark At Nothing. His most grown-up and fully realized record yet, Sometimes Dogs Bark At Nothing has been worth the wait.
This time around, Harris has a little fun with his usual aesthetic, shaking it up with '70s country references and a bigger sound than anything we've ever heard from him. Stretching his vocal abilities and amping up his energy, we get a raspy bat-out-of-hell version of Harris on songs like "JP's Florida Blues #1", "Jimmy's Dead and Gone," and "Hard Road." Harris leans into his experiences on the road and the gritty lifestyle of being a no-frills touring artist. Debauchery and hard lessons ensue. On "Jimmy's Dead and Gone," Harris reckons with his past as a 14-year-old hobo. "You've heard this tale a hundred times / But this story's true to life," he growls.
We hear hints of the Harris we know and love on songs like "When I Quit Drinking" and the album's title track. A master storyteller, Harris weaves detailed narratives about conquering demons and navigating life's many mysteries. "Long Ways Back" and "Lady in the Spotlight" find Harris crooning along to retro arrangements. The sun-drenched guitars and harmonies on the latter make it the true standout of the record. We've never heard this level of exploration from Harris on any past records, and it is rewarding to see him finding – and following – these threads.
---