Jonah Tolchin Taps Into the FAME Studios' Blues
---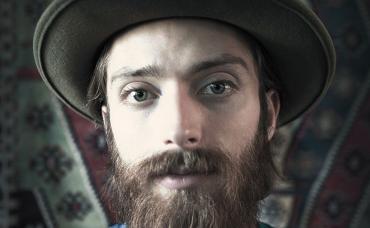 Jonah Tolchin is an old soul. Or at least he sounds like one on his latest record Thousand Mile Night (released Aug. 5 on Yep Roc Records). His voice wavers with an unmistakable honesty through soft, rootsy tunes about finding the light at the end of the tunnel. Recorded with such warmth at FAME Studios in Muscle Shoals, Alabama, Tolchin embraces a bluesy vibe across ten tracks that feel tailor made for long summer sits on a back porch with a cold drink.
Opening track "Beauty in the Ugliest of Days" is a sweet search for positivity, and puts a good taste in your mouth for what's to come on the rest of the record. "Thousand Mile Night" goes for full throttle blues rock, with Southern twang guitar riffs that leave wakes of black smoke. This is a true road song and there's a subtle darkness lurking somewhere within it. "I Wonder" hits on the same ideas as the title track – constantly being on the move. Tolchin wears his heart on his sleeve here and throughout the album, trying his darndest to stay in touch with his soul and stay authentic. And it comes across in the emotion and vulnerability that never leave his voice.
"Completely" is Tolchin at his most sensitive in a plea to a lover for another chance. His quiet desperation is sad and beautiful, and it puts you right there with him. Gorgeous fiddle dances in the background of the melody giving the song a gentle elegance. "Song About Home" is a lovely tune, too, about the pain of homesickness. It's a stripped down performance, but it's Tolchin at his rawest. "Let's ride until we find home/I'm lookin' for you/I'm feelin' so blue/Just passin' through," he sings alongside an acoustic guitar.
Tolchin has more than proven he excels at a more minimal sound, as on the traditional blues tune "Hard Time Killing Floor Blues", but the best moments on Night are when Tolchin goes all in, rocking out to a soulful organ, like on "Unless You Got Faith" and the aforementioned title track. This full band sound suits him richly.
---