Johnny and Jaalene Explore the Sounds of the 50s
Posted On November 4, 2018
---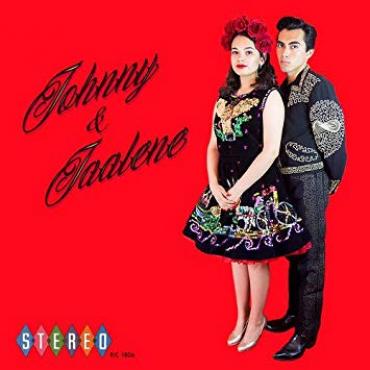 Johnny and Jaalene, the Johnny being Johnny Ramos and the Jaalene being Jaalene DeLeon, grabs you with its throwback 50s sound amplified with a contemporary energy. Anyone who's ever sat in the car with their parents, wishing the oldies station's tracks were just a little rawer and faster, will love what the two Southern California teens have done on their debut album.
Ramos is the 19-year-old son of bluesman Kid Ramos and DeLeon is a 16-year-old musical theater refugee. The two don't duet across every track, so there are lots of distinct DeLeon and Ramos moments. The glue across the album is the amazing guitar work of Kid Ramos. His simple-yet-memorable playing solidifies each track, giving both singers a rock-solid bedrock of song to build upon. And given the vintage of the covers and the age of the singers, one has to wonder what his role was in song selection.
DeLeon's voice is another factor making this album so captivating. She's two-years away from being able to vote, yet has a voice that feels like it's floating out of the past. On "Gee Whiz," a Carla Thomas song, DeLeon nails the signature sadness and innocence of so many songs from the 50s. Her voice soars over the track, but it's tethered by Kid Ramos' beautifully clean guitar. DeLeon similarly shines with her take on Etta James' "Good Lookin'." DeLeon lacks James' presence but still does justice to the track, her work lifted by a bluesabilly solo from Kid Ramos.
Which isn't to say that Johnny Ramos doesn't do much for the album. He also turns in some strong performances. His strongest of the album is "Why Why Why," originally written and performed by Doug Sahm. He taps into the hopeless desperation at the heart of so many 50s songs, giving the agony just enough of a contemporary edge that the song feels painful, in a good way.
The album also has two Spanish-language songs, a nice touch given the two singers are Mexican American. "Cuando Caliente," which has also been covered by Connie Francis, has the 50s sound heard across the album. DeLeon practically duets with Kid Ramos' guitar, dramatically switching to English and then back into Spanish as she drives the song like it's a wood-paneled wagon. Johnny Ramos handles "Los Chucos Suaves," singing over some Latin-style acoustic guitar and accordion. Unlike so many of the tracks on the album, this one doesn't feel especially throwback, but it's still an impressive performance from Johnny. And at just over four minutes, it's one of the album's longer songs.
The hook of this debut is that it's great 50s songs performed by two young, talented singers, and a fantastic guitar player. It's a simple formula, and in this case, it's effective. To call Johnny and Jaalene timeless wouldn't be quite accurate. It's very much rooted in a specific time. It's just not the time in which the two singers were born or live. Which is good news for those of us who are around to hear their music now.
---