Jimmy Carpenter Promotes Healing on 'Soul Doctor'
Posted On October 2, 2019
---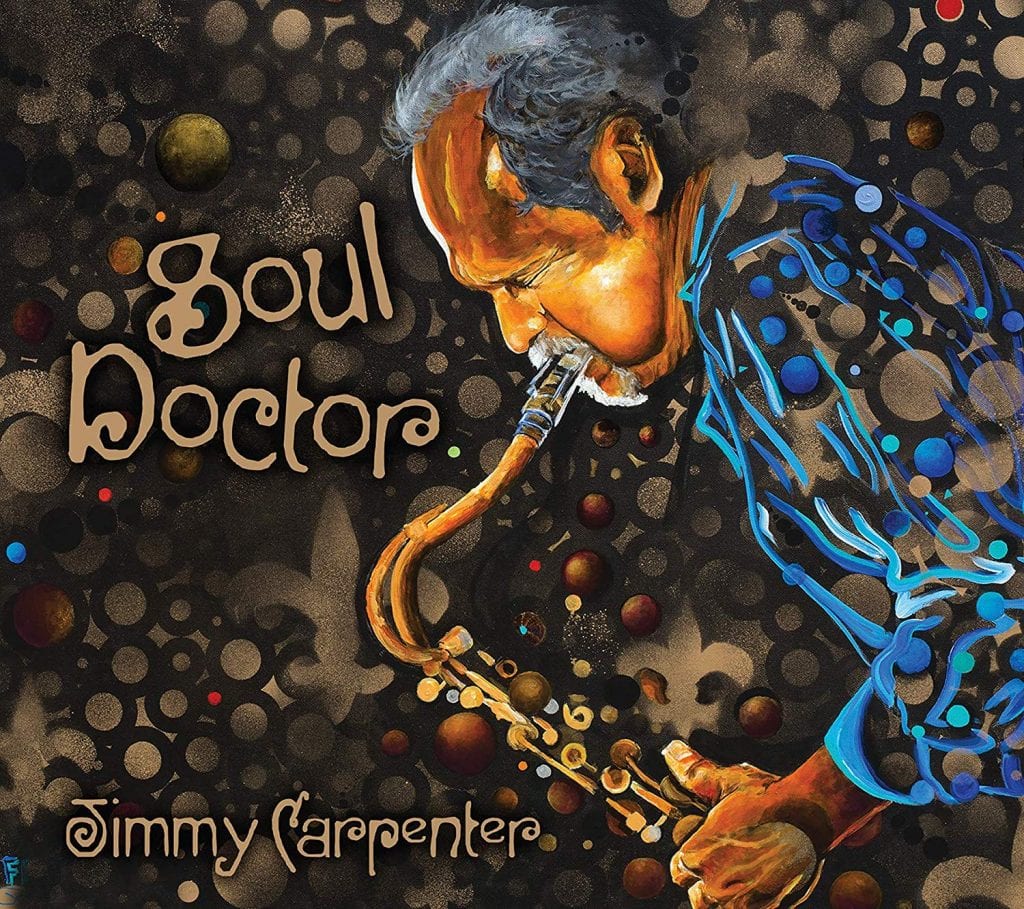 After years of toiling in obscurity, tenor saxophonist/vocalist Jimmy Carpenter's musical internship has finally blossomed into full-fledged doctorhood.
After road dawgin' with The Alkaphonics in the '80s and Charlie Pastorfield in the '90s, Carpenter toured with Atlanta guitarist Tinsley Ellis before joining former Nighthawk Jimmy Thackery and the Drivers from 1999 to 2004. A move to New Orleans hooked him up with Walter Wolfman Washington's Roadmasters, and he joined Mike Zito and the Wheel in 2012. Now relocated to Las Vegas, Carpenter leads his own band when not playing with the Las Vegas Strip Kings, is the musical director for Vegas' annual blues throwdown The Big Blues Bender, and leads the Bender's house band, The Bender Brass.
Soul Doctor is Carpenter's fourth solo effort, and his finest work to date. Carpenter describes the title cut as "straight-up boogalo but with a soul chorus," buoyed by guest and former Trampled Under Foot guitarist Nick Schnebelen's wiggly excursion into swampy fonk. Carpenter turns up the thermostat with some righteous honkin' chased by Schnebelen's stinging licks.
Carpenter really shows how far he's come as a vocalist on "When I Met You," an ode to his beloved,  Carrie Stowers, who also is his frequent backup vocalist. He gets a gospel/soul Sam Cooke sound, backed with lush Memphis hornery. Carpenter says he originally conceived it as a country-ish sort of thing, but decided he couldn't use a country thing here, so he re-did it as a Memphis soul piece, enlisting Stowers to add some additional sweetener to the background vocals.
His original "Love It So Much" is a full-fledged second line strut with an "Iko Iko" bloodline, Carpenter rasslin' with his inner conflict between lovin' road dawgin' and craving home life as well.
He wrote or co-wrote seven of the 10 cuts, but the covers are just as interesting. "One Mint Julep" is virtually unrecognizable, taken from a version Walter Wolfman Washington used to do, a funk-laced stutter that wobbles all over the street, changing tempo so frequently that it casts doubt on only one mint julep being the sole fuel. Red Young's B3 solo leads a ragged but glorious second line parade before Carpenter steps back in to bolt it down.
Eddie Hinton's "Yeah Man" gets smoothed out, an ironing job that takes out the hiccup/stutter step on Hinton's 1978 version from his ragged but glorious masterpiece Very Extremely Dangerous. Trevor Johnson's guitar adds a Duane Allman feel, and Carpenter's soulful vocal sells the revised tune as a bona fide supplement to Hinton's original classic.
Yeah man — the doctor is in.
---