Jeremy Squires Finds Solace in Collapse
---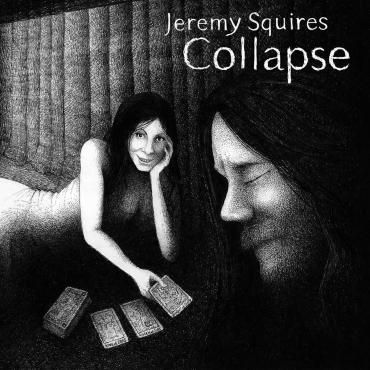 Jeremy Squires' first album, When Will You Go, made a huge impact on me. Detailing struggles with depression, it was the medicine I needed at the time. Squires has no difficulty taking difficult subjects head-on. In Collapse, Squires unflinchingly guides us through his mother's death, the struggles of dating an addict for years, and finally letting go. In Squires' case, he went on to meet his fiancee, pictured below and featured on some of the tracks.
For this journey, Squires brought along some friends who are some longtime Adobe & Teardrops favorites — Heather McEntire, lead singer of Mount Moriah, and Whit Wright, who usually plies his pedal steel talents with American Aquarium. What's most striking is Squires' uncompromisingly gentle approach to his music. In "Remnants," Squires delivers these lyrics:
Children play where you lay
near a permanent stain
on the wall hangs a cross
that don't keep all your demons away
There's a page that you fold
in the bible you hold
that you clutch to your chest when you call me faithless
because I don't believe
They're swarming around our wasp nest now
it's a strangers house
we've both been dying to get out
While most would accompany them with a brooding melody and a heavy touch on the guitar, Squires' music is tired and stretched out, an exercise in bends on detuned strings and falsetto. The situation is no longer taut — after all, it's over and done with. The softness that permeates Squires' music is more of a gut punch than any banger or dirge. It's as if Squires has already felt those and can only, at last, speak his heart now that he's exhausted all other emotions. And maybe it's at that point, when the anger and sadness and grief become the background noise rather than the melody, that recovery can begin.
Jeremy Squires  — Official, Facebook, Bandcamp
Originally posted on Adobe & Teardrops
---