Jeff Hyde's "Cold" Is "The Blade" of 2018
Posted On February 28, 2018
---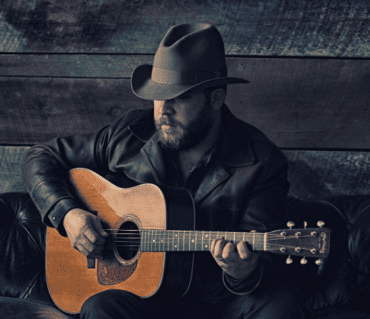 I remember the first time I heard Ashley Monroe's 2015 song, "The Blade," off her standout album of the same name. It's a gorgeous, heartbreaking tune about a relationship that ends when one person wants it to, but the other doesn't. It features a dreamy lead vocal track from Monroe laid over supple backing work by her Pistol Annies bandmate, Miranda Lambert.
It absolutely bowled me over — and then it crushed me by abruptly concluding just prior to the three-minute mark. The only solution was to play it again.
Jeff Hyde's "Cold" is the "Blade" of 2018. It, too, features a fine female backing track, this time from Sarah Buxton, who actually sounds a lot like Monroe. (In fact, I immediately checked the liner notes to see if Monroe was credited.) Also similar to "The Blade," it speaks of a once-torrid relationship gone south — or, as the title suggests, cold. Here, however, the relationship's not technically over; its participants are just afraid of being alone. And it also ends around the three-minute mark, which left me wanting a whole lot more.
Why cut these sensational ballads so short? My suspicion is so that they'll be suitably economical for radio airplay or mass digital consumption. But what a fat chance that is for deserving artists like Monroe and Hyde these days. Save for a fluke hit by electro-pop singer Bebe Rexha (with an assist from Florida Georgia Line) at the top and a few (wink) tomatoes buried toward the bottom, Billboard's Hot Country chart is a torrent of testosterone. Good luck to Monroe — or even a star of Lambert's stature — when it comes to cracking those nuts.
Hyde's case is a bit more complicated. Sexism clearly won't be a factor in the success of "Cold" and its companion cuts on his wonderful debut album, Norman Rockwell World. Hyde also knows how to write chart-toppers, as he's done for the likes of Eric Church, in whose band he plays guitar. Hyde helped write Church's hit "Springsteen," and Norman Rockwell World's final four tunes rival those on The Boss' Tunnel of Love in their ability to gently cap off a thoroughly considered, cohesive work of art.
But the way the Music City machine works, it's hard to imagine a song like "Cold" and an album like Norman Rockwell World gaining much commercial traction without the monetary and marketing muscle of a major label. Hyde's clearly saved his best songs for himself. They're thoughtful and personal, with a musicality that doesn't try to beat you into the red dirt with a bag of beer cans. And for all of those reasons, they're likely to be dismissed as too calm or cerebral for country radio.
If Hyde wants "Cold" to become a hit, maybe he'll hand it to someone like Jason Aldean, a similarly powerful singer with a bigger budget for manscaping. Until then, it'll be up to intrepid country listeners to seek Hyde out.
---