Jason Elmore Going For the Real
Posted On November 28, 2016
---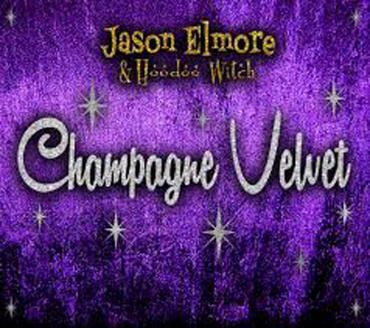 Jason Elmore describes his band's new album 'Champagne Velvet' as "like a road trip from Dallas to Memphis, TN with a quick stop by the West Coast on the way. "
Hoodoo Witch; The Power trio lead by singer/songwriter/guitarist and Tequila aficionado Jason Elmore entered the studio and began production on their third album at the end of May 2016 with a clear vision, fire and determined to lay down the real deal. Recording, once again, at Audio Dallas in Garland, TX with engineer Paul Osborn and partnering with Underworld Records for a fall release.
The 14-track album is a bit of departure from the two previous in that it represents the blues and soul vibes of the band more so than past efforts, which have been heavy on the rock side. Make no mistake, Elmore and Hoodoo Witch are still rocking out and remaining true to the classic guitar-bass-drum format that has drawn the Texas boys accolades including "Best Blues 2012" by Dallas Observer Music Awards.
Going for that raw retro sound, the album kicks off with the jump blues 'House Rockin' Boogie #7,'then keeps the dance floor filled by seamlessly moving on to the sleek Thunderbirds styled shuffle 'Double My Money.' The smooth grooving track "Midnight In Memphis,' is a loving tribute to the home of the blues and will no doubt be a radio favorite. The straight ahead electric blues 'Maybe,' shows off plenty of the trio's Texas muscle, while the easy swing of southern rock ballad 'Shine Your Light,' reveals a gentler side of Elmore's songwriting skills. He then channels Louis Jordon for another saucy bounce 'Cross-eyed Women,' that features a great walkin' bass from Brandon Katona, clever trap kit flair from drummer Mike Talbot and confounding fast fret work from Elmore. Duel guitar leads carry the instrumental 'Lament For Evelyn McHale,' and the soulful 'Right AS Rain,' finds Elmore stretching his vocal chops as well. The Nashville shuffle 'Land of Plenty,' is a tongue in check tale of hard luck and trouble of a man "starving to death in the land of plenty." The instrumental title track is a study in pure tone; a sweet little swing number that pays homage to Les Paul, Wes Montgomery and all the pioneers of electric guitar. The trio goes acoustic for the playful back porch lament on hard times 'Green To Gone,' then close out the set with another rollicking jump boogie and shout dedicated to their favorite "lady," 'Mary Jane'
Champagne Velvet' proves this Texas trio is no one trick pony, and that Jason Elmore and Hoodoo Witch are ready to bring the party.
---