Instrumental Flourishes and Fun Distinguish Twisted Pine's 'Right Now'
Posted On August 12, 2020
---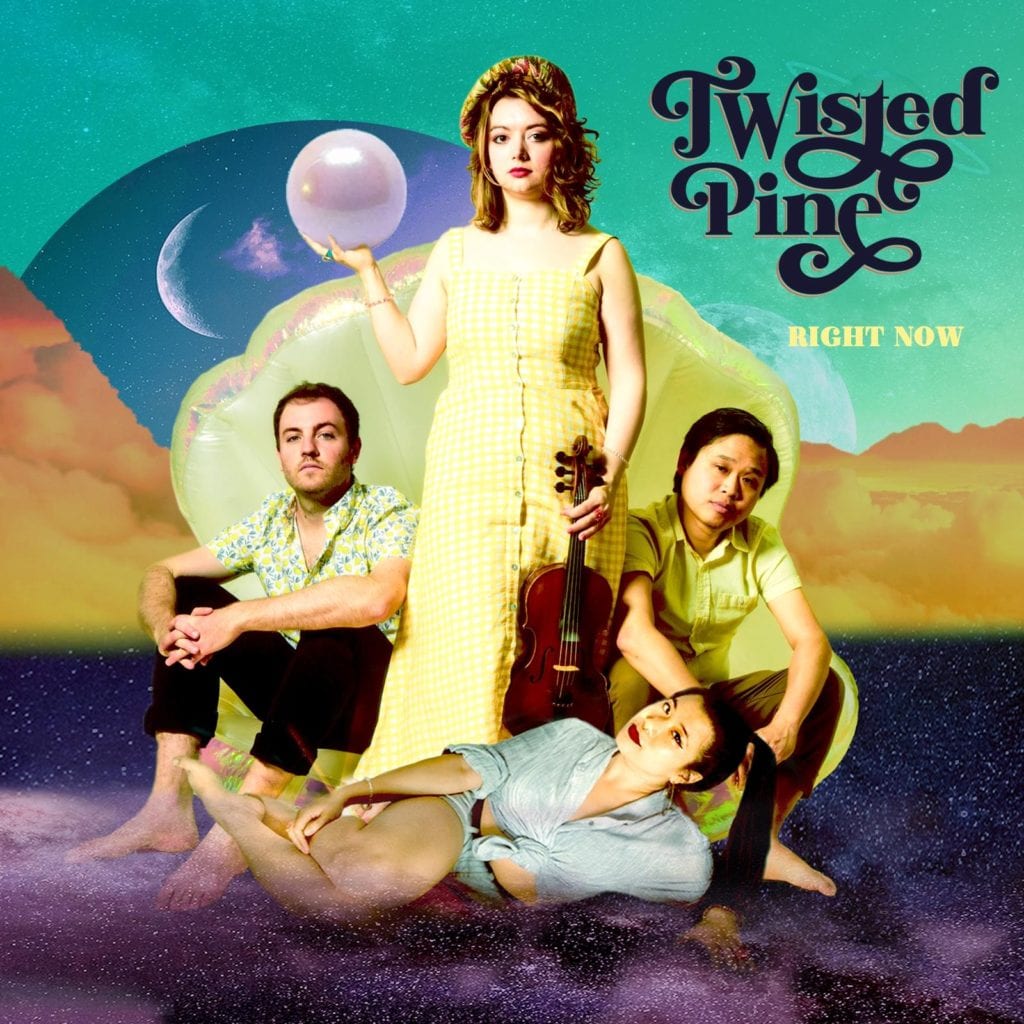 With navigating the current world becoming more challenging every day, Twisted Pine delivers the kind of album that makes it feel like everything is going to be okay. Instrumental virtuosity — the band's calling card — abounds on their latest album, Right Now, but so too do moments of sheer pop glory, funky all-day grooves, and spacecraft sonics. Their newgrass cohorts — Billy Strings, Punch Brothers, Béla Fleck, Sierra Hull — remain appropriate touchstones, but Twisted Pine adds some funky touches that also call to mind Lake Street Dive and the equally rhythmic playing of The Wood Brothers. Even with all those touchstones, Twisted Pine is uniquely their own. As bassist Chris Sartori says, their music is "a little fruity, a little spicy, and it doesn't take itself too seriously [… it's] easier to feel than it is to describe."
At the center of every song on Right Now is the instrumentalists' interplay, with a special nod to Kathleen Parks' fiddling and Sartori's bass playing acting as the backbone. Despite the instrumental emphasis, Parks' voice soars or drops to a near-whisper when the song demands it, and she uses her voice like another instrument to propel the songs further.
Parks' lyrics extol the virtues and drawbacks of a life on the road. She shared in a press release that Right Now "tells the story of a growing band, the Americana music scene in which are a part of, and how that — alongside a modern, oversharing, and ever-changing culture — fits together and molds us creatively." These elements of story imbue "Right Now" and "Dreamaway" with added color, the interplay of confessional lyrics and the musical creativity drawing the listener into the song.
Still, despite that personal component, those edges of familiarity, these songs are, at their deepest core, just so damn fun. Dan Bui's mandolin chop (the defining feature of good bluegrass music) fuses with Sartori's bass to establish a consistent backbeat (for example, on the amusing and propulsive "Papaya" or the grooving cover of the Father John Misty song "Well, You Can Do It Without Me."). And the newest band member, Anh Phung, adds her voice to harmonies and uses her flute to add flourishes that stretch the songs in interesting ways, including on "Don't Come Over Tonight," side by side with Bui's mando chop and then later as the band quiets around her.
It is almost impossible to avoid bopping and swaying to this album, especially with songs like "Amadeus Party" (check the well-costumed video below), a kind of groove-jig tune that could dance the devil into the ground, or the improvised jams of "Talkeetna," "Fogo de Chow," and a riveting interpretation of Tex Logan's "Come Along Jody."
Right Now has defined my rare drives, my kitchen grooving, and my backyard grilling and two-person partying (plus cats). It's easy to miss live music (and I do), but having records like this to play loudly offers a significant balm against the uneasy loneliness of a quarantined life.
---